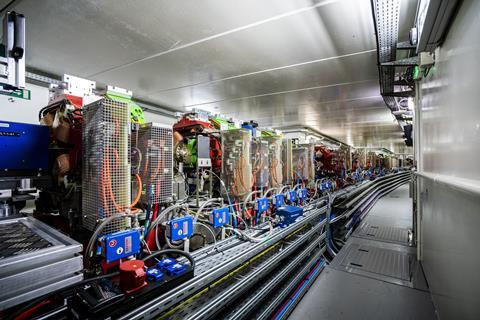 One of the world's most powerful x-ray sources – 100 times brighter than its predecessor – has opened at the European Synchrotron Radiation Facility (ESRF) in Grenoble, France. Its ability to unveil atomic details has already been used to visualise how the Covid-19 virus interacts with host cells and to perform 3D scans of coronavirus-infected lung tissue.
Called the Extremely Brilliant Source (EBS), it is the first high-energy fourth-generation synchrotron. This means a completely new design for the 1000 storage ring magnets that guide and focus the radiation-producing electrons into a beam just 2μm high and 20μm wide – one-thirtieth as wide as the previous beam. The x-rays created within the 844m long accelerator tunnel are 10 trillion times brighter than those used for routine medical imaging.
The facility upgrade shut down the ESRF's beamlines for 20 months and cost €150 million (£135 million) – most of it from France, Germany, Italy and the UK. During the upgrade, the 844m-circumference storage ring was gutted and refitted with the new equipment, meaning the EBS uses 90% of existing infrastructure while consuming 20% less energy. Despite the project being interrupted by the coronavirus lockdown, it was completed on time and budget, said ESRF council chair Miguel Angel Garcia Aranda.
With its 100-fold performance increase, EBS promises to reveal minute atomic details such as lithium ion movement during battery charging or nanoparticle dispersal in soil. Each of the four beamlines is designed for specific applications. The serial macromolecular crystallography line could help solve proteins structures while minimising radiation damage, while the hard x-ray diffraction microscopy will allow characterisation of nanostructured and non-homogeneous materials. Larger objects and processes can be 3D imaged at the coherent x-rays dynamics line and tomography of historic artefacts or fossils can be performed at the high throughput large field phase-contrast line.