$59.5 billion deal sees Exxon double its shale oil and gas production
US Oil and gas giant ExxonMobil has agreed a merger with shale specialist Pioneer Natural Resources, in an all-stock deal worth $59.5 billion £49 billion)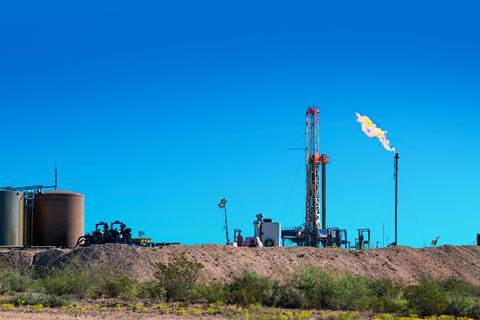 The acquisition will make ExxonMobil the dominant producer in the Permian Basin of Texas and Mexico. Exxon stated that once the deal closes its Permian production volumes would immediately double to 1.3 million barrels of oil equivalent per day (MOEBD), based on 2023 volumes, and were expected to increase to approximately 2 MOEBD in 2027.
The company said the combination is expected to generate significant returns by recovering more resources, more efficiently and with a lower environmental impact. Exxon intends to implement its Permian greenhouse gas reduction plans to accelerate Pioneer's net zero emissions plan by 15 years, to 2035, and expects to increase the amount of recycled water used in its Permian fracturing operations to 'more than 90% by 2030'.
'As we look to combine our companies, we bring together environmental best-practices that will lower our environmental footprint and plan to accelerate Pioneer's net-zero plan from 2050 to 2035,' said ExxonMobil chief executive Darren Woods.
But Kevin Anderson, an expert in energy and climate change at the University of Manchester, UK, says ExxonMobil's claims that the deal would lead to a lower environmental impact was 'false at every level'.
'Our Paris Agreement and the Intergovernmental Panel on Climate Change makes it really clear how small the carbon budgets are now if we're not going to exceed the 1.5-2°C threshold. So this claim that we can produce more oil and gas is false at every level, whether it's shale gas, whether it's oil, whether it's gas, whether it's coal, the only way you can stay within the existing budget is to phase out the current reserves, not new reserves; there is no scope for new production…even if you're 1, 2 or 5% more efficient in your production,' he explains.
'The only thing that matters is the total amount of carbon dioxide and other greenhouse gases in the atmosphere – that's all the physics cares about. What they're saying is "we're adding more fossil fuels to the global mix of fossil fuels", which will already, if we use the ones that we have, significantly exceed even the weakest interpretation of the Paris Agreement.'
Tom Ellacott, senior vice president of Corporate Upstream Research at consultancy Wood Mackenzie says the deal was 'far from counter-cyclical'. 'It's a massive oil deal that's demonstrates ExxonMobil's bullishness on longish-term oil demand and prices. We'd predicted several years ago that Big Oil would get bigger, highlighting ExxonMobil as a likely aggregator in US tight oil. It dwarfs ExxonMobil's US$4.9 billion CCUS-led acquisition of Denbury.'
Ellacott adds that the deal secures decades of supply for ExxonMobil, but says the company will need to demonstrate that it can extract value from 'its biggest deal this century'. 'The acquisition will increase what is already easily the most oil-weighted portfolio in the peer group – at a time when some peers are shifting their portfolios to gas. Bulking up materially in oil and gas also adds to the challenges of pivoting to low-carbon, especially if the energy transition accelerates.'

Julia joined the Chemistry World team as Science correspondent in May 2023. She previously spent eight years leading the clinical and science content at The Pharmaceutical Journal, the official journal of the Royal Pharmaceutical Society, a membership body for pharmacists.
View full profile