Move follows similar bans in several European states, with safety agency citing 'absence of scientific data ruling out genotoxic risks'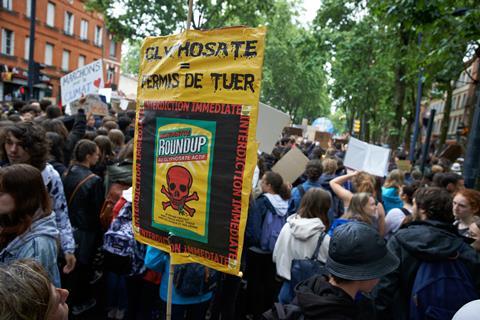 The French Agency for Food, Environmental and Occupational Health & Safety (ANSES) is banning more than half of the nation's glyphosate-containing herbicide products. Of the 69 products currently available in France, 36 will be withdrawn from the market immediately and their use forbidden by the end of 2020, 'due to a lack or absence of scientific data ruling out any genotoxic risk'. These products account for nearly 75% by weight of glyphosate-based products sold in France last year for agricultural and other uses.
The ANSES also denied authorisation to four new products and said it will make its decision on three remaining products under review by the end of 2020.
The national regulation follows the European Union's 2017 decision to renew glyphosate's authorisation as an active ingredient in products for another five years.
'In the European Union, active substances are approved at the EU level, but member states are in charge of deciding on the authorisation of the final products that contain these active substances,' says Herman Lelieveldt from University College Roosevelt in the Netherlands. 'French president [Emmanuel] Macron already announced that he would like to ban the substance in a couple of years, and only retracted from that after pressure from farmers. France is not the only member state wanting to do this.' In 2018, France, Belgium, Greece, Luxembourg, Slovenia and Malta asked the EU Commission to investigate alternatives to glyphosate-based products.
At the end of 2019, Austria fell short of an all-out ban, due to start in 2020, as the country did not provide the EU's executive commission a draft of the law. Internal political negotiations within the country now leave it unclear what will happen next. The Netherlands was the first to ban non-commercial uses of glyphosate products in 2015 and Belgium followed suit in 2018. Both Czechia and Denmark have increased restrictions, while in Italy its use is banned from public areas and as a pre-harvest spray. In Bayer's home country of Germany, an all-out ban on glyphosate use is expected by 2023.