Cultural heritage questions answered by mining equipment
Australian scientists have used a device initially designed for the mining industry to analyse the mineral content of pigments on wooden objects of cultural significance.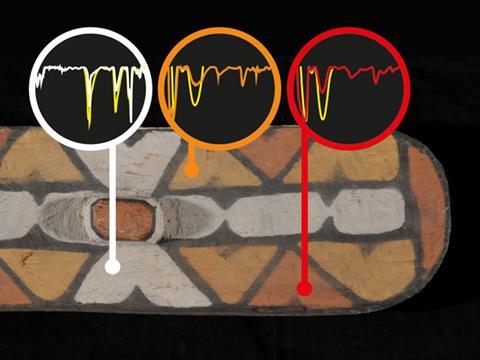 Aboriginal Australian people use mineral pigments such as kaolinite and hematite to decorate wood, bark, resin and other organic substances. The analysis of these materials in a non-destructive way can be extremely challenging. In objects with elaborate designs, what is needed is a technique that can analyse point-by-point and map out the pigments on the surface of the object.
There have been a number of recent developments in the use of portable XRF (x-ray fluorescence), a non-destructive technique, to analyse cultural heritage items in situ, but it can only provide elemental data. Pigments with a similar elemental composition can be difficult to identify.
Now, Rachel Popelka-Filcoff, from Flinders University, and colleagues from the South Australian Museum and the South Australia Department for Manufacturing, Innovation, Trade, Resources and Energy have adapted CSIRO's HyLogger™ system, that is used for mineral exploration and mining applications, to study these pigments with a non-destructive near-IR (infrared) spectroscopy technique for the first time. Research of this kind can tell investigators about the technologies and materials science that Aboriginal Australians have developed over millennia and continue to use today.
'Our unique approach provides unprecedented insights into Indigenous Australian culture through the first comprehensive characterisation of natural mineral pigments from Australian objects,' says Popelka-Filcoff. This proof of concept technique is already providing results and has been tested on boomerangs, shields and paddles from the South Australian Museum, and uncovered mixtures of previously unknown mineral components. 'The cultural questions surrounding pigment procurement, preparation and exchange all offer fascinating scientific questions that analytical methods can answer,' she adds.
'This work constitutes an excellent application of advances in mineralogical techniques,' says John Meurig Thomas, a specialist in surface and materials science at the University of Cambridge in the UK. 'What is particularly interesting is that the white minerals used by the Aborigines – calcite, pyrophillite and kaolinite – are so different from the 'whites' used by the ancient Egyptians, who, in the Old Kingdom and New Kingdom down to 1400 BC, relied on gypsum and huntite [Ca3Mg(CO3)4].'
Work is now underway to optimise the technique, with potential extensions to the analysis of stone tools and ceramics from cultures around the world.