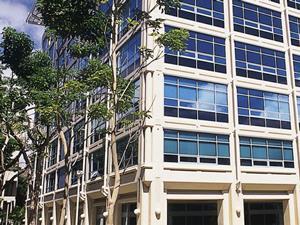 An explosion at a University of Hawaii Manoa laboratory, which took the arm of a visiting postdoctoral researcher last month, appears to have resulted from an inappropriate piece of equipment and unheeded warnings.
The incident at the Hawaii Natural Energy Institute biofuels research laboratory occurred on 16 March when visiting research fellow, Thea Ekins-Coward, was transferring hydrogen, oxygen and carbon dioxide into a low pressure gas cylinder to be used as a bacterial growth medium. The explosion was the result of a pressure gauge sparking, setting off the flammable gas mixture, the Honolulu Fire Department has concluded in a report.
'The gauge was not meant to be in a placement of where it was … and that was the source of the … leak of vapours that ignited,' stated Terry Seelig, the Honolulu Fire Department's battalion chief, during a press conference at the university. The switch sparked when it was operated, and ignited the gas that came out of the pressure gauge, he explained.
Pointing fingers
In its report, the fire department includes an interview with Ekins-Coward's supervisor, Jian Yu, in which he said the air tank involved in the ill-fated experiment was Ekins-Coward's own design. He added that she had purchased the equipment, including the tank, digital gauge, pressure relief valve and fittings. However, Ekins-Coward told investigators that the tank assembly had been designed by Yu.
The fire department's report also reveals that just days before the accident Ekins-Coward had conducted another experiment, using a smaller tank nearly identical to the one that failed, that resulted in a small internal explosion. That incident apparently went unaddressed. She also claimed to have complained to Yu about receiving static shocks when touching the air tank during prior experiments, but said he told her not to worry about it.
'If there's a static charge, that means you have got a connection – that should have been stopped right then and there,' says Russ Phifer, executive director of the US National Registry of Certified Chemists. 'Anybody that works with flammable materials, and hydrogen gas is certainly a flammable material, should know about grounding.'
Paul Bracher, a chemist at Saint Louis University, US, agrees. 'If you are dealing with a mixture of hydrogen and oxygen, I would hope that you would recognise that there is an explosion hazard there,' he says. 'This is exactly what the space shuttle uses as rocket fuel.'
'Foreshocks to the earthquake'
Reports that Ekins-Coward's principal investigator (PI) dismissed her concerns about static shocks and a prior internal explosion and allowed research to continue with the exact same set up, are 'truly troubling' and 'inexcusable' if true, Bracher states. However, he notes that largely one side of the story is being told as Yu and the university are probably being advised to keep quiet because of the legal consequences.
Bracher says he 'would not be surprised at all' if the Hawaii Occupational Safety and Health Division 'came down hard' on the PI and the university, given the precursor events, which he calls 'foreshocks to the earthquake'.
Seelig said the fire department was told the prior internal explosion 'wasn't of enough energy or significance to cause any damage or harm', and was left unreported. University spokesman Dan Meisenzahl tells Chemistry World that they're awaiting the results of an independent investigation by the University of California Center for Laboratory Safety to confirm that the incident was not recorded.
Considering that there was properly designed so-called 'intrinsically safe' equipment available for purchase, Phifer suggests that the university may have been trying to cut costs. 'I don't know if this is a budget issue … but the report seemed to make it clear that this was a jerry-rigged piece of equipment,' he says. 'It was not engineered properly.'
Cutting corners
Bracher also points out that many universities are facing significant budget crunches and lack the safety support system that exists in private industry. 'You are responsible for your lab, and part of that is you are responsible for making sure that money is used efficiently. You are responsible for safety, you are responsible for productivity,' he says. 'And sometimes these things clash.'
Critics of academic lab safety have said that the competing demands placed on PIs, including pressure to write more and more research grant proposals, make it harder for them to properly supervise the researchers in their labs. 'Until the federal grant programmes get serious about making safety a functional part of the grant review process, as long as PIs are more pressured to get the work done … we are going to continue to have these problems,' warns Phifer.
Another contributing factor could be inconsistent international lab safety requirements, Phifer suggests. Yu received his undergraduate, and part of his graduate, education in China, and Ekins-Coward got her undergraduate degree and PhD at the University of Newcastle-upon-Tyne in the UK.
The University of California report is expected by the end of the month, but the Hawaii Occupational Safety and Health Division investigation takes priority, so there could be a delay, Meisenzahl says.
Meanwhile, Ekins-Coward has now left hospital but the lab where she worked remains closed.
'This was a wake-up call, not just for the University of Hawaii, but I think for laboratories across the country,' Meisenzahl said at the press conference.
Correction: On 25 April the article was updated as a quote was misattributed

Rebecca became the US Correspondent for Chemistry World in September 2014, based out of Washington, DC, after writing for the magazine on a freelance basis since 2007.
View full profile