University cited for 15 safety violations related to a blast that gravely injured a postdoc in March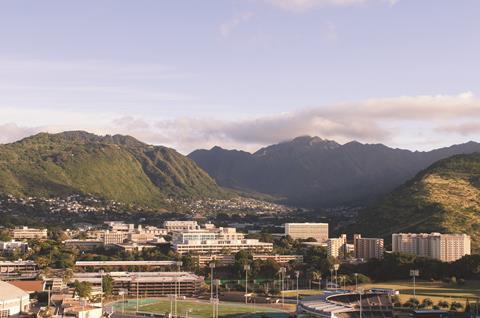 Fifteen separate safety failures led to an explosion at a University of Hawaii, Mānoa lab that cost a postdoctoral researcher her arm in March, according to Hawaii's occupational safety and health agency. Now the university faces having to pay up to $115,500 (£88,700) in fines to address those lapses.
Thea Ekins-Coward – a visiting research fellow at the Hawaii Natural Energy Institute on the Mānoa campus – had been mixing hydrogen, carbon dioxide and oxygen cylinders to produce feedstock gas for research when a static discharge triggered an explosion that gravely injured her, an independent review by the University of California Center for Laboratory Safety found in July. The accident caused nearly $1 million in damages and forced the evacuation of the building. The university temporarily halted similar research at its other labs.
Now, the Hawaii Occupational Safety and Health (HIOSH) agency has concluded that the university did not provide a safe workplace for employees. It concluded that the university failed to reduce employee exposure to potential explosion and fire hazards, and thatit also did not ensure periodic in house inspections of labs to determine new or previously missed hazards. The other 14 penalties levied by HIOSH were for lapses including lab personnel not using personal protective equipment, a lack of exit routes in the lab, a failure to ensure that safety practices were followed, as well as an inadequate fire prevention strategy and a sub-par chemical hygiene plan.
The university said it will request an informal conference with HIOSH to clarify the citations and discuss adjustments. Russ Phifer, executive director of the National Registry of Certified Chemists and former chair of the American Chemical Society's chemical safety committee, says it is unlikely the university will have to pay the full $155,500 fine. 'If you don't want to pay the full fine you always appeal, and they reduce the amount,' Phifer tells Chemistry World. If this was a federal matter, he says the school could expect at least a 10% reduction on the proposed fine, and perhaps significantly more, especially if the negotiations require costly improvements to be made or expensive equipment to be purchased.
'They are going to pay a fine and they are going to have to make improvements: realistically they are not going to get away with anything,' Phifer says. What HIOSH is proposing 'seems appropriate', he adds. Phifer notes that academic labs tend to struggle more with safety than industry labs because worker turnover is far faster and a much wider range of research is typically conducted in academia.

Rebecca became the US Correspondent for Chemistry World in September 2014, based out of Washington, DC, after writing for the magazine on a freelance basis since 2007.
View full profile