Backed by government programmes, Indian entrepreneurs are overcoming cultural and infrastructure barriers to commercialise their research
Thalappil Pradeep from the Indian Institute of Technology in Madras is on his second start-up: InnoDI Water Technologies. Based on a desalination technology, the company is addressing drinking water purity problems in India, especially along the coastal belt. Its product uses a simple and inexpensive cellulose-derived and stacked carbon fibre network to treat brackish water of up to 2500ppm TDS (total dissolved solids) and make it potable.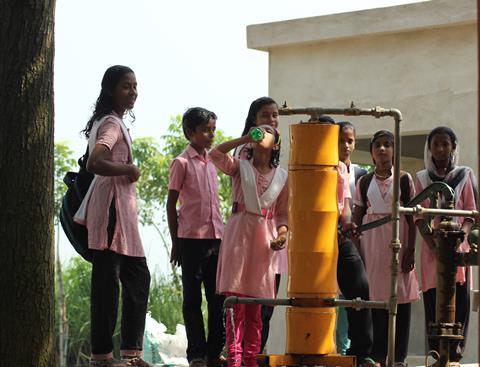 Over the next six months, the company will be installing units across India to deliver drinking water at a cost of 6–12 paisa (0.07–0.1 pence) per litre, depending on the volume. Pradeep's first company – InnoNano Research – also focused on water purification, using nanocomposite materials that filter out arsenic from water. Over 900 of these water filter units, called Amrit (meaning nectar in Sanskrit), have been installed across the country.
In what is considered a first in India, the company received funding of £13.5 million from the US-based energy and water investment firm NanoHoldings. The company aspires to be an exporter of water technologies and plans to set up a manufacturing facility, a research laboratory, and technology delivery offices across North America, Asia and Africa. Pradeep represents a growing trend for Indian academics to become entrepreneurs, breaking away from traditional academic priorities.
Choosing start-ups over publishing
'To climb up the ladder and for awards, rewards and recognition in India, one must publish. Technology, industry, etc are viewed as add-ons,' says Pradeep. 'Often, they are seen as something pursued by those who are less competent. It is hard to make even one rupee from the market. If that rupee is made on one's own technology, it is even harder. I'm glad that I could publish and translate my findings somewhat successfully. More have to take that path.'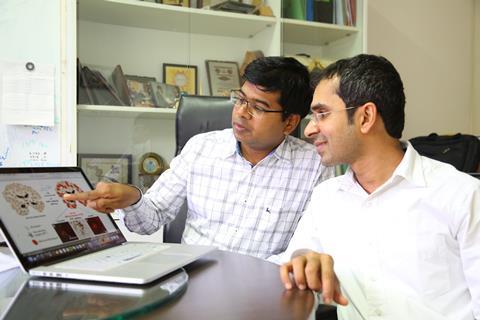 In Bengaluru, a chance meeting between organic chemist Thimmaiah Govindaraju and physicist Meher Prakash at the Jawaharlal Nehru Centre for Advanced Scientific Research (JNCASR) gave birth to a medical diagnostic spin-off.
Prakash recalls: 'I was given a temporary office very close to [Govindaraju], so we happened to meet each other. After each casual discussion, my curiosity and excitement about his research only increased. A few of his inventions, I realised, were not just "better, faster, cheaper", but unique solutions, with immense business potential.' Prakash's prior experience, albeit less successful, with a start-up in Switzerland, helped him to develop a thorough business strategy. VNIR Biotechnologies was born.
There is a step change in the mindset of young researchers in India today. They want to commercialise their research, which can benefit society

Swaminathan Sivaram
The company manufactures near-infrared fluorescence molecular probes for imaging, helping researchers to study Alzheimer's disease, malaria and diabetic kidney failure. 'Our diagnostic tool for Alzheimer's can predict the onset of disease years before any other method. And there is no confusion with other types of dementia. Our molecular probes are non-toxic and make live cell imaging viable,' explains Govindaraju, who has postdoctoral experience at the University of Wisconsin-Madison, US, and the Max Planck Institute of Molecular Physiology, Germany.
Putting science to use
There are no official figures on the subject, but according to various estimates there are close to 500 start-ups in India that have emerged from indigenous science research. Cities like Bengaluru, Pune, Chennai and Hyderabad are at the forefront.
This spate of scientific enterprises is driven by various factors. Like Prakash and Govindaraju, many Indian researchers train abroad in the US and Europe, where they are exposed to the culture of academic spin-outs, which they want to duplicate back home. Moreover, the increasingly affluent Indian middle class is making entrepreneurial careers more acceptable in a largely risk-averse society that sees salaried roles – such as those in traditional academia – as 'secure' professions.
'There is a step change in the mindset of young researchers in India today. They want to commercialise their research, which can benefit society at large,' observes Swaminathan Sivaram, former director of the National Chemical Laboratory (NCL) – one of the largest chemistry research organisations in India.
'Over the last few years, the ecosystem for researchers aspiring to do translational research in India has really improved. It has become more feasible,' points out Praveen Kumar Vemula from the Institute for Stem Cell Biology and Regenerative Medicine in Bengaluru. Vemula, who is part of two start-ups based in Paris, France, and Boston, US, focusing on skin disorders and inflammatory diseases respectively, plans to start another in India soon.
Success stories: detecting metastatic cancer
Pune-based Actorius Innovations and Research (AIR) has developed a test that can detect metastatic cancer cells, also called circulating tumour cells (CTCs), in the blood of patients with breast, colorectal and lung cancers. Such liquid biopsy tests were ranked third among the top 12 disruptive technologies in oncology and cancer treatment by the World Medical Innovation Forum 2016.
The company's OncoDiscover CTC liquid biopsy technology uses highly dispersed smart materials that interact with cancer cells by targeting epithelial cell adhesion molecules (EpCAM), an antigen that is overexpressed in epithelial cancer cells.
'Our test is the first clinically developed CTC tool and will soon be approved in India,' says company founder Jayant Khandare, who previously worked at Piramal Life Sciences and is now at the Maharashtra Institute of Technology in Pune. 'We are one of a few companies in the world that have developed this technology. We will be able to offer this test for less than $100 [£76], when similar tests in the US cost around $2500. Moreover, we can deliver the test results in less than four hours, compared to seven days [for existing tests].'
Government funding surge
This ambition for translational research has been backed up by political will, and support from India's departments of biotechnology (DBT) and Science and Technology (DST), in the form of early stage funding for scientific start-ups. There has also been growth in government-run ancillary organisations and programmes that support entrepreneurship, such as Atal Innovation Mission, and alternative funding sources like Start-Up India.
The Biotechnology Industry Research Assistance Council (BIRAC), a not-for-profit organisation set up by the DBT, has supported several hundred biotech companies, start-ups and entrepreneurs since its inception in 2012. The DST has established Technical Research Centres with generous grant funding at leading universities, to encourage their faculty members to commercialise their research. One of the centres at JNCASR has attracted proposals from 14 faculty members and intends to provide around INR80 million (£930,000) – in grants of around INR4–6 million each – over the next five years.
Government-sponsored incubation centres have also played a significant role. Pune-based Venture Center, set up in 2006, is one of the country's largest incubators for scientific enterprise. It hosts around 45 start-ups and is mentoring several others, spanning energy, medical diagnostics, water and materials science sectors. The companies at Venture Center have so far raised over INR5.5 billion through a mixture of winning grants, selling shares and being bought outright. This represents almost 10 times their supporting investment from the government.
For the first time, I'm seeing some interesting companies and we want to participate in their growth story. There are some gems that are world class

Nitin Deshmukh, Venture Capitalist
The Centre for Cellular and Molecular Platforms (C-CAMP), a DBT initiative and a part of the Bengaluru LifeScience Cluster, focuses on biosciences entrepreneurship and offers grant funding and mentoring to support over 80 start-ups at different stages. These cover sectors such as agriculture, pharmaceuticals, biopharmaceuticals, nutraceuticals, synthetic biology and medical diagnostics.
Investor conservatism
Government support has been essential, since Indian start-ups have yet established a fully-fledged start-up ecosystem. There have been very few big buyouts or stock market flotations, which are attractive routes for venture capitalists (VCs) to 'exit' their investments and collect the associated profits. This low exit rate makes VCs cautious about investing further in new companies.
Yet Taslimarif Saiyed, chief executive of C-CAMP, says measuring success through exits is not applicable in the Indian context. By other indicators, the sector is quite healthy: 'Less than 10% of the companies here have [failed], which is a good number, considering there is a high rate of attrition elsewhere in the start-up space. As many as seven products have been developed and released in the market,' he points out.
Indian industry has also been playing a waiting game, with just a few instances of technology transfer or licensing. For example, Bengaluru-based Mesha Energy, set up by two entrepreneurs from the US, commercialised hybrid ultracapacitors, developed by Ashok Kumar Shukla at the Indian Institute of Science (IISc), Bengaluru. And one of C-CAMP's incubated companies – Sea6 Energy, which uses seaweed to produce ethanol, has managed to raise funds from Tata Capital and partner with Mahindra Agri-Business group for their products. According to Taslimarif, the valuation of start-ups at C-CAMP is estimated at around INR10 billion (£116 million).
Nitin Deshmukh, chief executive of private equity firm Kotak Investment Advisors, is excited about the emerging crop of science start-ups in India. Kotak was one of the few VCs that invested in fledgling Indian life science companies in the last decade. 'For the first time, I'm seeing some interesting companies and we want to participate in their growth story. There are some gems in the BIRAC supported start-ups that are world class,' says Deshmukh.
Success stories: keeping fruit fresh
H M Chawla from Indian Institute of Technology in Delhi has developed a biodegradable emulsion that can increase the shelf life of fruit and vegetables without refrigeration from three days to six weeks. This has potential to save producers in rural India millions of pounds, because they don't have sufficient cold storage facilities.
Fruit and vegetables are dipped in a small quantity of FruWash emulsion for a few minutes before it dries, forming a layer that stops oxidation and keeps the food fresh.
Chawla says the cost is around 0.08 pence per kilogram of produce, and could reduce post-harvest losses from producer to consumer by up to 40%.
The technology, which is being promoted by the Indian government, has already been introduced in several states in India, and several other countries such as Singapore, Turkey, the US and South Africa have shown interest.
Marrying academia with start-ups
Overall, though, the picture is still of a sector in its infancy, struggling to establish itself and with many obstacles still to overcome. Some of the biggest challenges in setting up and growing scientific start-ups in India include establishing a robust mechanism for technology transfer, nurturing a mindset of faculty entrepreneurship and establishing research collaborations with publicly funded research institutions.
In the next decade or two, we could see an enormous amount of translational research. We have huge opportunities to grow

Praveen Kumar Vemula, entrepreneur
For example, the Council of Scientific and Industrial Research (CSIR), which runs 39 labs across different disciplines all over the country, set up an independent company – CSIR Tech – to commercialise technology developed in its labs. Yet earlier this year, the company wound up its operations despite raising substantial funds.
Sivaram, who was on the board of directors at CSIR, says the concept was ahead of its time. 'There was a lack of support from CSIR labs, and scientists were reluctant to part with their intellectual property. Moreover there was no [agreement] that provided CSIR Tech exclusive rights to commercialise the CSIR patent portfolio.'
This lack of infrastructure compounds the significant uncertainty entrepreneurs face in dealing with the various organisations necessary to negotiate approval for their activities, terms for faculty entrepreneurship or technology transfer, easy access to instruments and facilities etc. They also feel held back by poor institutional understanding of the start-up process, especially its multidimensional nature involving technology, law, finance, the private sector, and lack of appreciation of the importance of start-ups in technology translation. There are also cultural barriers in terms of accepting that not all start-ups will succeed in crossing the 'valley of death' between academia and the commercial world
While the start-up community in India is growing, Siva Umapathy, head of the inorganic and physical chemistry department at the IISc, suggests it has not yet reached critical mass. He argues that government funding for science start-ups is still too small to make a significant impact – adding that science companies generally need significantly more investment than IT or service companies before they can become profitable. He also suggests that the funding systems sometimes lack rigorous evaluation systems to identify those companies that have potential for global impact.
Vemula adds that the current efforts are fragmented, with pockets of success dotted around the country. 'In the next decade or two, we could see an enormous amount of translational research. We have huge opportunities to grow in this direction'.
Success stories: cleaning up carbon emissions
In 2016, Bengaluru-based Breathe Applied Sciences reached the semi-finals of the £15 million Carbon Xprize, a global competition to address climate change by incentivising technologies that capture and convert CO2.
The start-up is led by chemist Peter Sebastian from the JNCASR) and aims to generate methanol and carbon monoxide from CO2 emitted by coal power plants. Sebastian and his partners – physicist Umesh Waghmare and aeronautical engineer Rakshith Bellur, have won funding from various agencies to develop a pilot plant, which could convert 300–500kg/day of CO2 into methanol and CO.
Sebastian believes India can be a role model in a methanol-driven economy using waste CO2. 'We have designed a family of efficient catalysts for converting CO2 into methanol and industrial CO,' he says. 'We want to demonstrate our ideas not only for the competition but also to help humanity.'
Breathe is one of 27 companies shortlisted for the semi-finals, selected from over 140 participants worldwide. The top 10 teams will advance into the final with a share of £3.75 million milestone purse and winner of the competition will receive £5.6 million.