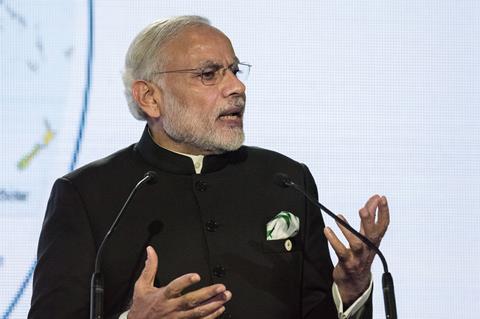 India's annual science conference has had to change venue at the last minute after fears that the event would be disrupted by university student protests. The event has been delayed by two months and moved from Osmania University in the south of the country to Manipur University in the north-east.
The 105th Indian Science Congress was planned for 3–7 January 2018 at Osmania University in Hyderabad. But two weeks before the event, the university informed its organising society – the Indian Science Congress Association (ISCA) – that it would no longer be able to host the conference on the scheduled dates. Soon after, the university announced that the Congress would be postponed indefinitely.
There have been a number of student protests at Osmania University after the suicide of a science student on 3 December. Later in the month, students also staged protests objecting to the university's decision to close down student accommodation until after the Congress was over.
Following an emergency meeting, the ISCA decided that Manipur University in Imphal would host the event in March.
The ISCA's general secretary, membership affairs, Gangadhar says that the crisis is giving his organisation a bad name. He adds that the university administration cited several reasons for the deferment including, but not limited to, security and fears of protests.
The Indian Science Congress is the country's largest gathering of scientists, students and policymakers and has been running for more than 100 years. For the most part, the conference has opened with the prime minister's speech. Several other ministers are present for the opening session – leading to accusations that the event has become politicised.
Concerns have also been raised repeatedly about the quality of its sessions. In 2015, pseudoscientific claims about ancient Indian aircraft made in one session came to light. 'A major science conference providing a platform for pseudoscience makes India look ridiculous,' Venki Ramakrishnan, President of the UK's Royal Society, tells Chemistry World. 'Today we have lots of meetings – from small specialised meetings where the hard thinking gets done to larger ones which are a forum to meet people across disciplines. So there is no real need for it.' He adds: 'The Indian Science Congress may have historically been important in providing a forum for scientists in India, but today it is too large, unwieldy and politicised.'
According to P Balaram, a biochemist and former director of the Indian Institute of Science in Bengaluru, the Congress started going downhill long ago. 'If anything has changed it is probably for the worse.'
Ramakrishnan, who has previously called the meeting a 'circus', says: 'If the PM and important officials stopped going to it, the Indian Science Congress would wither away naturally. No respectable scientist in India will miss it.'
The 2009 chemistry Nobel laureate also says that the Congress spends a huge sum of money flying international scientists out there 'but then doesn't use them properly by enabling good interactions between them and young scientists'. The one saving grace is the Children's Science Congress, Ramakrishnan adds. This is held parallel to the main event and aimed at school students. 'This should definitely be sustained and perhaps more emphasis given to it.'