New bio-ink to print living cells for tissue engineering
Scientists in Australia are a step closer to printing living cells for tissue engineering with the development of a new bio-ink that allows the cells to stay alive until they are printed and not clog up the printer nozzle.
'The first bio-inks used in drop-on-demand cell printing were simple salt solutions,' says Marc in het Panhuis, who was part of the research team at the University of Wollongong. 'The cells in these inks settled and aggregated quickly, which impeded printing. Cell viability can also be compromised if the salt concentration is too high.'
Other bio-inks include low viscosity biopolymer solutions, which are known to slow cell settling. The team's bio-ink consists of a biopolymer – gellan gum – and two surfactants in a standard tissue culture medium. The surfactants – Novec FC4430 and Poloxamer 188 – reduce surface tension, allowing optimal inkjet printing, and protect the cells from fluid-mechanical damage.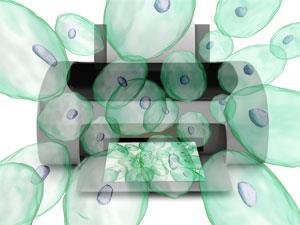 The cells do not settle and aggregate because the biopolymer creates a structured network of micro-gel particles that keep the cells suspended in the gel. However, the bio-ink remains printable as the network is not rigid and is easily broken down during printing. 'Our bio-ink allowed us to print multiple cell types over long printing periods without changing print heads or replenishing ink solutions,' says in het Panhuis.
The team printed cells in specific patterns onto collagen hydrogel, a soft and wet substrate that acts as a cushion for the cells as well as preventing dehydration.
'In getting going practically with this or any other cell printing process, someone has to work out how to load the cells into cartridges and keep them alive until they are printed,' says Paul Calvert, an expert in regenerative biomaterials from the University of Massachusetts, Dartmouth, US. 'During printing, they need to be fed (by the medium) and given oxygen (not sure how that will work) and then be printed without settling down to block the nozzles. This work addresses the last problem. They show that the cells don't die and go on to differentiate normally. This part has been shown before, but before this, people had to keep shaking the cartridge to keep the cells suspended.'
Inkjet printing of living cells is an important step towards in het Panhuis's team's goal of developing techniques for an all-printing approach to materials and devices for bionics and tissue engineering applications.