Funding requests for 2015 for major US science agencies fail to keep pace with inflation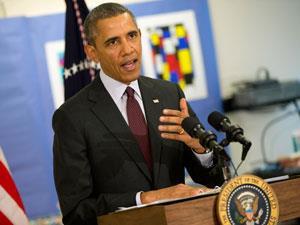 US researchers and science advocates are expressing significant disappointment at funding proposals for research agencies in President Obama's budget request for 2015. 'The proposed increase only allow agencies to keep their heads above water, therefore the opportunity for new funding for chemistry, and other disciplines, will not be very bright,' warns Glenn Ruskin, a spokesperson for the American Chemical Society.
The Obama administration's budget request, released on 4 March, would deliver about $1 trillion (£600 billion) for discretionary spending, including science agencies, the same level agreed to in the bipartisan budget deal reached in December 2013.
Specifically, the president would provide $135.4 billion in federal funding for R&D, an increase of 1.2% from the current level. Meanwhile, non-defence R&D would receive $65.9 billion, an increase of 0.7%, and basic research would receive $32.1 billion, which represents a reduction of about 1%.
Inflationary pressures
Some of the biggest research agencies, like the National Institutes of Health (NIH), the National Science Foundation (NSF), Nasa and the Department of Energy's Office of Science, would see their budgets increase 1% or less under the president's proposal. NIH's funding would reach $30.2 billion, NSF's would go to $7.3 billion and the Department of Energy's Office of Science's would hit $5.1 billion. Nasa, too, would see its overall budget rise about 1%, but its science budget would fall by about 3.5% to $5.15 billion.
The anemic funding levels for these agencies wasn't and isn't the best we can muster
The president's funding requests become bleaker after accounting for inflation. For the US economy as a whole, inflation between fiscal year 2014 and 2015 is 1.7%, according to White House figures. In addition, the biomedical research inflation rate is projected at around 3%.
Nevertheless, details about the administration's proposed budget remain elusive. For example, it is unclear how the requested funding increases or cuts for science agencies would be dispersed across programmes or research directorates.
Meanwhile, the research lobby has been comforted by the fact that the president has submitted to Congress, alongside his budget proposal, a separate $56 billion Opportunity, Growth, and Security Initiative that would provide an extra $5.3 billion for R&D activities. This would include an additional $970 million for the NIH, $886 million for Nasa, and $552 million for the NSF. But that proposal will need congressional approval, which appears unlikely.
Above and beyond
'The initiative […] is above and beyond the approved funding levels agreed to in December,' says Ruskin. 'In light of that it will likely face an uphill battle on Capitol Hill.' Nevertheless, Ruskin calls the president's budget request 'a step far beyond the dark shadow of sequestration', referring to the automatic across-the-board cuts that kicked in in March 2013. 'In light of our nation's continuing difficult national economic times, the president's budget strives to provide for predictable and sustained funding for the science enterprise,' he adds.
In fact, the budget request would also replace the sequestration cuts slated to begin in 2016 with new spending cuts, added tax revenue and immigration reform.
But many US research lobby groups are not enthused. 'The anemic funding levels for these agencies wasn't and isn't the best we can muster, it's a strategic error that needs to be corrected,' says Research!America president and chief executive Mary Woolley. 'Many researchers have already been forced to shutter their labs and stall promising research and clinical trials, leaving patients with more delays to access new treatments and therapies.'
Flat cash
Even fellow Democrat Eddie Bernice Johnson, who serves on of the science, space and technology committee that oversees multiple research areas and agencies, expressed reservations about the president's budget request. She is concerned by 'flat or even decreased funding' in a number of key areas of the federal government's R&D budget. In particular, she noted that proposed funding for Nasa fails to reach even 2014 levels. If enacted, Johnson said it will 'hinder the agency's performance in the coming years'.
In its request for Nasa, the administration sets aside money for the Wide-Field Infrared Survey Telescope (WFIRST), a space observatory that would probe exoplanets and search for dark energy. It also proposes ending the US's involvement in the Stratospheric Observatory for Infrared Astronomy (SOFIA), the world's largest airborne observatory that is an 80:20 partnership of Nasa and the German Aerospace Center. The administration's proposal comes just days after SOFIA reached full operational status.
Given that this is an election year, and sharp differences have been expressed between the political parties about funding in 2015, observers agree that the fate of the budget remains uncertain. In addition, they agree that the odds of Congress passing the Opportunity, Growth, and Security Initiative seem especially long because it exceeds the budget caps that recently gained bipartisan support.
The story has been updated as the figure for R&D in the Opportunity, Growth, and Security Initiativewas incorrect