E-certificates automatically trace ingredients through supply chain processes
An online tool designed to track bio-based raw materials in the supply chain has been developed by AkzoNobel, Advanced Biochemical (Thailand) (ABT) and professional services firm EY. It relies on e-certification to track bio-based material content right through a product's value chain.
Many raw materials have alternative sources, and can be made from either petrochemicals or bio-based materials. Batches from both sources are often mixed, and the tool allows the proportion of bio-based ingredient in the mixture to be tracked.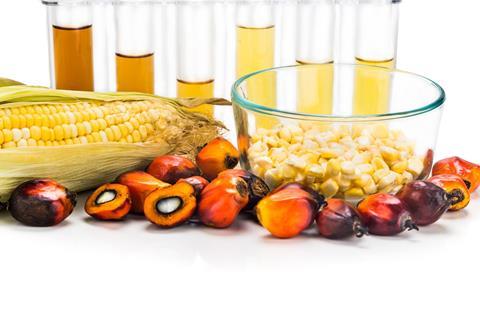 Bio-based ingredients are certified at the start of the supply chain by the manufacturer, and the certificates transferred, via an online platform, to each subsequent user. The information will stay with the chemical throughout the value chain as it is processed, used as a starting material in chemical reactions, and incorporated into consumer products.
No further certification of bio-based content will be required downstream. This is important as, according to Peter Nieuwenhuizen, global RD&I director for speciality chemicals at AkzoNobel, it is theoretically possible to measure bio-based content via carbon-14 analysis, but it is prohibitively expensive.
The pilot project is tracking ABT's Epicerol, or bio-epichlorohydrin. It is made from glycerol, a by-product of biodiesel and oleochemical manufacture, rather than petrochemical-sourced propylene. ABT manufactures the epichlorohydrin and uploads e-certificates. The chemical is sold to intermediaries who make epoxy resins, and AkzoNobel buys the resins from them to use in coatings. The e-certificates follow the chain of custody.
Nieuwenhuizen hopes the tool will prove particularly useful for chemicals, like epichlorohydrin, that are used in relatively small volumes. 'By doing the tracking in this bottom-up way, it will be less labour-intensive than checking every individual player in the value chain,' he says. 'We are not aware of any other company doing this. The method is open source and has not been patented, and we want EY to make it widely available to others.'
'Sustainability reporting by companies will be important as we make the transition from a fossil fuel economy to, eventually, a carbohydrate one,' says James Ewell, senior director of sustainable materials at GreenBlue, a US-based environmental non-profit focused on sustainable materials use. 'The initial phases will involve companies saying they are making the transition, and specifying the percentage of their portfolio they have converted. [The tool] could provide some means of verifying this.'
'Depending on the way it is being measured and tracked, and the chain of custody data, it could be useful in helping us understand how we mitigate the impacts in the conversion from one feedstock economy to another,' Ewell adds.