European commission president wants to shift €2.7 billion to bolster weak economies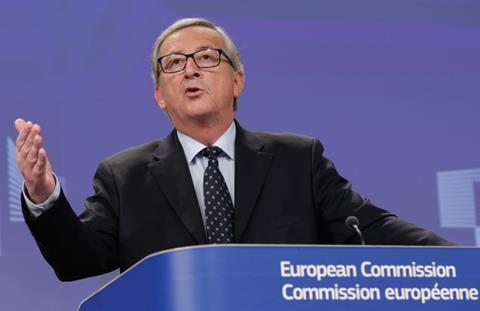 Scientists and university leaders are unhappy with European commission president Jean-Claude Juncker's plan to divert €2.7 billion (£2.1 billion) from the EU's main research funding programme. The proposal would see the money moved from Horizon 2020 into a new investment fund to bolster Europe's economy and create jobs.
Some €21 billion – including the €2.7 billion taken from Horizon 2020 – would be injected into the European Fund for Strategic Investments, which would be coordinated by the European Investment Bank. The fund would principally invest in poorer nations in southern Europe, with €16 billion of the total going toward long-term investments and the remainder invested in small- and medium-sized enterprises.
The League of European Research Universities (LERU) responded immediately to Juncker's proposal with the sharply critical statement: 'Horizon 2020 is not a lemon! Stop squeezing it!' LERU says it shares the European commission's goals for creating jobs and economic growth, but describes the proposed new fund as 'a vague and highly uncertain project'. LERU says that diverting Horizon 2020 money to the investment fund would be another 'subversion' of the most important source of EU funding for research and innovation. Since the creation of the seven-year €70 billion fund in 2012, 'there has been one attack after the other on the Horizon 2020 budget', LERU says. 'This must stop!'
Budget wizardry
Juncker would like the new investment fund to start by the middle of next year. But the plan first needs approval from EU member nations and the European parliament, which is by no means assured. In mid-November parliament flexed its muscles by rejecting the commission's proposed 2015 EU budget, which must be approved by 31 December. Further negotiations on the budget are currently underway.
Cutting Horizon to improve the competitiveness of Europe equals cutting off your nose to spite your face
Juncker attempted to garner support for his new investment fund during a speech to parliament on 26 November. He said that the €21 billion investment fund would, over the next three years, lead to the injection of at least €315 billion into the European economy. He also sought to allay concerns that European research would suffer. 'I know some of you are worried about the impact on the research and infrastructure allocations,' he said. 'You fear that redirecting money from the Horizon 2020 and Connecting Europe budget lines will mean that money is lost. But this is not the case. Every euro from these programmes paid into the fund creates €15 for those very same research and infrastructure projects. We are not just moving money around, we are maximising its input.'
Annika Thies, Brussels-based director of research policy for Germany's Helmholtz Association, tells Chemistry World that Horizon 2020 is the best tool currently available to ensure that European research remains world class, adding that diverting money from Horizon 2020 to the investment fund could have serious repercussions. 'Cutting Horizon to improve the competitiveness of Europe equals cutting off your nose to spite your face,' she says.
Diversionary questions
Kurt Deketelaere, secretary-general of LERU, says that he does not think money diverted from Horizon 2020 would eventually find its way back into research as Juncker maintains. 'It will be taken out of the EU budget, transferred to the European Investment Bank, which will put it in a specific fund governed by its own rules and procedures,' Deketelaere says. 'There is no earmarking of the diverted Horizon 2020 money for R&I [research and innovation] projects. Once the money gets into the fund, it can be used for every kind of project.'
The European University Association issued a statement saying it 'will be following closely discussions on the proposal and any potential future implications this could have for European universities'.
In a commentary on the Helmholtz website Thies asks whether it makes sense to 'reduce research in order to support research'. Horizon 2020 already is facing cutbacks, she notes. If €2.7 billion is diverted, then Horizon 2020 funding in 2015 could plunge 20%, she warns.
Wolfram Koch, executive director of the German Chemical Society and board member of the European Association for Chemical and Molecular Sciences, accepts Juncker's assurances that any Horizon 2020 money diverted to the investment fund will, at some point in the future, return to European research and innovation. 'I am not overly concerned about the current move,' he says. 'It seems more to be a kind of re-labelling.' He says, though, that converting research funds 'is never good' and that he can understand the concern being expressed by others in the research community. 'What certainly is true is that we need to watch carefully what happens and to defend the budget allocated,' he says. 'The fight about money will never stop and once you don't pay attention, you lose.'