Mouthguard that tracks fitness biomarkers could help athletes monitor their progress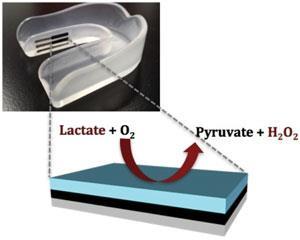 Scientists in the US have developed
a mouthguard sensor that could be used to monitor metabolites in saliva
to provide real-time information on the health status of the wearer.
Real-time health monitoring is an attractive goal for biomedical, sport and military fields. A range of sensors have been developed that monitor physical signs such as heart rate, but recently interest has moved to detecting biomarkers non-invasively in body fluids to obtain more detailed information.
Saliva is an easily obtainable body fluid and contains analytes that closely correlate to those of blood, providing a good indication of metabolism and hormone levels. Previous saliva sensors have included dental tattoos and dentures but the new mouthguard sensor from Joseph Wang and colleagues at the University of California, San Diego, is much less invasive.
'The absence of reliable wearable chemical sensors has greatly hindered progress in the area of wearable devices for health and performance monitoring,' says Wang. He goes on to add that his team's new wearable mouthguard-based sensing platform will tender crucial physiological information in real-time since the device will be always in direct contact with saliva.
The sensor uses a screen printed electrode that produces a current in the presence of lactate, a product of metabolism that is a useful measure of physical fitness. The sensor is highly selective for lactate and stable in saliva for 2 hours.
Dermot Diamond, an expert in biosensors at Dublin City University in Ireland says 'such minimally and non-invasive sensing strategies offer a route towards real-time monitoring of biochemical markers in bodily fluids, in contrast to the current paradigm of occasional monitoring of finger prick samples using disposable sensors'.
Future work on the sensor will focus on further miniaturisation of the device, and ensuring it is fully biocompatible for practical use.
References
This paper is free to access until 21st March 2014. Download it here: