Simple mechanical process converts waste silicone into a superhydrophobic material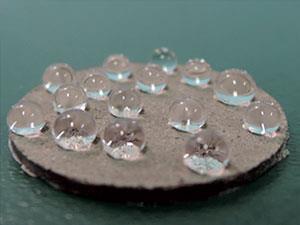 Scientists in China have made a mechanically stable superhydrophobic material from waste silicone.
There is currently no widespread recycling option for silicone products. 'It is hard to reuse waste silicone owing to its cross-linked network. At present, the green method to reuse waste silicone is to collect discarded silicone products and smash them for further processing for low value applications, but this method is not widespread because of its relatively high cost and complicated processing,' explains Lie Shen who led the work at Zhejiang University.
Shen's team combusted and pulverised waste silicone domestic products, including cup covers, then hot-pressed them to produce a cheap and mechanically stable superhydrophobic material.
Superhydrophobicity is a sought after property for anti-corrosion and self-cleaning materials. Silicone itself is hydrophobic however the change in morphology to hierarchical micro- and nanoscaled roughness created by the simple mechanical process traps air and thus establishes a surface solid–air–liquid interface causing superhydrophobicity, and a water contact angle matching that of the lotus leaf, which is held as the ideal superhydrophobic surface.
Markus Antonietti, director of the Max Plank Institute of Colloids and Interfaces in Germany, says using silicone rubber leftovers in a pyrolysis technique is 'highly valuable' and 'not only makes the processing eco-neutral, but also provides an attractive economic base to bring such superhydrophobic coatings into areas where the current technology is simply too expensive.'
Materials scientist Yong-Lai Zhang, of Jilin University in China, says the superhydrophobic powder is very interesting, especially from a sustainability viewpoint. 'As a wipe-on water repellent, the silica-based superhydrophobic powder may hold promise for the development of robust and cheap dewetting coatings.'