After Senate confirms Scott Pruitt to head the EPA, the agency issues a statement praising him and criticising itself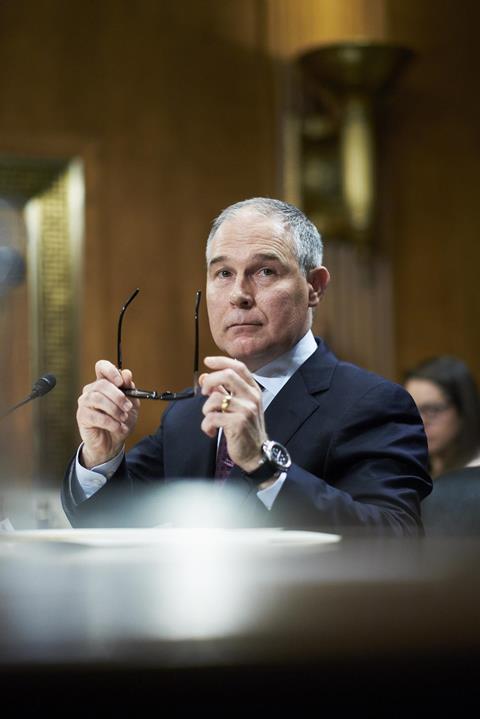 The Senate has confirmed Oklahoma attorney general Scott Pruitt to head the US Environmental Protection Agency (EPA), a federal agency that he has repeatedly sued to rein in its regulatory reach. The controversial nominee was narrowly confirmed by the Senate on 17 February, and the EPA immediately released a statement that featured quotes praising him and attacking itself. Pruitt's official Oklahoma attorney general website describes him as 'a leading advocate against the EPA's activist agenda'.
Earlier this month, an Oklahoma judge ordered Pruitt to release thousands of documents – including emails to fossil fuel companies, related advocacy groups and funders – and those were due on 21 February. The narrow Republican majority in the Senate was able to deliver President Trump's nominee, in spite of efforts by Democrats to hold off the vote until these emails were released.
In response to Pruitt's confirmation, the EPA issued a press release quoting Kansas Republican Senator Pat Roberts as saying: 'For years we have struggled with an EPA that was not only tone deaf to the needs and concerns of rural America, it was downright adversarial.' The EPA went on to quote Texas Republican Representative Randy Weber describing Pruitt as having 'combatted a rogue EPA on numerous occasions'. The EPA press release also included plaudits for Pruitt from others it described as 'American leaders and job creators', including the American Coalition for Clean Coal Electricity and the National Mining Association.
Meanwhile, the national president of a union that represents more than 9000 EPA employees, David Cox Sr, noted that the agency has seen significant growth in responsibilities but is smaller today than it was in 1999. Cox warned: 'Starving this vital agency of the resources it needs to carry out its important work threatens the health and safety of all Americans.'
'The biologists, scientists, lab technicians, engineers and other civil servants who work at the EPA must be able to do their jobs without political interference or fear of retribution,' Cox added. 'Ensuring the independence of our career civil servants at the EPA and all federal agencies is an essential part of our democratic government and something that we will fight to maintain.'

Senior US correspondent, Chemistry World