Selections prompt fears of roll-back on environmental research and mass reorganisations of science agencies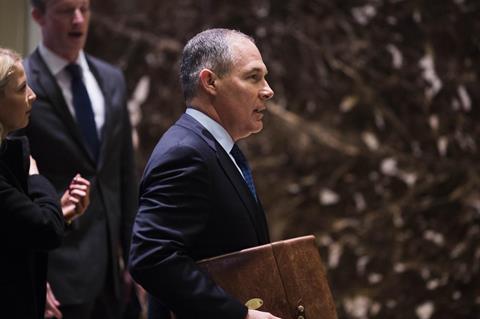 As President-elect Trump revealed his picks for cabinet positions and agency director posts over the past few weeks, tensions between the incoming administration and the scientific community have risen. Many researchers, science policy wonks and environmental groups have sounded the alarm in response to Trump's nominees to head the Environmental Protection Agency (EPA) as well as the Departments of State and Energy, among others.
Earlier this month, Trump revealed that he will nominate Oklahoma attorney general Scott Pruitt – whose official website says he is 'a leading advocate against the EPA's activist agenda' – to be the next administrator of the EPA. Pruitt, who has repeatedly sued what is set to become his agency to roll back regulations like President Obama's Clean Power Plan to cut emissions from coal-fired power plants, has often publicly said scientists continue to disagree on global warming and its connection to human activity.
The day after Trump was elected, Pruitt told a local radio show that there is 'enormous dispute' about whether global warming is real. 'I believe that there will be significant regulatory change on day one,' stated Pruitt, who is being criticised for having a cosy a relationship with the fossil fuel industry.
Meanwhile, political campaign contributions data indicate that Pruitt has received more than $300,000 (£241,546) in donations from the fossil fuel industry since 2002. The American Coalition for Clean Coal Electricity (ACCCE) celebrated his forthcoming nomination to head the EPA. '[Attorney] general Pruitt will be a strong advocate for sensible policies that are good for our environment, as well as mindful of the need for affordable and reliable electricity,' said Paul Bailey, ACCCE's senior vice president for policy.
Trump's picks will need approval from the Senate before they can take up their new posts. However, with the Senate controlled by the Republicans there may be very little opposition to his selections.
'Dangerously irresponsible'
However, the American Association for the Advancement of Science (AAAS) is troubled by Pruitt's repeated push backs against EPA regulation, and his statements that the science of climate change is unsettled. 'If a person jumped off a building because he said gravitation is only a theory, one would say he is delusional,' said AAAS chief executive Rush Holt, a physicist and former congressman. 'So too, any policymaker who would base national policy on denial of climate science because there is "debate" would be called dangerously irresponsible.'
There seems to be a general attitude in the incoming administration that they don't trust the science

Christine Todd Whitman, former EPA head
One person extremely qualified to comment on the choice of Pruitt to lead EPA is Christine Todd Whitman, who served as the agency's administrator under former Republican President George W Bush, and she is extremely apprehensive. '[Attorney] general Pruitt doesn't seem to have much faith in science, period – much less the agency's science,' Whitman tells Chemistry World. 'There seems to be a general attitude in the incoming administration that they don't trust the science,' Whitman continues. 'Science, it seems to me, is going to take a hit if everything they say is true – how would they fill that gap, except for finding some of the 3% of scientists that don't believe in climate change,' she asks. Studies have previously reported that at least 97% of actively publishing climate scientists agree that climate-warming trends over the past century are extremely likely to be the result of human activities.
Phillip Williamson, an environmental scientist at the University of East Anglia in the UK who also serves as science coordinator for the UK government's Natural Environment Research Council, fears for the future. He worries that US participation in the Intergovernmental Panel on Climate Change – the international body charged with assessing climate change research – might now 'come to an abrupt and shattering halt' in the Trump administration. 'If US scientists aren't funded to participate, or if the nominations to such meetings are individuals who have got a climate denial background, then that could be very disruptive,' he adds.
Stopping sledgehammers
Nina Fedoroff, a molecular geneticist at Pennsylvania State University who served as the science and technology adviser to the Secretaries of State during the Obama and George W Bush administrations, acknowledges that there are aspects of EPA regulations that need improvement. However, she says that taking 'a sledgehammer to the agency is clearly not constructive'.
Although it is unclear what Pruitt will do at the helm of the EPA, Fedoroff says his repeated attacks on the agency's attempts at regulation, particularly those aiming to reduce carbon emissions, provide insight. 'Presumably, if he behaves consistently with his record, that will certainly affect the nature of the research that is supported, or perhaps decrease the support for climate research,' Fedoroff states.
Beyond Pruitt, Trump's choice to head the Department of Energy (DOE) – former Texas governor Rick Perry, who once vowed to abolish the agency and has called climate change a 'contrived, phony mess' – is also causing consternation in the research community. Under Perry's five-year tenure as Texas's governor, the state's oil and natural gas production boomed. However, Perry also proudly proclaimed in his last speech as governor that Texas produces more energy from wind turbines than all but five countries, emissions of nitrogen oxide and sulfur dioxide had been slashed and that the state's carbon footprint has been reduced by 9%.
There is significant concern about researchers working in agencies like the EPA and DOE who now face the prospect of having directors who are trying to dismantle and rebuild around them. 'Scientists at some of these agencies need international support,' Williamson states. 'There is a direct link that I have to the American scientists working in the departments, and those are who I feel for most.'
Withholding names
In fact, the DOE itself has lashed out at the Trump team for apparently asking the department to provide a list of the names of employees and contractors who worked on its climate programme. Eben Burnham-Snyder, a DOE spokesperson, said some items in the questionnaire were unsettling. 'We are going to respect the professional and scientific integrity and independence of our employees at our labs and across our department,' Burnham-Snyder says. 'We will not be providing any individual names to the transition team.'
Indeed, that enquiry from the Trump camp has grabbed the attention of key Democrats. Congressmen Frank Pallone and Elijah Cummings – the senior Democrats on the House committees on energy and commerce and oversight and government reform, respectively – sent a strongly-worded letter to vice president-elect Mike Pence, who heads Trump's transition team. The congressmen charged that such efforts to single out particular DOE employees involved in efforts to reduce greenhouse gas emissions may be an attempt to target those whose scientific views diverge from those of the incoming administration.
The whole transition scene leaves me speechless

Neal Lane, science adviser to former president Bill Clinton
The anxiety of parts of the scientific and environmental communities goes beyond Trump's nominees to lead the EPA and DOE, and includes his choice for Secretary of State – ExxonMobil chief executive Rex Tillerson. If confirmed, Tillerson would become the US's top diplomat on climate issues. Yet ExxonMobil is under investigation by more than a dozen states for allegedly misleading investors and the public about the risks of climate change. The probe followed the release of evidence that ExxonMobil ignored the findings of its own scientists that tied fossil fuels to climate change, and spread disinformation about the risks.
'Trump himself, as an individual, I am not expecting him to know anything about climate change, but he will be advised from now on by the heads of departments who have views that seem to be anti-science,' says Williamson.
Nevertheless, Tillerson has acknowledged the significant risk posed by greenhouse gas emissions. He has also expressed support for a carbon tax on business and endorsed the Paris agreement, which Trump has vowed to pull out from.
Many prominent scientists urge the US research community to speak out as Trump forms his new administration. They say it will be necessary to spend a lot more of their time communicating and getting the message across. 'It is no longer good enough just to do science and to get it published and stay in your university,' Williamson says.
Such mobilisation appears to already be happening. During an American Geophysical Union (AGU) conference in San Francisco this month, dozens of its members reportedly protested Trump's designated appointees for various agency leadership roles, also pressing for continued scientific research funding. California Governor Jerry Brown addressed the AGU gathering, lamenting how the Trump administration is developing. 'It'll be up to you, as truth tellers and truth seekers, to mobilise all your efforts to fight back,' he told the audience.
Canadian crusade
Meanwhile, US scientists who depend on federal data sets are working with colleagues in Canada to figure out how to copy and archive this information, including climate models, so that it can be housed externally. The University of Toronto held a 'guerrilla archiving event' last week to connect scientists with computer experts in order to, for example, identify endangered data and map the location of inaccessible environmental databases.
Others are also taking action. Last month, more than 2300 scientists from across the US, including 22 Nobel prize winners, released an open letter urging Trump and Congress to set a high bar for integrity, transparency and independence when science is used to inform federal policies. 'Federally funded scientists must be able to develop and share their findings free from censorship or manipulation based on politics or ideology,' concluded the letter, whose signers include Nobel laureate Harold Varmus – the former director of the US National Institutes of Health – and other scientists who advised Republican and Democratic presidents, from Nixon to Obama.
But for many, the primary onus is on Trump and his team. 'The whole transition scene leaves me speechless,' says Neal Lane, a physicist who served as science adviser to former president Bill Clinton, and previously headed the National Science Foundation. 'I am going to continue to focus on the importance of the president-elect selecting a science adviser asap so he can have the benefit of access to the best scientific information and advice on climate change and many other important national issues.'

Rebecca became the US Correspondent for Chemistry World in September 2014, based out of Washington, DC, after writing for the magazine on a freelance basis since 2007.
View full profile