Trump administration poised to replace almost three-quarters of EPA's scientific advisory board with more industry-friendly picks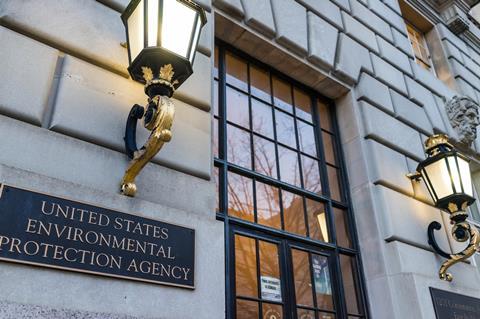 The Trump administration's decision not to renew the membership of half the scientists serving on the US Environmental Protection Agency's (EPA) 18-member Board of Scientific Counselors (BOSC) has outraged science organisations. The BOSC is made up of scientists from academia and various state agencies, and the committee is responsible for providing peer review of the science underway in the EPA Office of Research and Development, which ultimately informs US policy in areas like chemicals oversight.
Scott Pruitt, whom President Trump appointed as the EPA's new administrator earlier this year, wants the BOSC to be populated with more individuals 'who understand the impact of regulations on the regulated community', an EPA spokesperson recently told the New York Times.
'Academic scientists play a critical role in informing policy with scientific research results at every level, including the federal government,' said Rush Holt, the American Association for the Advancement of Science's chief executive officer, in an 8 May statement. 'We hope that the EPA reconsiders this decision, and would welcome an opportunity to meet with administrator Scott Pruitt to discuss how scientists can best advise the Environmental Protection Agency on environmental science.'
Only five remain
The BOSC had 18 members but now only five remain including its chairwoman, Deb Swackhamer, an environmental chemist from the University of Minnesota. 'This was a surprise; it is highly unusual for a request for a renewal appointment to not be granted,' Swackhamer tells Chemistry World. She says that nine scientists who were not renewed had been vetted for their scientific expertise and were 'active, impartial advisers' to the agency. 'They were not in any way political appointments, nor does our committee […] have anything to do with advising on regulation,' Swackhamer adds. 'We advise on the focus and the quality of scientific research being conducted at EPA.'
Robert Richardson, an ecological economist at Michigan State University who was a BOSC member and chaired the board's subcommittee on sustainable and health communities, was one of the committee members whose appointment was not renewed. He spoke about the experience during a 10 May conference call arranged by the Union of Concerned Scientists. 'The paperwork was in place to request the renewal of our appointments, so we proceeded with multiple teleconference meetings and other activities,' Richardson said. 'This is unusual, and I believe that it is a political act.'
The EPA did not respond to Chemistry World's enquiries, and it remains unclear whether the Trump administration will make it a standard policy to not renew BOSC members. The committee is waiting to hear when new members will be considered.
'It is distressing to see this action that marginalises science and independent science oversight in concert with public statements from the EPA administration that regulated industry should have greater influence on science and regulations at EPA,' Swackhamer states. 'It will weaken science to inform regulation policy to protect human health and the environment, and ultimately hurt the public.'
John Tharakan, a chemical engineering professor at Howard University in Washington DC, is coming to the end of his second term on BOSC and would have transitioned off of the board regardless of the EPA's action. Nevertheless, he calls the agency's move 'a radical departure in how the board is being constituted'. Tharakan emphasises that the committee's members are all required to make disclosure statements and recuse themselves in cases where they could face a conflict of interest.
The EPA's apparent interest in populating BOSC with representatives from industry is 'rather astonishing from the perspective of peer review,' Tharakan tells Chemistry World. He likened it to wanting tobacco executives to sit on federal agency review panels that assess the public health impacts of tobacco products and help develop regulations for that industry.

Rebecca became the US Correspondent for Chemistry World in September 2014, based out of Washington, DC, after writing for the magazine on a freelance basis since 2007.
View full profile