Cradle-to-cradle strategy could improve supply security
The UK will need to secure supplies of strategic metals or future economic growth will be put at risk, a Science and Technology Committee report warns. To address potential shortages the UK will need to recover more of these metals from waste electrical goods and begin a national programme to prospect for these vital manufacturing materials.
Strategic metals include the rare earth elements, platinum group elements and other groups crucial to advanced manufacturing and low carbon technologies. Elements like indium are vital for touch screens and liquid crystal displays and rare earth metals, such as neodymium, are used in magnets in electric motors and wind turbines.
Global supply of strategic metals has come under pressure recently as domestic Chinese demand soars and export quotas have been imposed on the trade of its rare earths. Global metal reserves are unevenly distributed with 97 per cent of rare earths mined in China, 92 per cent of niobium from Brazil and only 5 per cent of all known metal reserves found in Europe, raising the risk of monopolies. The report notes that the uneven distribution of these metals, combined with reports of hedge funds cornering the market, could result in volatile prices as well as supply problems.
The Royal Society of Chemistry (RSC), which contributed to the report, says that emissions targets could be missed if the UK fails to formulate a plan for strategic metals. 'The UK government has said that, while moving towards a low-carbon transport infrastructure, priority will be given to the use of biofuels where no alternatives are available, such as aviation,' says Brian Carter, RSC environmental sciences programme manager. 'This will place additional emphasis on the use of electricity to power cars.' This means new lithium mines are needed and technologies to recycle lithium, he adds.
Recycling these metals from waste electrical and electronic equipment (WEEE) is one way to reduce the UK's dependence on overseas mines. According to the report, 90 per cent of collected waste is recycled and substantial quantities of platinum, rhodium, palladium, gold and silver are recovered. However, there are still concerns that many useful metals are being lost in the remaining 10 per cent. To improve this, a cradle-to-cradle approach is needed with manufacturers encouraged to create products that are simple to disassemble and recycle once they reach the end of their working life.
The 'fugitive imports and exports' in our waste stream need to be better understood so we can make the best use of our scarce natural resources, says Mike Pitts, the RSC's champion for sustainable product design. 'In previous years the focus has been on the carbon economy, but carbon's just one of eighty-odd elements whose movements we should be keeping a close eye on.
However, recycling WEEE also has an environmental dimension. Much of the UK's waste electrical goods are sent to developing countries to be recycled resulting in pollution, as well as the loss of valuable metals. The committee call for stricter policing of such activity.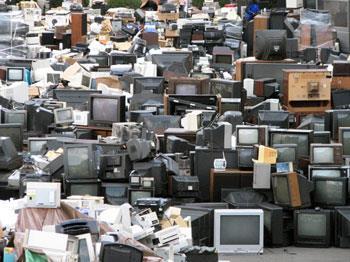 Another suggestion is to look closer to home for mineral reserves, as well as rare earth metal recovery from industrial waste streams, such as oil shale spoil heaps. The UK Geological Society says there are 100 millions tonnes of oil shale spoil heaps in West Lothian, representing a significant potential resource. Potential mining sites include the south-west of England and parts of the Scottish Highlands.
'The report doesn't call for digging up the UK countryside,' says politician Andrew Miller, who chaired the committee. 'In a number of countries there is work going on for recovery from waste material in oil heaps.'
Modern geological techniques could identify lucrative mining sites non-invasively. 'Bring science in to solve the problem, as we can now mine in far less intrusive ways,' Miller say. '[We can evaluate] if these reserves are worth extracting.'
Businesses now face difficulty securing supplies of these metals. As a result, the report also recommends that the government offers businesses information on metal scarcity to allow them to plan ahead.
Miller says: 'Eventually things will run out and we desperately need a strategy in place to address issues of shortfall. The government needs to think strategically... I'm quite optimistic the report will be taken seriously.'
Meera Senthilingam
Interesting? Spread the word using the 'tools' menu on the left.