The FDA has banned 19 antimicrobials in the US and given industry a year to remove them from consumer products
The US Food and Drug Administration (FDA) has banned triclosan and 18 other antimicrobial chemicals from use in consumer products, giving companies a year to eliminate the ingredients from their antibacterial products by reformulating them or yanking them off of store shelves.
Earlier this month, the agency determined in a final rule that companies selling antibacterial products containing chemicals like triclosan, triclocarban, and cloflucarban failed to prove that the ingredients are safe for long-term regular use, and that they are more effective than washing with soap and hot water.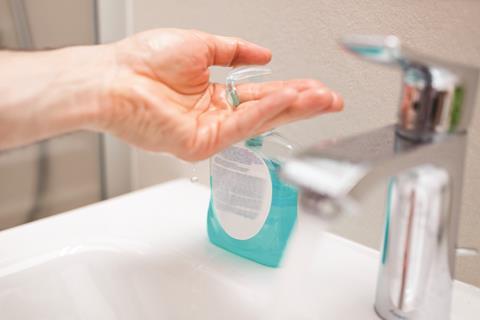 'Consumers may think antibacterial washes are more effective at preventing the spread of germs, but we have no scientific evidence that they are any better than plain soap and water,' said Janet Woodcock, who directs the FDA's Center for Drug Evaluation and Research, in a 2 September statement. 'In fact, some data suggests that antibacterial ingredients may do more harm than good over the long-term,' she warned.
The FDA's decision to ban the 19 antimicrobial ingredients echoes the common consensus among public health professionals, says William Schaffner, an infectious disease specialist at Vanderbilt University in Tennessee, US. 'The infectious disease and public health communities are very much in harmony with this decision,' he stated, arguing that the potential health risks don't warrant the widespread use of these chemicals in consumer products since they don't appear to provide a benefit over regular soap and water or alcohol-based sanitisers.
'The vast bulk of these chemicals have been used in consumer products, and we in the public health and infectious disease community have been concerned,' Schaffner told Chemistry World. 'We're putting man-made chemicals out into the environment in large quantities, to no good purpose.'
Proactive reformulation
Some companies had already begun reformulating their antibacterial products containing the now-banned ingredients, after the FDA issued a proposed rule in 2013 that was prompted by data suggesting the long-term regular use of antimicrobial ingredients could pose health risks like bacterial resistance and hormone disruption.
Nevertheless, the FDA's new final rule does not please industry groups, which maintain that antimicrobial consumer products are safe and effective. 'The FDA already has in its hands data that shows the safety and effectiveness of antibacterial soaps,' stated the American Cleaning Institute (ACI), which represents the producers of cleaning products and their ingredients. The organisation said manufacturers are continuing their work to fill data gaps identified by the FDA, adding that consumers can keep using antibacterial soaps with confidence.
However, Schaffner argues that the safety of widespread antimicrobial use hasn't been established. He points to a 2015 South Korean study showing that soaps containing triclosan performed no better against bacteria than ordinary soap, and to other animal research indicating that triclosan and similar ingredients may have hormone-disrupting properties.
In addition to the 19 antimicrobials that fall under the FDA ban, the agency gave industry a year to provide additional data proving the safety and efficacy of three other common ingredients in consumer products – benzalkonium chloride, benzethonium chloride and chloroxylenol. The ACI indicated that additional safety information on these three ingredients would be submitted to the FDA within the required timeframe.