The US agency that investigates chemical accidents faces heavy criticism, and its chairman is under pressure to resign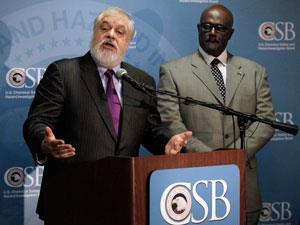 The US Chemical Safety Board (CSB), an independent federal agency charged with investigating serious chemical accidents, is being accused of punishing whistleblowers and appears to have widespread employee dissatisfaction. Amid these developments, the embattled chairman of the board, Rafael Moure-Eraso, is under pressure to resign.
Management issues at the CSB were scrutinised during a House Oversight and Government Reform Committee hearing on 4 March, and the committee's chairman, Republican Jason Chaffetz, joined with fellow lawmakers in calling on Moure-Eraso to step down.
In February, the Environmental Protection Agency's Inspector General found that Moure-Eraso and two other senior CSB officials violated the Federal Records Act by using their private email accounts to conduct official board business in an apparent attempt to evade other CSB employees.
At the hearing, Chaffetz stated that the CSB 'has suffered from a chequered history with regard to leadership'. He said his committee held a hearing about CSB whistleblower reprisals and mismanagement in June 2014, and nine months later things have not improved.
Obama moves on
Meanwhile, on 3 March President Obama nominated Vanessa Allen Sutherland – the current chief counsel for the US Department of Transportation's Pipeline and Hazardous Materials Safety Administration – to be CSB's new chairperson. At the hearing, Democratic Representative Elijah Cummings asked Moure-Eraso, who has approximately four months left in his term, why he hasn't resigned after appearing to have lost the President's confidence.
Also of concern are the results of a recent survey showing that CSB employee satisfaction is at an all-time low. Specifically, only 26% of the CSB employees recently surveyed rated their senior leadership as satisfactory, and the board ranked last of all federal agencies in terms of overall employee satisfaction in 2014.
Cummings agreed that CSB's management problems seem to have worsened. He cited new results from an external survey showing that 80% of CSB employees feel 'much frustration' with the board's top leadership, and that 47% of employees have a perception of a climate at CSB in which senior leadership discourages dissenting opinions.
In addition, members of the House committee said CSB management appears to punish dissenters and discourage employees from bringing their concerns to Congress. They said an employee of the board was quickly removed from his position and demoted after overseeing that outside review because senior leadership was unhappy about the report's negative findings.
Moure-Eraso himself testified at the 4 March hearing, acknowledging that many lawmakers have been critical of his CSB chairmanship. But he said his personal email usage was innocent and due to ignorance about the rules. He also noted that the number of CSB's open investigations, which was at an all-time high of 22 in June 2010 when he took office, is now down to six. In fact, he said, five of those remaining cases are on track to be completed by the end of the fiscal year, including reviews of last year's deadly explosion at the West Fertilizer plant in Texas.
'Confused and ambiguous'
Among the CSB members who testified at the hearing, there was some support for Moure-Eraso and some opposition. Board member Manuel Ehrlich stated that two CSB staff members intentionally doctored the external report, removing examples of progress being made by the board and adding negative comments about senior management. Ehrlich said CSB's problems have largely been due to the 'confused and ambiguous lines of authority' between the chairman, board members and other staff.
But CSB members Rick Engler and Mark Griffon expressed concern about an order suddenly approved in January that appears to have reduced checks on the CSB chairman's power. They testified that the measure, which was passed by a 2-1 vote, consolidated power in the CSB chair and eliminated, for example, the role of other board members in deciding budgets and major use of funds, key contracts, and approving appointment of department heads.