Massachusetts state chemist's arrest for allegedly falsifying evidence in drug cases casts doubt on thousands of convictions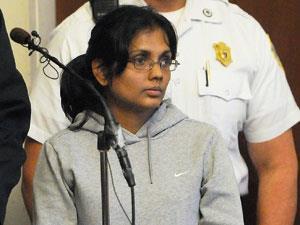 Last month's arrest of a chemist, who worked in a Massachusetts Department of Public Health state laboratory, for allegedly falsifying evidence used in criminal cases is prompting calls for major forensic science reform in the US.
Over her nine year career at the William A Hinton State Lab in Jamaica Plain the defendant, Annie Dookhan, tested about 60,000 samples involved in roughly 34,000 criminal cases. More than 1140 defendants have been incarcerated as a result of Dookhan's work and those cases are now in doubt, says Terrel Harris, spokesperson for the Massachusetts Executive Office of Public Safety and Security.
Dookhan analysed drug evidence submitted by Massachusetts law enforcement and, at times, she testified about her findings in court. Authorities allege that she tested samples from a Suffolk County narcotics case in March 2011 and signed two certificates confirming that they were cocaine, but recent testing by the Massachusetts State Police Crime Laboratory determined that they weren't illegal narcotics.
According to investigators, Dookhan examined a drug sample from another case a few months later and determined it to be cocaine, but subsequent mass spectrometry testing disputed that finding. She is also accused of faking a master's degree in chemistry from the University of Massachusetts in Boston.
'Dire implications'
'The scandal has forced officials to revisit all of these criminal cases to search for defendants who might have been wronged,' Harris tells Chemistry World. The governor of Massachusetts, Deval Patrick, has established an office specifically to review criminal cases potentially affected by Dookhan's failures. Thus far, more than 20 defendants have reportedly been released as a result of the questions raised about her work.
'The implications are dire,' says Jake Wark, a spokesman for the Suffolk district attorney. 'A large number of drug cases, often involving high-level offenders who use guns, have had their convictions called into question.'
The Dookhan scandal has also led to the closure of the Hinton lab's food and drug unit where she worked. In addition, it prompted last month's resignation of John Auerbach, commissioner of the Massachusetts Department of Public Health, who oversaw that lab.
'There was insufficient quality monitoring, reporting and investigating on the part of supervisors and managers surrounding the former Department of Public Health drug lab in Jamaica Plain – and ultimately, as commissioner, the buck stops with me,' Auerbach stated. He called Dookhan's behaviour, and the failure to properly manage and supervise her work, 'unacceptable'.
Red flags ignored
In fact, red flags were raised about Dookhan's work, but were ignored. Police records show that colleagues and scientific experts had warned that her productivity was too high to be believable. An average chemist at the lab analysed 50 to 150 samples per month and her rate was estimated at over 500.
'This is probably the worst case we have seen of this kind of thing, but it is not the first lab that has raised these kinds of questions,' says Josh Lee, a criminal defense attorney who teaches forensic chromatography for the American Chemical Society and Axion Analytical Laboratories in Chicago. He says it comes down to oversight, quality assurance and transparency.
'Forensic science is very much a "wild, wild west" where everyone does what they want,' Lee says, noting that the scientists are usually supervised by police officers. 'You have a system where, unfortunately, you are being graded in how much throughput you can get and how fast you are at your job and that is very dangerous in this line of work.'
Scientific and legal experts are demanding more transparency and accountability in forensics and they suggest that cameras should be installed in crime labs, as well putting in place barcoded sample tracking systems. Many are also urging that such facilities be made wholly independent, with no police or district attorney oversight. In addition, they advise implementation of independent auditing and random checking of actual samples by an independent quality assurance (QA) officer.
'If you're working in a lab, you shouldn't have to worry if an officer or sergeant will be mad if you don't give them the results that they want,' Lee tells Chemistry World. 'It always starts small when someone begins cutting corners or skipping steps and it grows until you end up with a scandal like this.'
Dookhan's behaviour was enabled by a faulty system, observers suggest. They note that her errors span nine years – 2003 to 2012 – so there didn't appear to be any effective QA personnel at her lab. Training deficiencies and ineffective oversight by supervisors are also being noted.
Many suggest that the fiasco is a laboratory-wide or system-wide failure and they warn that removing Dookhan won't fix the problem.