New revelations about the scope of misconduct by former Massachusetts state forensic chemist Sonja Farak casts doubt on more than just the samples of suspected drug evidence that she tested, throwing into question the outcomes of thousands of criminal cases.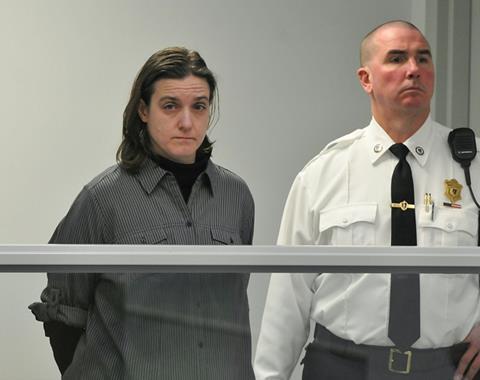 Farak was arrested in January 2013 and convicted a year later, after pleading guilty to tampering with evidence, stealing illegal drugs from the lab where she worked and possession of cocaine. She has now served an 18 month sentence and been released from prison.
The new information about Farak's actions, including the documents just released by the Massachusetts attorney general's office, reveal her malpractice to be extensive and far-reaching. 'It may be that her actions tainted cases that go far beyond the ones that she worked on,' says Matt Segal, the legal director of the American Civil Liberties Union of Massachusetts.
Farak worked for the Massachusetts Department of Public Health between 2003 and 2012, and then for the Massachusetts State Police until January 2013. During the first year of her employment, she worked at the Hinton drug analysis lab in Jamaica Plain, overlapping for six months with another disgraced Massachusetts forensic lab chemist, Annie Dookhan. Farak subsequently worked at the Amherst crime lab, testing the authenticity of various controlled substances submitted by state law enforcement agencies, and testifying in criminal cases.
However, the new Massachusetts attorney general documents reveal that Farak began consuming methamphetamine every morning in early 2005. Her consumption of the drug increased over the next four years until she was taking it several times a day. After working at the Amherst lab for about a year, she began to siphon off and use drugs from the lab's own reference standards, which were used to test drug samples submitted by police related to pending criminal cases. Farak covered up her theft by replacing stolen lab standard drugs with materials that looked similar, such as baking powder.
Sample stealing
Farak also stole drug samples that other chemists were working on, and even began manufacturing crack cocaine in the lab for her own personal use.
By the beginning of 2009, Farak had nearly exhausted the Amherst lab's entire methamphetamine standard and began abusing bottles of amphetamine and phentermine stored within the lab, even as she was testing alleged narcotics. By 2009, she also started dipping into other reference standards at the Amherst lab, including ketamine and LSD. Eventually, the diminishing volume of reference standards at the lab led Farak to use drugs from the police-submitted samples at the lab.
'Those reference materials she ingested also were the standards used all the time by everyone to determine if a sample is meth or cocaine, for example,' Segal explains. 'That standard is now in question.'
The potential impact of Farak's malpractice is still being assessed by the district attorneys from counties that relied on the Amherst lab to handle evidence. In four counties alone, Farak personally handled samples for nearly 1400 cases, according to district attorney offices. In those four counties, which only represent a subset of those that are affected, there were more than 5500 cases sent to the Amherst lab for analysis during Farak's tenure.
David Capeless, the president of the Massachusetts District Attorneys Association who also serves as the district attorney in Berkshire County, Massachusetts, says the Farak scandal is concerning but must be put into perspective. 'This is not like a situation where individuals are being wrongly identified as being the perpetrators of crimes,' Capeless states. 'There are no indications that she was substituting drugs in cases in which there weren't any.' He emphasises that no fake evidence was manufactured and no false confessions were created.
However, as of March 2016, there were a 'handful of cases' in which people in Berkshire County were still incarcerated as a result of evidence handled by Farak, according to Capeless. After contacting the attorneys who represented those defendants to inform them of the developments related to Farak's wrongdoing, Capeless says he's received only one response and is awaiting their action.