Researchers and science groups applaud President Obama's action make it easier for American and Cuban researchers to collaborate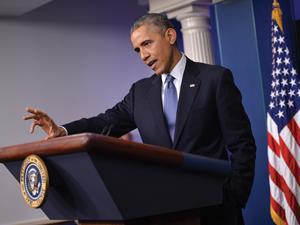 The new year has brought a new era in US–Cuba relations that is ripe for scientific cooperation between the two countries, after President Obama announced an easing of restrictions on 17 December. These changes involve relaxing visa application requirements and shortening the application process for scientists wishing to attend scientific meetings in the US or Cuba.
Obama said that travel restrictions between the two countries would be relaxed for people in a dozen categories,including professional research and professional meetings, educational programmes, as well as the activities of private foundations, research or educational institutions.
The American Association for the Advancement of Science (AAAS) welcomed the news. 'Working together more closely will allow scientists from Cuba and the United States to better share data, identify and monitor outbreaks of infectious disease, and develop more coherent responses,' said AAAS's chief executive, Alan Leshner. He suggested that these policy changes will go a long way to ensure a 'more robust science relationship with great mutual benefit'.
Although Cuba is tiny and poor compared with the US, it has a very credible scientific workforce and considerable research expertise of interest to the US, according to Michael Clegg, an emeritus biological sciences professor at the University of California, Irvine and co-chair of the InterAmerican Network of Academies of Sciences.
He notes that Cuba has made a significant investment in biotechnology, beginning in the late 1980s, and it has been active in the development of vaccines as well as agricultural technologies. In addition, Clegg says Cuba has considerable know-how in meteorology, disaster response and preparedness, environmental science related to management of marine resources and biodiversity research.
'Positive step'
Any increase in scientific dialogue between the two countries is 'a positive step', according to Mark Rasenick, a professor of physiology and biophysics at the University of Illinois at Chicago. Rasenick says US researchers will benefit from collaboration with Cuban counterparts in areas like brain mapping, cancer vaccines, interferon treatments, which were abandoned in the US but have been used to treat hepatitis C and multiple sclerosis in Cuba, as well as epidermal growth factor therapy, used in Cuba to treat recurrent and chronic wounds of the sort suffered by diabetics, the paralysed and the elderly.
In addition, he suggests that Cuban and US scientists could work together on clinical trials. 'In Cuba, they have really terrific health records and those could enable clinical trials with populations that are selected very well,' Rasenick explains. 'That would also help them because it would be a source of funds and help their doctors looking at newer therapies.'
The new US policy should represent a boon for Cuba's pharmaceutical industry, according to Mavis Anderson with the Latin America Working Group based in Washington, DC.
She says Cuba has a strong home-grown biomedical industry because its citizens haven't had access to the pharmaceutical and medical devices produced by US companies or their international subsidiaries. They were reluctant to sell their products in Cuba because of onerous US government requirements to certify specific end-use of pharmaceuticals and medical equipment.
'It will now be easier for them to have a market in the US for at least pharmaceutical trials, and collaborations and exchanges with US pharmaceutical experts will only strengthen their own industry,' Anderson says.
Abivax, a French biotech company that develops anti-viral compounds and vaccines to treat infectious diseases like HIV/Aids and hepatitis B, said the new US policy will facilitate access to the key discoveries of life science researchers in Cuba.
The company said it has long recognised the quality of the life science research that has been conducted in Cuba for decades. Abivax recently signed a deal with the Finlay Institute in Havana, Cuba, that will allow it to commercialise vaccines against typhoid, meningococcus and leptospirosis in Asian and Latin American markets.
Embargo sorrow
However, critics claim that Obama's initiative is undermined because the US's 50-year-old trade embargo against Cuba remains in effect. Until the embargo is lifted, it will be very difficult to have the kind of scientific exchange between the US and Cuba that is 'really inclusive and complete', Rasenick tells Chemistry World.
Rasenick says that while the Obama administration has made it easier to travel between the US and Cuba 'you still have to apply for licences, which is not a trivial matter'. In addition, it is unclear which types of scientific activities can actually be pursued. For example, Rasenick says it is doubtful that the US could help to build a research lab for cooperative studies in Cuba using taxpayer's money.
'We can do cooperation as scientists and this will improve our capacity to do one-to-one research collaborations, or convene small meetings or groups,' Rasenick adds. 'But in terms of doing things that would require money, we are going to need to end the embargo.'
Clegg, who is a past foreign secretary of the US National Academy of Sciences, agrees that the changes will probably be 'evolutionary and not revolutionary', but he suggests that there may be some relaxation in how money can be spent on joint scientific projects.