Environmental Protection Agency advances long-awaited ban on consumer products, but allows commercial use to continue
Two years after the US Environmental Protection Agency (EPA) proposed banning methylene chloride (dichloromethane) in paint strippers, the agency has finally proposed new regulations to prohibit consumer use and limit commercial applications. However, environmental and public health advocates have sued the agency, saying that the rules do not go far enough, and that the EPA's failure to finalise the rules sooner threatens public health.
Under president Obama, the EPA determined that dichloromethane-based paint strippers present 'an unreasonable risk of injury to health' to consumers, workers and bystanders. The agency proposed to prohibit commercial and consumer uses under the Toxic Substances Control Act (Tsca), which governs US chemical policy. In the EU, methylene chloride has been banned in consumer and commercial paint strippers since 2012, with exemptions for industrial uses.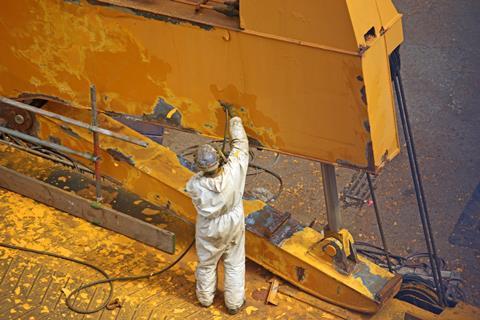 However, the proposed US regulations languished until, on 21 December 2018 – just before the holidays and right as a partial federal government shutdown took effect – the EPA submitted a final rule banning consumer uses of dichloromethane paint strippers to the White House's Office of Management and Budget (OMB) for review and approval. Simultaneously, the agency forwarded to the OMB a separate proposal to develop a training and certification programme for commercial paint removal applications of methylene chloride, which campaigners see as a major step back from the original proposal.
'They have sent on to OMB the portion of the rule that regulates consumer uses, but they are delaying action on commercial uses,' says Liz Hitchcock, director of Safer Chemicals Healthy Families, which is one of the plaintiffs in the lawsuit. 'That means that workers are still exposed.'
The EPA is facing mounting pressure amid estimates that 60 or more people have died in the US from methylene chloride exposure via paint strippers since 1980, including at least four since the agency proposed the original ban in January 2017.
OMB review is not supposed to last longer than 90 days, but some worker safety rules have sat at the agency for years before being finalised. The partial government shutdown will likely cause further delays.
Meanwhile, retailers are beginning to voluntarily phase out paint strippers containing methylene chloride. Walmart will stop sales online and in most stores by February 2019, and Amazon is eliminating methylene chloride and N-methylpyrrolidone in all its paint strippers from March 2019.
The chemical industry has welcomed the EPA's recent actions. 'Professionals have been using methylene chloride paint strippers for 60-plus years. They know how to use it and have read the labelling,' states Faye Graul, executive director of the Halogenated Solvents Industry Alliance in the US. 'Those deaths that have occurred have been of do-it-yourselfers.' Graul notes that dichloromethane is the most effective and fastest means of paint stripping, and that alternatives can take five times as long.
Bans are only effective when enforced, however. In January in the UK, the director of now-dissolved firm Abel received a 10-month prison sentence for selling, among other things, paint stripper containing dichloromethane. The company also failed to check at the point of sale whether the product was going to be used in industrial installations or that the buyers were appropriately certificated professionals.
Abel's founder and director, Nicholas Corbett, pleaded guilty to breaching EU regulations. Following a complaint against Abel in August 2014, the UK Health and Safety Executive (HSE) worked with online platforms to pull the advertisements for these products. The HSE also served the company with enforcement notices to prohibit further supply, which Abel ignored. The company was dissolved in January 2018.