Denka disputes claims of 'unacceptably high' releases from neoprene manufacturing facility
The US Department of Justice (DOJ) is suing Denka Performance Elastomer on behalf of the Environmental Protection Agency (EPA), alleging that the company's emissions of chloroprene from its neoprene rubber manufacturing facility in LaPlace, Louisiana, present an unacceptable cancer risk to the nearby community. The DOJ wants to force Denka to further cut hazardous emissions from the plant.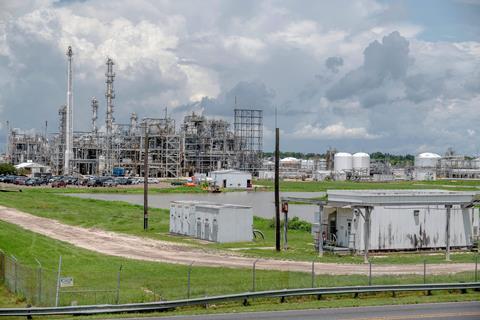 Over the last several years, air monitoring by the EPA and Denka have consistently shown long-term chloroprene concentrations in the air near the facility as high as 14 times the levels recommended for a 70-year lifetime of exposure, according to the complaint. The EPA's 2010 toxicological review assessment of chloroprene concluded that the chemical is 'likely to be carcinogenic to humans'. Chloroprene, or 2-chlorobuta-1,3-diene is the monomer from which neoprene rubber is made.
In December 2022, the EPA found that Denka had miscategorised a chloroprene-containing waste stream, which should have been classed as hazardous. Denka was releasing this waste into an open-air brine pit rather than storing and disposing of it according to hazardous waste requirements. Inspections revealed that this waste was contributing to elevated chloroprene concentrations in the air close to the pit. Denka agreed to halt the practice and improve its waste management practices.
'Outdated and erroneous science'
Chuck Carr Brown, secretary of the Louisiana Department of Environmental Quality (LDEQ), said one of his agency's top priorities is emissions reductions at Denka. 'The EPA is now building on the steps LDEQ took five years ago and our continuing efforts to reduce chloroprene emissions from the Denka facility,' he stated.
Denka says that it has worked with state and federal regulators to reduce chloroprene emissions by over 85% since purchasing the plant in 2015, at a cost of over $35 million (£29 million). However, EPA's administrator, Michael Regan, said the company has 'not moved far enough or fast enough to reduce emissions or ensure the safety of the surrounding community.'
Denka 'strongly disagrees' with the EPA. The company says that the EPA's assessment of the risks chloroprene emissions pose to the local community is based on 'outdated and erroneous science that the agency released over 12 years ago'. Denka has been petitioning the EPA to change the way it assesses chloroprene risks since 2015.

Rebecca became the US Correspondent for Chemistry World in September 2014, based out of Washington, DC, after writing for the magazine on a freelance basis since 2007.
View full profile