The Obama administration's proposed Clean Power Plan has been well-received by environmental groups, but attacked by industry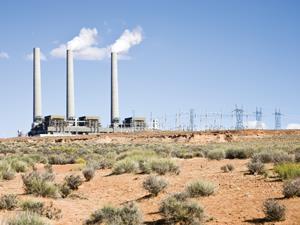 The US Environmental Protection Agency (EPA) has proposed limiting carbon emissions from the country's power plants for the first time ever on 2 June. Environmental groups were pleased, while the move angered private industry and key legislators.
The Clean Power Plan proposal, which is a cornerstone of the climate action plan that President Obama announced last year, requires that the 1000 existing coal-fired power plants in the US cut carbon dioxide emissions by at least 30% below 2005 levels by 2030. The agency intends to finalise the rule by June 2015 and will require states to submit implementation plans by June 2016.
'Although we limit pollutants like mercury, sulfur and arsenic, currently there are no limits on carbon pollution from power plants, our nation's largest source,' said EPA administrator Gina McCarthy. Power plants account for about a third of all US greenhouse gas emissions.
The plan aims to cut energy waste and leverage cleaner energy sources by setting 'achievable, enforceable' state goals to reduce carbon pollution per megawatt hour of electricity generated, the EPA said. It also presents a national framework that gives states the flexibility to determine how best to meet their goals.
States can elect to modernise aging plants, shift their reliance to more efficient and less polluting plants, or transition to zero carbon sources such as nuclear, wind and solar. The EPA said that the 30% cut is achievable because innovations in the production, distribution and use of electricity are already making the power sector more efficient.
Benefits versus costs
The EPA estimates that its proposed regulations will translate to climate and health benefits worth $57 billion (£34 billion) to $93 billion in 2030, outweighing projected costs of $7.3 billion to $8.8 billion. The agency also says the plan will prevent up to 6600 premature deaths and prevent up to 150,000 asthma attacks in children, by reducing ozone and atmospheric particulates.
The president of the Natural Resources Defense Council (NRDC), Frances Beinecke, endorsed the proposal and encouraged the EPA to set 'the strongest limits possible' when issuing the final standards.
Praise for the plan also came from the president of the Union of Concerned Scientists, Ken Kimmell, former chair of the Regional Greenhouse Gas Initiative (RGGI) – a cooperative of nine north-eastern states aiming to cap and reduce carbon dioxide emissions from the power sector. Kimmell noted that a similar approach of limiting carbon emissions and expanding both renewable energy and energy efficiency worked well in the RGGI states and California. Specifically, Kimmell said Massachusetts and other RGGI participants cut power station emissions by about 40% since 2005, and are projected to reach a 50% reduction by 2020.
Eileen Claussen, president of the independent Center for Climate and Energy Solutions, called the EPA's proposal 'an important, and long overdue, turning point in America's response to climate change'. Given the complexities and the stakes, she said, the EPA appears to have 'done a credible job on a tough issue'.
Taking offence
But others like the American Chemistry Council (ACC) went on the offence. The trade group said the proposal could raise energy prices in certain parts of the country and make it harder for manufacturers to compete abroad or grow and hire domestically. 'Since many chemistry processes require large amounts of electricity and natural gas, the US chemistry industry is highly attuned to how EPA's regulations for the electricity sector could affect energy markets,' ACC said.
The American Coalition for Clean Coal Electricity (ACCCE) and others went further and said the rules will not only cost millions of jobs and billions in higher energy prices, but could actually worsen public health by forcing low- and middle-income families to choose between paying higher energy bills and other necessities. 'The administration's continued attempts to link carbon emissions with disease and public health concerns remains puzzling and can only be explained by EPA's use of an accounting trick ("double counting") to claim health benefits from its carbon proposal that the agency also claims from other rules,' ACCCE said. 'These supposed health benefits are being claimed by EPA for reducing air pollution to levels below what EPA has already established as being safe.'
Just days before EPA's forthcoming rules were announced, the US Chamber of Commerce released a report predicting they would cost about $50 billion a year and cut an average of 224,000 jobs annually through to 2030.
On Capitol Hill there was also stiff opposition. Senate Republican leader Mitch McConnell, who represents the major coal-producing state Kentucky, called the proposals 'a dagger in the heart of the American middle class, and to representative Democracy itself'. Republican Lamar Smith from Texas, which is the nation's top coal consumer and biggest emitter of greenhouse gases, called the proposed regulations 'costly and unnecessary'.
While most prominent Democrats endorsed the EPA proposal, the criticism was not restricted to Republicans. Alison Lundergan Grimes, McConnell's Democratic challenger, released an ad attacking the president. 'Now your EPA is targeting Kentucky coal with pie in the sky regulations that are impossible to achieve,' Grimes said in the ad. She noted that coal supplies 92% of Kentucky's electricity.