Jay Siegel is building the future of China's Tianjin University by looking to its past – combining the academic cultures of east and west
On 17 April 1895, Japan defeated China in what is seen as a military victory for western industrialisation. The Chinese navy, founded after the second opium war, lay in ruin due to lack of maintenance, and China was woefully outgunned by the superior opposition technology. China's response was an immediate investment in modern engineering- and research-based universities.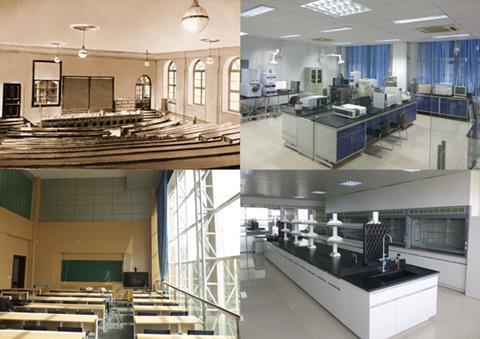 On 2 October 1895, the doors of Peiyang Western Study School (Peiyang University; now Tianjin University) opened, thanks to an extraordinary partnership between east and west: Chinese businessman Xuanhuai Sheng and US educator and diplomat Charles Daniel Tenney. Within two years, these men restructured China's higher education on western education principles, driving the development of China into the 20th century.
Tenney pushed a strong programme of reform. Having run a tutoring school in Tianjin, he understood the value of diverse student recruitment and strong preparatory university education. He also knew he needed faculty versed in western teaching. He appointed top engineers and scientists from the US and Europe, and traveled throughout Asia to spread the word of this new institution, actively recruiting students. Instruction in English and cooperative agreements with overseas universities ensured that these students could travel abroad to continue their education at the best schools.
By the end of its first decade, many of the university's alumni had studied at the world's top institutions, and they returned to become the intellectual and political leaders of early 20th century China. The investment was paying off not only for China, but also for worldwide intellectual exchange. One can see parallels with the Choshu five and related reforms in Japan. Unfortunately, China did not enjoy a subsequent long period of peace to allow these reforms to develop.
Following footsteps
A century later, in October 2010, I arrived in Tianjin to give a series of lectures at Nankai University. An odd happenstance delayed my onward travel and my host Chi Ming Yang asked me to visit the School of Pharmaceutical Science and Technology (SPST) at Tianjin University for a Saturday seminar. Over a festive dinner accented with Baijiu, in the spirit of the moment, party secretary Cuiling Feng raised the idea of me moving to Tianjin.
For young scholars everywhere, there is an opportunity to make a career in the east
In the following weeks and months, mutual visits and discussions revealed a resonance of visions for development. In particular, Tianjin's new president, Jiajun Li, and I shared an interest in educational reform.
Nonetheless, it was clear that reform would only be possible with fundamentally different faculty governance. Over almost two years, we discussed how to create an international centre of excellence in Tianjin, and coined the idea of 'academic free zones', analagous to the 'economic free zones' that were so successful for modernising international business and trade in China. These zones allow university leaders to give greater autonomy to deans regarding hiring, curricular reform, renovation and organisational structure. This freedom will expedite policies proposed in Lanqing Li's treatise Education for 1.3 billion people, many of which are now part of the Chinese government's national plan for education reform.
Joint venture
With a common vision agreed, I was appointed dean of the SPST in June 2013. Like Tenney's reforms a century earlier, the initial five-year plan emphasises international cooperation: an international advisory board and international appointments to the school executive, recruiting international faculty in large numbers, a curriculum refashioned for international accreditation, instruction in English and partnerships for scholarly exchange with top foreign institutions. Our plans also call for much greater autonomy at the school level and a major renovation of infrastructure and instrumentation. Inquiry-based teaching methods and world-class infrastructure are key to recruiting the best faculty and students.
The move takes me far outside my comfort zone, but it will be a joint venture: Kim Baldridge, my partner of 25 years, joins me as professor of computational chemistry. We are excited to have made this leap and we are dedicated to implementing changes that will not only lead to better education, but also bridge east and west in a stabilising and mutually beneficial way.
Tenney's work and the work of people like him had a 100-year hiatus, but the time is again ripe to forge strong links between the academic cultures of east and west. Diplomacy through education is a solid and peaceful economy on any scale.
For young scholars everywhere, the opportunity is now there to make a career in the east. Your skills are needed and appreciated and your work 'on the ground' will have enormous influence on peaceful global sustainability. In contrast to the immutable traditions of many long-standing programmes, the east is eagerly looking for a new model. That model will ultimately be defined by young scholars, whose choices today will shape the future.
Jay Siegel is dean of the School of Pharmaceutical Science and Technology at Tianjin University, China