President Obama just got told off by Desmond Tutu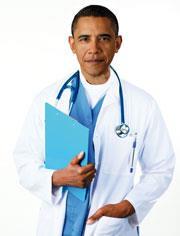 President Obama just got told off by Desmond Tutu. In a comment written for a recent edition of The New York Times, the archbishop regrets the US president's decision to considerably reduce the nation's contribution to the President's Emergency Plan for Aids Relief (Pepfar) programme.
The initiative was launched in 2003 by George Bush with the aim of establishing prevention, care and treatment programmes, especially in low resource settings, and during its first 5 years it provided treatment to more than 2 million people and care for more than 10 million, including 4 million orphans and vulnerable children.
Indeed, the $1 billion (?658 million) that Obama had promised to add to this programme during his presidential campaign has now plummeted to $366 million. No reasons for this decision were alluded to in the article but Tutu admits that he is 'saddened' by the decision 'to spend less than he promised to treat Aids patients in Africa' and alerts us to the fact that this lack of funds could cause up to 1.2 million avoidable deaths over the next 5 years.
I want to believe this was a tough decision to make for President Obama, who no doubt will be hurt to read Tutu's comments and subsequent comparison with his presidential predecessor, whom the archbishop says 'made an impressive commitment to the international fight against Aids.' Indeed, Pepfar still holds a place in history as the largest effort by any nation to combat a single disease, having spent $19 billion to help support treatment for more than 2 million HIV patients in Africa since 2003. So credit where credit is due. However, somebody should remind the archbishop that despite former President Bush's Pepfar pledges, throughout his time in office he adopted an overt antiscience stance and an attitude of disinterest regarding healthcare reform while Obama has fought to put both right back at the centre of the political agenda.
Not only that, but Bush committed the money at a time of relative financial stability, and now we are in the middle of one of the greatest recessions of recent times (hopefully now towards the end of it). While many governments around the world are making cuts wherever possible, Obama is still committed to science and healthcare, most recently dedicating, for example, around $2 billion to two solar companies for the development of alternative energy technologies.
But something has to give. With the US healthcare system currently undergoing some of the biggest changes in its history and millions of Americans still uninsured and unable to receive healthcare, the president may have chosen to divert the Pepfar funds to a cause closer to home. In any case, the archbishop does have a point - Obama should not have promised to donate $1 billion extra to the programme in the first place. Unfortunately, the decision may come at a cost: that of many human lives. Who is ultimately to blame for this is the subject of a larger debate. As far as science and healthcare go, Obama is trying hard to do his best.
Bibiana Campos Seijo, editor