The news that most of Pfizer's employees at the Sandwich site will be made redundant over the next two years was met with surprise, disappointment and anger
'We hope the facilities at Sandwich enhance employee interaction in order to engender teamwork and innovation, so that the site remains at the forefront of pharmaceutical research and development,' reads an outdated (but nevertheless live on 17 February) page on the Pfizer website, clearly written some time before the announcement on 1 February that the site was to close.
The news that most of Pfizer's 2400 employees at the site will be made redundant over the next two years was met with surprise, disappointment and anger. And not just by employees at Sandwich, where some of Pfizer's most successful medicines - including heart drug Norvasc (amlodipine), HIV drug Celsentri (maraviroc), and Viagra (sildenafil) - were developed.
It was a 'shocking wake up call', said Colin Blakemore, former chief executive of the Medical Research Council and advisor to several UK government departments. He puts the decision down to falling appeal of the UK to the pharmaceutical industry, a conclusion rejected by Pfizer chief executive Ian Read. It's not a reflection on the UK, said Read, 'it's a business decision to focus our R&D footprint in must-win areas'.
The company talks of plans to transfer hundreds of its on-site R&D support staff to 'partners', but what that means for the 2400 staff is unclear. It's unlikely that a contract research organisation (CRO) would take over the site and its entire staff. According to pharma industry commentators, a single CRO or similar organisation probably wouldn't take on more than 500 staff in one go.Whatever Read might say, the UK is widely viewed as a high-cost environment. Sadly, it might not be the Sandwich site or its staff that a CRO is really after. A pharma acquisition is now often viewed as a possible route into a strategic relationship with an asset-shedding drugs giant; a services contract involving the transferred part of the business is often part of the deal. Once a deal is struck, other deals are likely to follow.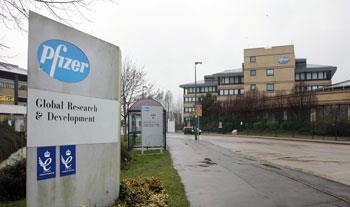 There was a bitter sweet coincidence the week the Pfizer bombshell fell. Just as the news sank in, the Chemistry World Jobs site went live. Job seekers can upload CVs, manage job hunts by setting up an account, and request emails of the latest relevant vacancies. Recruiters can post jobs and monitor applications and will have access to an extensive database to use when searching for candidates.
It might help some of the Sandwich staff, but there remain hard times ahead. The effects locally, in Sandwich and across Kent, will be harsh, with Kent County Council beginning to look at ways of regenerating a site that has evolved around the company since its arrival there over 50 years ago. But the UK as a whole might suffer the greater repercussions. The House of Commons science and technology committee questioned Pfizer executives at the end of February, and science minister David Willetts will be questioned at the beginning of March. Sandwich is Pfizer's biggest R&D facility in Europe and the largest R&D site of any foreign-owned drugmaker.
Meanwhile, in the Chemistry World office, initial celebrations following the first uploaded CV to the new jobs site were put on hold, after realising it was from a project leader at Pfizer.
Bea Perks, deputy editor