An RSC poster of the periodic table from Damien Hirst's restaurant sold for £6000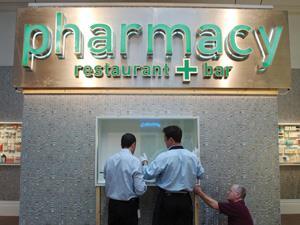 An RSC periodic table poster recently sold for a staggering £6000, with a second selling for £3600. The posters, sold at Sotheby's in London, made up part of artist Damien Hirst's collection of chemistry-related paraphernalia that he had used to decorate his failed London restaurant, Pharmacy.
After the restaurant closed, Hirst, more often remembered for his work with sizeable farm animals sawn in two and preserved in formaldehyde, decided to auction off all the decorations and crockery that he had used to create the atmosphere of a real pharmacy for his diners.
It should be noted that the auctioned periodic tables were unique because they had been signed by Hirst, and had hung in his restaurant alongside other periodic table-esque art pieces that the artist produced.
Chemistry World (December 2004)
Ed. The periodic table poster from the Royal Society of Chemistry was updated in 2013.
There is also an interactive online periodic table available at www.rsc.org/periodic-table. It features history, alchemy, podcasts, videos and data trends across the periodic table.