There are enough ways to organise the elements to suit everyone's taste
Have you had enough of the periodic table yet? I hope not, because there are six pages of the thing on page 24 – not to mention another eight months of the International Year of the Periodic Table!
Hopefully there are enough unusual versions of the periodic table in the feature to entertain those whose eyes would glaze over at the sight of the standard 18-column chart. And apart from the aesthetic entertainment value of all those tables, there's a serious lesson or two to be learned.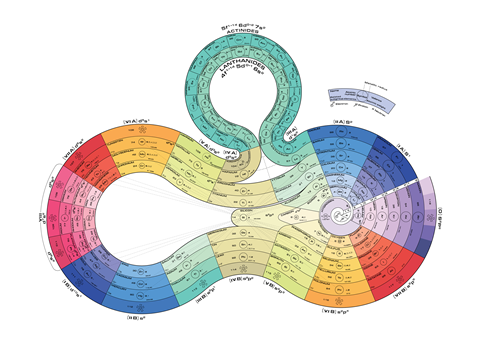 The first is that, like so many scientific advances down the years, Dmitri Mendeleev didn't come up with the idea of the table in a scholarly vacuum. A handful of other scientists – chemists and others – were working towards similar goals of ordering the elements. The reason we learn about Mendeleev in school – and why we're celebrating his achievement this year – is because he was basically right. And, of course, because he made some concrete predictions for new elements and their properties which turned out to be spot on too. Being right and making provable predictions are both more important than being first.
Another reason is that there's more than one way to order a periodic table – even Mendeleev himself said a spiral was the best option, as it removes the discontinuities of a table. So all those loops, whirls, spirals and spins aren't just there for creativity's sake, there is method behind what can look like madness.
Yet it's the plain old tabular archetype that has assumed its place on our lab walls, and with good reason – it's useful, workable, printable and compact. Which is a lot more than can be said for a great many of the alternatives! And chemists are famously utilitarian: we'd rather have something plain that works than something beautiful that doesn't.
So which is your favourite table? Or maybe I should say 'favourite alternative table', since the version perfected by Glenn Seaborg has the benefit of decades of familiarity. For the record, my favourite is the 1975 swooping swirling version by Franklin Hyde (even though I'm not a silicon chemist).

Neil joined Chemistry World as Features editor in June 2012 after spending four years as an associate editor on Nature Chemistry.
View full profile