Combining science, music and cultural awareness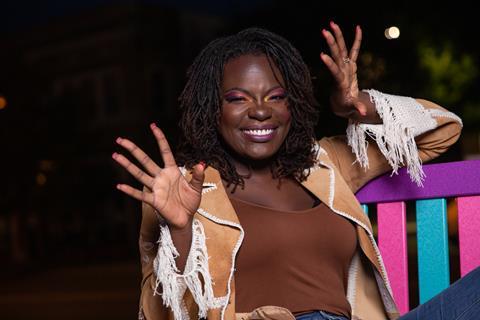 When Raven Baxter shared her first foray into hip hop science communication online, she wasn't quite sure what to expect. Baxter, who is better known to her fans as Raven the Science Maven, released Big Ole Geeks in July 2019.
'I wanted to shatter the ceiling and just leave it shattered,' she explains. The track is now the centrepiece of Baxter's PhD, but at the time of posting she thought she might be putting her career at risk.
'Hitting that upload button was one of the most terrifying things I've ever done in my life,' she says. 'I had no idea how people were going to react to it … but ultimately I felt like it was something that needed to be done. So, I followed through with it and I'm really glad I did.'
Baxter is in the final stages of writing her doctoral dissertation at the University of Buffalo, New York, where she is using Black feminist theory to explore the impacts of her own science communication. Originally her plan had been to embark on a more traditional science education project, but the reactions to Big Ole Geeks caused her to reframe her research question.
'It was just shocking to me that after all of this time that we've had science, and all of this time that there have been Black people doing science, that in 2019, still nobody had ever actually seen a Black woman communicating science in the way that I had,' she explains.
Welcome to the Stembassy
In addition to science-themed hip hop, Baxter has founded a number of science outreach initiatives that make up her 'Science Haven', each centred on a core philosophy of 'sharing science, spreading love, and championing for diverse spaces in Stem'.
Every week, her Stembassy web series draws together groups of 'Stem ambassadors' to critically engage with the latest science topics in front of a live audience. Together with her co-hosts, Baxter works to bring together scientists from diverse backgrounds to share their perspectives and expertise.
'I try to not just aim for diversity, but also a sense of belonging overall,' she explains. 'Ultimately what I want for all of Stem is that no matter who's in the room, they feel like they belong in the room that they desire to be in.'
#BlackInSciComm
There are unfortunately still too many people who don't feel like they belong in science spaces. Baxter explains that before 2020, it was hard to find 'affinity groups' for Black people in science. She was prompted to start Black in Science Communication and its accompanying hashtag in response to the related online communities of Black scientists that were popping up at the same time.
'I really noticed that Black voices were tired in the science space, especially after last year with all of this civil unrest and protests for racial justice and equity,' she explains. 'I found that Black people, myself included, were super tired of screaming about civil rights. We don't really want to talk about civil rights, but we have to.'
Black in Science Communication week provided a space where Black people could talk about science on social media and work on their science communication skills in a series of events. 'We had a Wikipedia writing workshop, we had a science improv workshop, many panels of people who held different roles in science communication, from science writing to working in museums, to working on television,' says Baxter. 'And our keynote speaker spoke about healing ourselves so that we can build community as scientists. It was a very powerful message.'
I actually felt like I was growing another brain when I started my doctoral programme
Baxter's research and practice are inextricably linked, and she has enjoyed the challenge of changing from research in molecular bioscience to social science.
'I actually felt like I was growing another brain when I started my doctoral programme,' she explains. 'I 100% think that every scientist should have a social sciences background in some regard … but specifically something that helps teach about how to interpret different world views and different epistemologies.'
Baxter is now working on a new framework in culturally responsive science communication that she hopes others will use. 'I'm putting that forth so future science communication researchers, who want to develop their theses around culturally responsive science communication, like, boom, they've got a framework that I've identified,' she says. 'I'm trying to push the culture forward and get this done.'