Ella Frances Sanders
535
2019 | 160pp | £12.99
ISBN 9781788702140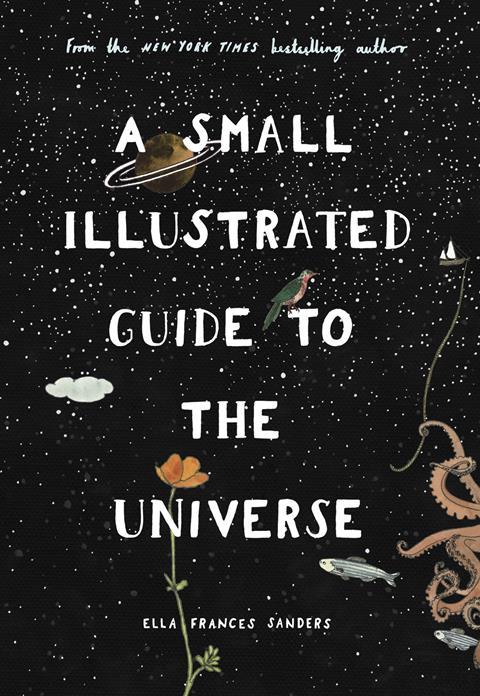 I could tell from the very first sentence that I was going to enjoy reading A Small Illustrated Guide to the Universe by writer and illustrator Ella Frances Sanders.
'A sense of wonder can find you in many forms, sometimes loudly, sometimes as a whispering, sometimes even hiding inside other feelings – being in love, or unbalanced or blue,' writes Sanders. These poetic words begin our journey, through this guide, to understanding the incredible universe surrounding us.
The author weaves scientific fact into lyrical prose as she shows the reader some of the most important phenomena in existence – planetary motion, evolution and time, just to name a few. The guide is designed to fill the reader with awe at the natural world around us, and does so in a way that is accessible to all ages and scientific backgrounds. Accompanying the descriptions of scientific concepts are intricate illustrations created by Sanders herself.
A Small Illustrated Guide to the Universe is more of a collection of short essays than a narrative title, hopping from a chapter on the periodic system to one highlighting the smell of dying stars. But it is the kind of book you can just read out of order – or just select bits out of, much like you would do with a regular travel guide.
Obviously, concepts such as time are vast, and when trying to cover most of the phenomena in the universe, only a light description of the science can be displayed. So if you are looking for comprehensive details of particular scientific matters then this book is not for you. But if you're looking for a book to ignite passion in science, and a reminder that despite the misery shown daily in the news the universe is in actual fact quite beautiful, then you should read this book.