Gaia Vince
Allen Lane
2019 | 320pp | £20
ISBN 9780241281116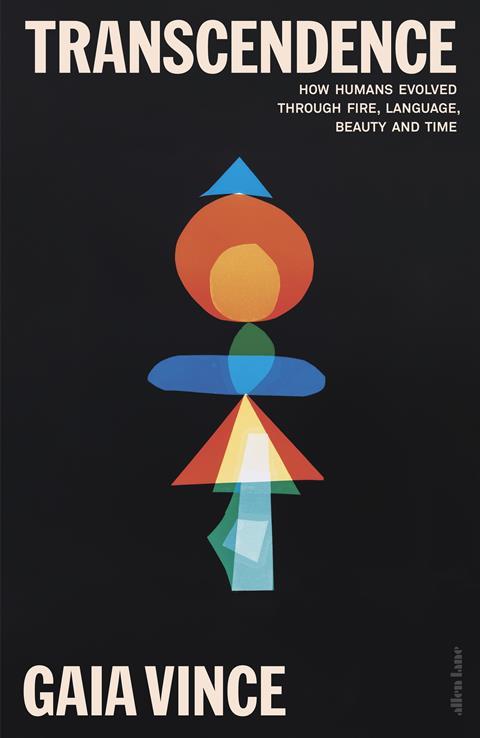 I'm not sure where to start in telling you about Transcendence. It feels like it's about everything. But what I think it boils down to is an explanation of why humans dominate Earth.
There are five sections: Genesis, Fire, Word, Beauty and Time. Each section has two or three chapters that start with a mini story to set the scene. I especially enjoyed these pages – they're both vivid and subtle at the same time. At the beginning of the Brain Building chapter is a story about a midwife who helped deliver her own baby via a caesarean section. I was straight on a computer googling her name, Emily Dial, to see the pictures. The story gets the reader thinking about how human babies are born fully dependent on their parents, and remain reliant on their parents for years if not decades.
Humans may be remarkable but we learn so many of our skills. Learning is so much more than school and university. Cooking food allows us to access more energy and nutrients from our food, helping our brains to expand. What do we need to cook food? Fire. But humans copy, rather than innovate from scratch so making a fire is a skill humans need to acquire from their peers. Everything is connected.
I definitely learnt many new facts from the book. Did you know English societies used the word "time" more than any other noun? At the same time, it contained many things I knew but hadn't fully appreciated. For example – natural disasters like droughts and volcanic eruptions would have caused a population to decline in the short term. Yet in the long term, the humans that are left may have relocated to produce 'societal transformations that have accelerated cultural evolution through new interactions, migrations and technological transfers'.
At times, I found the amount of new information overwhelming – though that's not meant to be a criticism. Gaia Vince is a skilled writer – she could easily have padded her book out to be unnecessarily long like the majority of non-fiction books. Instead, her prose is fast-paced yet entirely accessible and engaging.
Transcendence has left me with a fresh appreciation of the journey humans have taken to get to this point in time. Living in an epoch where our planet is suffering irreversible damage because of humanity's inability to restrain itself, it's healthy to be reminded that much of our world has arisen from invented social norms – it doesn't have to be like this.
The book is certainly philosophical but if Descartes isn't your thing then you should definitely try Vince.
This book features in our book club podcast, which you can listen to here.