Sue Black
Doubleday
2020 | 368pp | £18.99
ISBN 9780857526908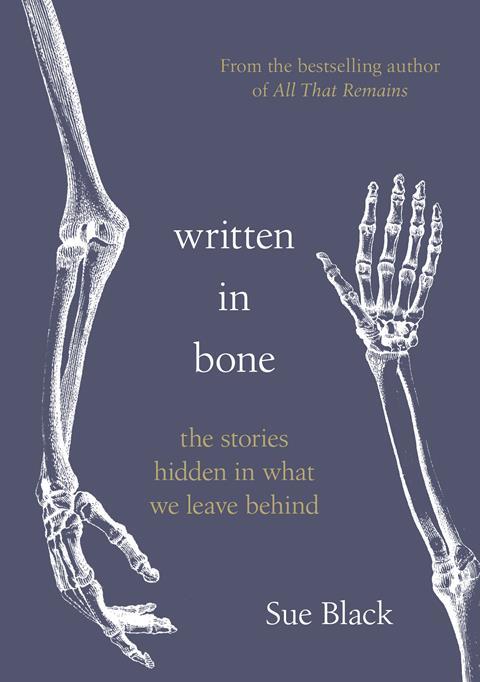 In 2018, I read and reviewed Sue Black's first book, All That Remains. As someone with a keen interest in the science behind the human body, it was such an interesting and gripping read that I was excited to review the sequel, Written in Bone.
Like Black's first book, Written in Bone describes cases from her career as a forensic anthropologist, helping to identify human remains from historic excavations and more recent murder investigations. In her latest title, Black uses the different parts of the human skeleton to frame the story. Starting with the skull, she moves down the skeleton and describes what can be learned from each set of bones, and how forensic anthropologists link this information together.
The book is filled with interesting anecdotes: Did you know that the world record for the largest number of fingers and toes was 34 – 20 toes and 14 fingers? Or that on certain parts of the internet you can buy jewellery made from real human finger bones?
Black is a wonderful storyteller. Despite the sometimes horrifying nature of her subject, she really captures the reader's interest. I found myself turning page after page, waiting to find out the outcome of an investigation or the identity of a body, even though some of the characters lived hundreds of years ago.
However, it's not all gruesome stories. Black's honesty in telling her own story through her work is at times amusing, and at others incredibly shocking and moving. Added to that, her dedication to always discover the truth – no matter how it affects an investigation – is inspiring.
While this book can be read by anyone – no scientific background required – it is not for those who are easily upset by stories of abuse and murder. I certainly wouldn't suggest it as comforting bedtime reading. But for anyone with an interest in anatomy or forensics, and in the stories our bones can tell about how we lived our lives, Written in Bone is fascinating and highly recommended.
This book features in our book club podcast, which you can listen to here.