Nina Notman visits the AkzoNobel site in Gateshead and meets the scientists designing the next generation of environmentally-friendly marine paints
In 1881, brothers Max and Albert Holzapfel launched a business mixing marine anti-fouling paint in Newcastle upon Tyne, UK. In 1904, the significantly expanded business relocated to a site across the river in Felling, where it remains today. Newcastle's once booming shipbuilding trade is now long gone, but the 18 hectare site is still a hive of activity. Nearly 900 staff now work in buildings tightly-packed on the slope that leads down to the river Tyne. The business has changed ownership twice in its 135 years – belonging to Dutch company AkzoNobel since 1998 – but the coating brand name has remained the same throughout: International.
Today, the International brand is manufactured all over the world, and produces marine coatings for cargo and cruise ships, yacht coatings, and paints for onshore and offshore industrial installations such as power stations and oil rigs. The Felling site also helps develop performance coatings for the aerospace and automotive industry, as well as for food and beverage packaging and consumer electronic devices.
The work at the site is very future-focused, with around 250 R&D staff based at the site – the vast majority of whom are chemists. In October 2015, their hard work paid off, when AkzoNobel won an ICIS innovation award for the biocide-free fouling release ship coating Intersleek 1100SR.
Watching paint dry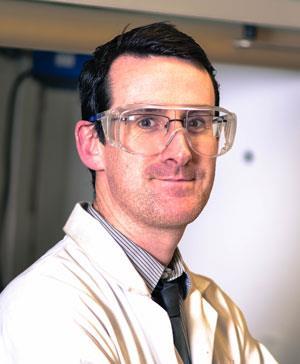 Research chemist Kevin Reynolds attended the awards ceremony, having been involved in the product from the start. He joined AkzoNobel in 2008, after an undergraduate chemistry degree and a PhD in polymer chemistry both at the University of Manchester. Since 2012 he has led a small team of chemists working on future biocide-free fouling release coatings.
Fouling encompasses anything that grows on an immersed surface that shouldn't be there – from macro-sized barnacles, mussels and weeds to micro-sized bacteria and microalgae that produce a gooey biofilm matrix (slime). Fouling increases hydrodynamic drag, slowing down vessels and pushing up fuel costs and emissions.
Typically chemical deterrents – often based on heavy metals – are used, Reynolds explains. 'My team works on a physical deterrence mechanism instead.' Biocide-free coatings are becoming more popular don't leach chemicals into the water, are longer lasting and look glossier. 'They are also available in a larger range of colours, whereas the traditional anti-fouling coatings are usually dull reds or browns.' First launched in the mid-1990s, the early Intersleek coatings contained silicon-based polymers, from which organisms slip off when ships travel. The most recent two reincarnations are amphiphilic fluoropolymers, formulated to lower the speed needed before fouling comes off and also make it more difficult for organisms to stick to them in the first place.
Reynolds is involved at every stage of a new coating design. The first lab-based step is to synthesise a polymer; pigments and additives are added and other formulation work carried out to turn it into paint. He then applies this to panels and boards and 'does a battery of tests against it'. The research lab is kitted out with state-of-the art analytical equipment to test each coating's physical properties such as hardness, susceptibility to UV light and resistance to corrosion, which are assessed for changes over time. Global environmental conditions are mimicked using humidity chambers and saline water baths, and test panels are also immersed in the sea for extended periods in various locations throughout the UK – including the river Tyne – and the rest of the world.
Better together
It's not just the physical properties that need to be assessed: knowledge of which organisms have grown on the test samples and how easy they are to remove is required too. For this, the research chemists enlist the help of marine biologists and hydrodynamic experts.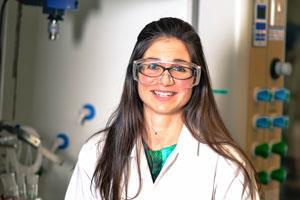 American Jennifer Longyear heads up the team of three in-house marine biologists who work alongside Reynolds. Longyear earned her undergraduate degree at Cornell University, before moving to Canada to study for a masters in oceanography at Dalhousie University. She then moved to the UK before landing the job at AkzoNobel in 2010.
'My role is bringing some biology to inform the chemistry,' explains Longyear. She was instrumental in developing a bioassay-based screening process to speed up fouling testing for the Intersleek 1100SR project. Previous R&D cycles took around seven years, owing to the need to leave test samples immersed in the sea for a couple of years. The bioassay can grow slime-producing organisms on slides in a matter of weeks. Once fouled, the slides are tested at the hydrodynamics laboratory at Newcastle University. Here, a hydrodynamic flume is used to simulate seawater flowing over the surface of a ship and measure how quickly the algae comes off the coated slides. This two-step process enabled the R&D time for Intersleek 1100SR to be slashed to less than three years. Once the research chemists have a formulation they are happy with, it is transitioned through to the development team for further testing, tweaking and adapting for scale up.
The AkzoNobel scientists frequently collaborate with external – often academic – marine biologists and hydrodynamic experts to gain access to expertise they don't have in house. She is currently managing a number of collaborations with researchers at the University of Southampton, where she is working towards a part-time PhD, funded through an industrial fellowship from the Royal Commission for the Exhibition of 1851.
Longyear says that one of the main advantages of external collaborations is new ideas: 'There have been some really good ideas from people who aren't focused on the product.'
Not all of the research carried out by Reynolds, Longyear and their respective teams is linked to an imminent product launch; they also have an eye on innovative ideas for the far future. 'One of the purposes of our group is to come up with new technologies,' Reynolds explains. 'That might be [taking an approach used for] food packaging or for coatings used on glass or paper that we could [investigate for] use as a mechanism to deliver superior performance on the side of a ship.'
Moving on up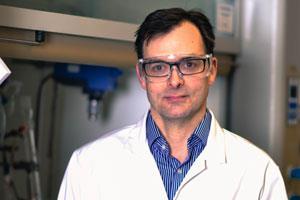 Once the research chemists have a formulation they are happy with, it is transitioned through to the development team for further testing, tweaking and adapting for scale up. Some of these development chemists are based in the building next door to the research centre. 'We have two other main laboratories in Singapore and Korea. We also have a laboratory in China and in Houston [US] and three smaller satellite laboratories,' says David Williams, R&D director for AkzoNobel's marine coatings business.
Although his title is R&D director, Williams' main focus is in the development side of the business where he is responsible for guiding formulations devised by the research chemists through to new innovative products. He oversees the scientists at all the global development laboratories, meaning the role involves a lot of travel. 'I'm away around one week every month,' he says.
Williams started as a research chemist at the Felling site in 1992, following a PhD in organometallic chemistry from the University of Durham and a two-year postdoc in coordination chemistry at the University of Lausanne, Switzerland. Williams says his university research was only very tenuously relevant to his first job for the company. 'When I first joined, I was in a future technologies group looking at all sorts of different technologies and catalysis was one thing.' However for most of his career he has focused on fouling control, rising through the ranks for 20 years until he reached his current position.
All three chemists say they were drawn to the Felling site by its positive working environment. 'I was impressed by the professionalism and enthusiasm of the people when I came for interview,' says Reynolds. 'The company has very much a family feel,' adds Williams, 'the vast majority of my time here, I've looked forward to getting out of bed and coming to work.'
And for Longyear, there is also the feel good factor of working on products that have a positive environmental legacy: 'I'm quite proud to be involved in something [that reduces the environmental impact of shipping]'.
Nina Notman is a science writer based in Salisbury, UK