A medicinal chemistry course that's giving students a real taste of pharma - failure, frustration and all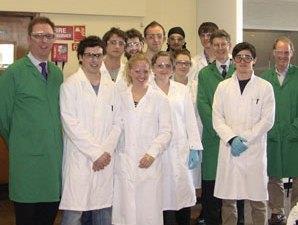 The transition from university to a job in the pharmaceutical industry can come as a shock to the system. Now, third year chemistry students at the University of Nottingham, UK, can get a preview of life in big pharma with a GlaxoSmithKline (GSK)-sponsored medicinal chemistry module. University students are exposed to pure science. What we bring is the big picture - how they can use the science to discover a new drug, says Simon Macdonald, director of medicinal chemistry at GSK.
Sir Andrew Witty, chief executive of GSK, is a Nottingham alumnus and pushed for an initiative to be set up with the university. He takes a personal interest in the project and last year met and chatted informally with the first cohort of students.
'We try to make the module as authentic and realistic as possible to give a real industry feel,' says Macdonald. 'The students work on a live medicinal chemistry programme. We are working on the same programme in-house in GSK right now.' During the module design, the scientists sometimes stopped to ponder over what to include. It came down to the question: 'Are we doing it in industry?' says Macdonald. The answer was always: 'If we are, then we should do it'.
First, the students attend a series of workshops outlining key aspects of the drug discovery process, which they are examined on. The workshops are run by GSK scientists and Jonathan Fray, GSK teaching fellow in medicinal and organic chemistry at Nottingham who has also spent 24 years working for Pfizer in Sandwich, UK.
'We are not just parachuting in for two hours to give a seminar. The students are seeing the same GSK people over weeks and building relationships,' explains Harry Kelly, chemistry operations manager at GSK.
Students then launch into selecting a potential drug candidate for a biological target, an enzyme associated with asthma. 'They take a little knowledge and apply it immediately - that's really where our module differs from what else is on offer,' explains Fray.
Team task
Before the students are let loose on the projects, however, there is the significant matter of team selection. Students do a 'Belbin' personality test to discover how they best fit into a team, a process which the first cohort of students thoroughly enjoyed.
The balanced teams are then tasked with improving on a low potency and poorly soluble lead compound, with over 2500 potential molecules to choose from. They then use computational modelling to see how their selected compounds would fit into the target enzyme's binding site.
GSK staff in Stevenage synthesise and test the chosen molecules. Using the GSK data the students have to select their final compounds and give a presentation outlining their choices and future plans. They then prepare and characterise chosen compounds in the university labs before sending them off to GSK for a biological evaluation. As in industry, the students have to write a final report to communicate their findings.
Risky business
Macdonald estimates that as many as 20 GSK staff worked with Nottingham chemists to set up the course, from preparing chemicals to testing the chemistry. Key to the process was introducing an element of risk to demonstrate that preparing novel compounds is not easy or predictable. 'We didn't want everything to be totally scripted,' says Macdonald. 'Some of the compounds won't be any good. The students learn that in medicinal chemistry not everything works first time.'
'It shouldn't be underestimated what the students have to learn in a relatively short time,' says Kelly. 'They have to pick up the rudiments of drug discovery and all the associated principles, together with computational modelling, which is amazing given the time span.'
The first cohort to take the course in 2011 gave very positive feedback, he recalls: 'Some of the students clearly enjoyed the interaction with GSK personnel in particular while others enthused about using pieces of kit that they had never seen in the laboratory before. They all enjoyed working within a team and in feedback the team session scored highest.'
One of last year's students landed herself a summer internship at GSK through course contacts and has now secured a job there.
'We want the students to make an informed choice about what career they could pursue,' says Macdonald. 'This gives them a real feel for what it is like to do medicinal chemistry in industry.'