Technological advances in mass spectrometry (MS) made during the past century empower scientists to perform research applications in the life, chemical and material sciences
Challenging scientific problems create demand for new high-performance instruments that help scientists drive research. The rapid delivery of MS technology requires a multi-disciplinary team to develop and deploy instruments using state-of-the-art tools and manufacturing processes. To deliver ground-breaking MS technology into the hands of leading researchers, a great deal of problem solving happens during product development – with the best solutions found by working closely with external collaborators and scientists.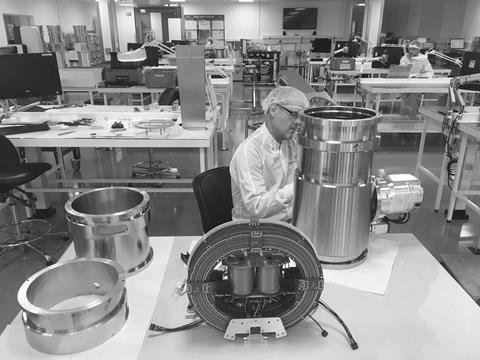 A modern approach to accelerate product delivery is the formation of tiger teams – dedicated groups that are relatively small and highly-focused. This has been embraced within the advanced mass spectrometry team (AMST) at Waters' UK-based MS headquarters in Wilmslow, Cheshire. The result is a cohesive team with strong alignment and rapid decision-making capabilities.
Overcoming challenges to deliver technological innovation
Hyphenating ion mobility spectrometry (IMS) with MS allows the separation of ions by size, shape, charge and m/z. This enables separations that are highly complementary to those obtained from liquid chromatography in the liquid phase as well as those obtained in the gas phase using MS. The AMST team was formed to accelerate the development and introduction of this highly differentiated technology.

The AMST team sought to combine revolutionary cyclic ion mobility separation with modern, state-of-the-art time-of-flight mass spectrometry. By overcoming the traditional limitations of ion mobility, the cyclic device aimed to provide scalable, high-resolution ion mobility separations and introduce the ability to perform ion mobility/ion mobility and IMSn experiments. This would enable researchers to unlock the potential in scientific discovery and achieve cutting-edge research, translating new knowledge and innovations directly into practice.
Feedback on the initial data of the prototype quickly highlighted the potential of the technology
Many scientists have contributed to the development of ion mobility mass spectrometry but it was Waters' research scientist Kevin Giles who led the charge to commercialise a circular path length in which the mobility resolution increases with each pass of the ions through the device. Customer and conference delegate feedback on the initial data of the prototype quickly highlighted the potential of the technology. Commercialisation required complex problems to be solved and the team was given just 18 months to do it.
Developing the Cyclic IMS instrument
Building the original cyclic device by hand as a single piece was technically challenging and time-consuming. Waters' principal manufacturing engineer Bharat Chande suggested building subsequent devices in four quadrants, which simplified matters and led to the manufacturing process we use today. We had to consider how to deal with a fundamental characteristic of the cyclic device – how to get ions into an orthogonal cyclic array.
Because the cyclic IMS device enables mobility resolution to be increased as ions pass through the device multiple times, incoming ions present in the electrospray ion beam need to be entered orthogonally into the device. Mobility separation and ion ejection must be achieved without significant compromise in terms of ion transmission or mobility resolution.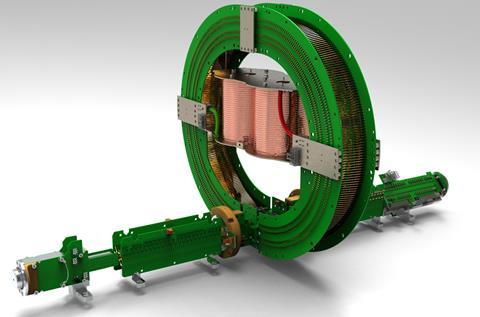 To overcome this challenge, the team developed a multi-functional array of electrodes to incorporate into the device. This enabled ions to be moved both in and out of the cyclic ion mobility region (in forward and reverse directions) as well as around the device as an active part of the cyclic array. It means scientists using the device have unique control of ions in the array and can effectively 'zoom in' on a specific mobility range, successfully separating ions using multi-pass experiments to significantly enhance resolution.
Early collaboration established that an experimental design in which the ions could be stored and fragmented during reinjection into the device would drive research. Additional pre- and post-array stores were added, meaning ions could be selectively ejected from the cyclic device using the multi-function array, stored and then sent back into the device. This innovation gave rise to a totally new type of experiment, IMSn – which is among the instrument's most enabling experiments.
Product development insight
'The discoveries that might not have been possible otherwise are a tremendous satisfaction,' says Chande, who was so committed to the project he even converted his dining room into a workshop so he could continue to work on it at home. 'Seeing customers use the instrument is the highlight for me, and having participated in the project from beginning to end is satisfying too,' he adds.
Getting to the endpoint and looking back at achievements was tremendously satisfying

Waters' principal scientist Darren Hewitt
Principal scientist Darren Hewitt says Waters team members were 'in it together - which made talking to team members easier and more motivating'. 'Getting to the endpoint and looking back at achievements was tremendously satisfying. Knowing that you accomplished what you set out to do as a group,' he adds.
Everyday problem-solving leads to great innovation
Developing a revolutionary idea takes a huge team effort. Most scientists that use the equipment only ever see the end product but the work that goes on behind the scenes to bring products like the Cyclic IMS to market is astounding. From identifying customer needs through a collaborative approach to showcasing next-generation instrumentation, we are able to deliver creative solutions in the strictest of timeframes.

Waters Corporation is a global leader in analytical instruments and software that has pioneered chromatography, mass spectrometry, and thermal analysis innovations serving the life, materials, and food sciences for more than 65 years.
View full profile
Welcome to our everyday chemistry collection
1

2

Currently reading

Behind the revolution: mass spectrometry

3

4

5

6