Technology is helping farmers better control the use of fertilisers and pesticides, as Elisabeth Jeffries reports
It is an inspiring prospect. A farmer drives his tractor across his land with full awareness of where the weeds are located, saving whole drums of herbicide. For decades, farmers have been criticised for spraying indiscriminately. But now a new piece of kit could save them the trouble and help them detect that bête noire of wheat growers, a weed called blackgrass, acres away.
Developed by UK agronomy firm Agrii as part of a consortium of technology companies and scientists from universities and commercial firms, automation and colour sensitivity are major features of the invention, known as eyeWeed. This consists of a GPS receiver on top of a sprayer combined with a camera on the sprayer's side shaft. The gadget, expected to be commercially available by 2016, plots areas affected by weeds and distinguishes green from green – or blackgrass from cereals. That means younger weeds can be detected once the canopy of wheat has closed. Having spotted likely weed outbreaks, scientists create a map for the next season. This means farmers can be confident they have sprayed the right patches with herbicide.
The product is just one of a clutch of smart new devices reliant on computer technology and satellites that could save farmers money in chemical and fertiliser bills – or so their manufacturers claim. It is an attractive vision. Electronics companies take over farms, solving farming problems and satisfying anxious and green consumers. The use of toxic agrochemicals, a principal concern of the environmental movement, is slashed.
Smart start
But is it a realistic view? Malcolm Hawkesford, a technology expert at agricultural research institute Rothamsted Research in the UK, certainly thinks lower chemicals use is likely and does not doubt that smart agricultural technologies will change farming.
'For some chemicals, precision farming is likely to reduce their overall use. In terms of pesticides and herbicides, there could be a smaller input overall. It won't reduce nitrogen inputs but farmers will get better yields – maximum output and minimum loss,' he says. Many of these devices look promising, though they are still a few years away from commercialisation.
Sensors are another versatile development. Placed in the soil, for instance, they can detect nitrates or moisture levels, which can help solve irrigation dilemmas. A group headed by Syngenta, and including Rothamsted, has created a product known as SYield, aimed initially at managing the sclerotinia fungus in UK oil seed rape. They say it will help improve crop protection using a network of biosensors in fields that provide real-time data about the environment and presence of viable spores. Data are combined with disease control and various crop protection chemical technologies.
An automatic spore sampler is placed in the crop canopy or next to a crop vulnerable to the disease. Sensors detect the presence of spores and the level of their activity in the local environment. Data are aggregated across all SYield nodes, along with inputs from environmental and satellite crop identification systems, while prediction models provide risk information to growers. Finally, a web and mobile program for growers and agronomists helps them assess risk and environmental factors to make decisions on fungicide use at the crop location.
Send in the drones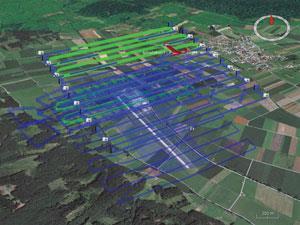 Meanwhile, unmanned aerial vehicles (UAVs, better known as drones) are emerging for agricultural use. For the moment, they are beyond the budget of the average farmer, but Hawkesford suggests they could develop quite quickly. They are more appropriate for the vast landscapes and larger budgets of North American farms. 'UAVs are in their infancy and currently used as research tools. They cost tens of thousands of pounds at the moment but there's no reason why some of the handheld detection technologies shouldn't eventually go on aerial devices,' he remarks.
If it all seems rather high tech and delicate as well as expensive, developments in the average household suggest there is no reason why these devices should not eventually take off. GPS, for example, is already widely used on tractors and other farm vehicles, just as it is in many cars. Its use is linked to yield improvement. Leslie May, head of scouting for adjacent technologies at Syngenta, suggests GPS use will increase.
'The biggest enabler [of precision farming] has to be GPS positioning linked to field mapping. We've already seen growers using yield monitors to generate yield maps of fields and then integrating that with soil maps and other records to variably apply fertiliser, seeds and more recently chemicals. The appearance on the market of augmented GPS systems like RTK [real time kinematics] will take these possibilities to a new and more precise level,' May says.
The ability to locate the position of a seed, plant or device will facilitate many other technologies, May suggests, or allow the integration of existing ones. 'Knowing where the row is or even a particular tree in an orchard opens many possibilities,' he says. Data narrowed down to a particular area would inform decisions on the use of that area, the number of seeds planted and so on, as well as the use of chemicals. The aim is improved productivity and more intelligent management. 'Farmers do not necessarily target reduction of chemicals but wastage and productivity. This could effectively mean a reduction of inputs and improve efficiency,' says Hawkesford.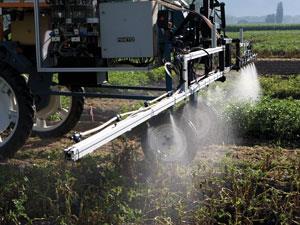 But statistics suggest that may not be the case, and global sales predictions for the sector dwarf the potential contribution of precision technologies. Industry data from independent agrochemicals consultancy Agranova show steady growth in the sector throughout the last few years, apart from a short dip during the financial crash. They indicate real average annual growth rates in sales for the global agrochemicals market (herbicides, pesticides and fungicides) of 6.6% in 2011–2012 and 0.3% in 2007–2012. Total sales in 2012 amounted to around $50 billion (£31 billion). Brazil is the biggest market, followed by the US and Japan.
Agranova predicts sales growth rates to 2017 of 6.2% for Brazil, 3.4% for the US, 1.7% for Japan and 3.1% for the UK. Meanwhile, global agrochemical volume consumption has increased from around 1.5 million tonnes in 2002 to 2.3 million tonnes in 2012 – a jump of around 47%. Several factors affect the growth rates. One is population growth and others include the pressure for greater yields. There are many ways to address these problems, from biotechnology to precision farming.
Raising yields
But Rob Bryant, director of Agranova, suggests the simplest route to higher yields will continue to dominate in many places, such as in developing economies, and that means greater chemical use. 'Yields in India are under two tonnes per hectare but they should be able to achieve nearer 10. To get to that level, you need more chemicals. They'll use precision farming too eventually, but it will take time,' he says. Nevertheless, increasing yields in selected locations will mean lower agrochemical volumes per hectare.
'In some cases, chemical use may diminish while in others chemistry may become the key to a technically and environmentally superior solution. The key will be in identifying a way to solve a problem and creating value in doing that. Chemistry is only one solution and may not be the most appropriate all of the time,' says May, whose employer, Syngenta, is the biggest global producer.
As the neonicotinoid and honey bee controversy has shown, however, public pressure to cut chemical use will continue to rise. This is likely not only in mature economies, but also in China and other BRIC countries with increasingly vocal environmental groups. 'Agrochemicals companies are hopping mad – and the fallout from public relations is what they dislike,' says Bryant. This is particularly true in the EU due to the tough outlook of both regulators and environmental charities. Corporate reputation will motivate both subtle and comprehensive strategies.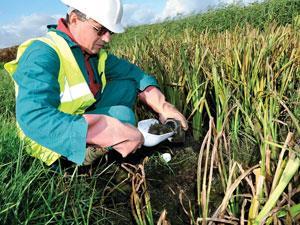 In that respect, precision technologies may be a godsend, having been touted as a tool for sustainable development. This has been argued for by sustainability policy experts, including those in the European Commission. 'Farming enterprises will make much greater use of decision-support systems in a drive to maximise production efficiency and minimise costs. The use of satellite information and imagery for agricultural use will also increase. Combined with GPS, this will enable a greater degree of precision in the application and timing of inputs and assist in enhancing sustainable production,' stated a 2011 Foresight report for the Standing Committee on Agricultural Research.
Business managers and scientists in the area believe they are likely to provide a major contribution to farming. 'I think the popularity and speed of uptake will surprise people,' May says. 'When you think of new seed varieties or the time to register a new chemical, you can be thinking of a 10–12 year horizon. A new integrated technology might take as little as three to four years to be developed and become established if it effectively targets a grower pain point. Some changes are happening already on more innovative farms. There are always front runners but I think some of these new technologies will be mainstream in the next 10 years.'
Bryant agrees with the potential for increasing in ICT use, and foresees a range of strategies on the part of the big six agrochemicals producers – Syngenta, Bayer Cropscience, BASF, Dow Agrosciences, Dupont and Monsanto. 'Precision technologies are a great technology in terms of pest control. It's early days and they will grow and will be funded by the multinationals,' he predicts.
Bryant indicates sales of active ingredients in pesticides and other agrochemicals will continue to increase. The active ingredient in a pesticide, for example, is the biologically active compound, sold as part of a formulation with other materials to make up the final product. These may improve the properties of the chemical for handling, storage and application, and may affect effectiveness and safety. According to Agranova data, active ingredient use has already risen steadily since 2002, alongside the overall chemicals volume increase. 'It's counterintuitive. You'd expect if more active ingredient is sold that overall chemicals volume sales would go down. But actually they grow,' he says. Marketing strategies may explain this, but business managers say increased pest resistance over time may also require chemicals intensification.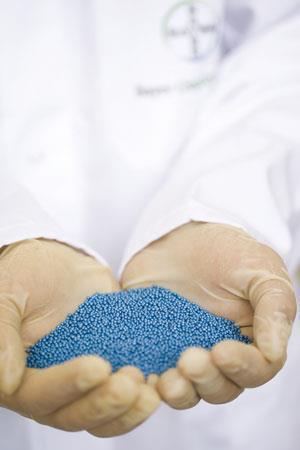 Another multinational tactic is to increase turnover in seed coatings – 'A very profitable way to sell chemicals,' says Bryant. 'Companies will make higher profits from the chemicals they do sell and from seed coatings, which protect the plant for the first three or four weeks of its life. But the multinationals are fostering precision technologies. They understand there is no way you can say you can just go on and on spraying,' he explains.
Syngenta's response shows a strong interest in the technologies and in new angles on marketing and chemicals business strategy. The approach is to step into the grower's shoes. Chemical inputs will be considered a part of the agronomy package, with an aim to introduce more and more sustainable chemistry and chemicals delivery.
'Syngenta is investigating how smaller doses of herbicide can be applied more precisely and effectively even within a crop situation, using technology to identify crops from weeds,' he says. The aim is to think of farmers' needs and benefits rather than selling a bottled product. 'Does the grower require a chemical herbicide, effective weed control or need a low energy solution to removing competition for light and moisture for his crop? Each problem leads to a different possibility in considering integrated technology solutions.'
The buzzword is holistic, with multinationals embracing complementary approaches. 'A strategy that allows the company to invest in more holistic, integrated solutions rather than just chemistry or just seeds or even just machinery is going to be key,' says May. This means thinking of crop-focused solutions rather than simply herbicides, fungicides, insecticides. 'Syngenta already has examples of integrated technologies in a number of crops. Barley, vegetables, sugar cane and rice are just some. Each one is quite different to the others which is a reflection of the different solution required to be effective in each case,' he says. But for all the promises, pesticides will persist for decades yet.
Elisabeth Jeffries is a science writer based in London, UK