Technology and telecommunications have the potential to revolutionise healthcare, as Anthony King reports
Mobile medical devices at home are already beginning to stand in for equipment once used exclusively in hospitals and laboratories. And the ubiquitous smartphone is being souped-up with medical add-ons: you can measure your heart rhythm using a $75 (£50) electrocardiogram device that attaches to your phone.The medical tricorder issued by Starfleet and carried by the USS Enterprise's Dr McCoy in the TV series Star Trek could sense, compute and diagnose medical conditions in seconds – some 300 years in the future. US technology and telecommunications company Qualcomm has stumped up $10 million to turn this boxy science fiction prop into reality: its XPrize is being offered for a real handheld device that can capture key health metrics and diagnose a set of 15 diseases. But technology has a lot of unimagined benefits to offer and is shaking up how pharma and other healthcare firms operate.
The possibilities in combining new technologies with healthcare is creating unusual alliances, with big pharma and medical device firms working with technology companies including IBM, Google, Apple, Intel and Microsoft. A major challenge being confronted is how to make money in mobile health. But the signs of progress are there: last year was the first time the large Biotechnology Industry Organisation trade fair had its own 'digital' pavilion.
It takes two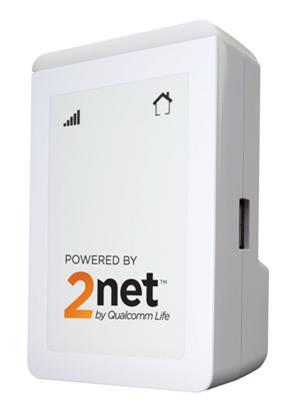 Earlier this year, Qualcomm's subsidiary, Qualcomm Life, announced that it had entered into a strategic collaboration with Roche to improve an anticoagulation meter for the US market. Roche will tap into Qualcomm's 2net Platform to capture data and transmit it to Roche's cloud-based backend services.
'We have seen from pharmaceutical companies over the last 3 or 4 years a big evolution in their thinking about digital health in general, about what they might do with data and why it's important,' says Rick Valencia, senior vice-president and general manager at Qualcomm Life.
The 2net Platform creates a wireless hotspot using a gateway which captures information from a medical device. With no input required from the patient, it sends the information back to the care team. In one example, it will allow self-testing in patients receiving the anticoagulant warfarin. This is the standard medication for patients with atrial fibrillation, deep-vein thrombosis and mechanical heart valves, but too much puts patients at risk of excessive bleeding.
'In close alignment with the physician, adjustments can be made to the anticoagulant dose when results deviate,' explains Howard Sams, the vice-president of point of care at Roche Diagnostics. This can simplify information exchange and 'reduce therapy complications and costs of care while improving patient compliance to frequent testing', he says.
Qualcomm saw the benefits of wireless technology in health care and digitising health information early, almost a decade ago, and has secured ties to many health companies. Valencia recalls how traditionally complete vendor solutions were favoured, closed systems based on old phone lines. Companies would specify what they wanted and then own the solution. That's how it used to work.
'They tried that and in this space found it to be pretty complicated. They are not very good at stating "This is what I need". We're now seeing an openness to real business partnership,' says Valencia, adding that it is 'a business model that has never been tried before within pharma'. Industry now tells Qualcomm 'We need this to work wirelessly and I want it enabled for the long term.' There are no instructions on what radio frequency or battery to use or how it is to be sized.
One major motivation for pharma to use technology is the trend towards outcome-based payment and reimbursement, where health outcomes are proven via data in order for payment. 'As opposed to being paid on volume of medications, they are going to have to prove outcomes of their medications, and they will need data for this and that's what we are helping them gather,' says Valencia. Initially, senior executives were interested in talking to Qualcomm about wireless technology and digital healthcare, but he says they had no real mandate. They were followed though by innovation teams, tasked with figuring out the models that would work in this brave new world; now it's the turn of commercial teams, with objectives, budgets and timelines to meet.
'We are now working with most of these pharmaceutical companies with commercially oriented teams, trying to get product to market,' Valencia explains.
Tech on trial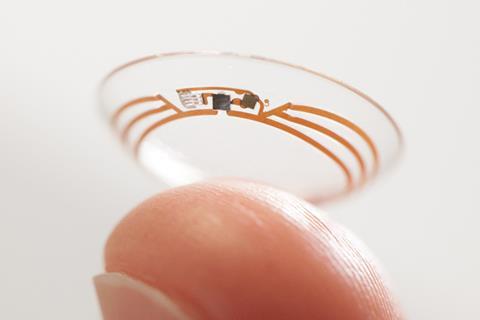 Early this year, Novartis allied with Qualcomm for it to assist in collecting and aggregating medical device data during clinical trials. Novartis is using the 2net Platform in an evaluation of mobile devices for chronic lung disease patients. Last year, the eyecare division of Novartis, Alcon, signed an agreement with Google X, the tech giant's research arm, to commercialise 'smart lens' technology. Clinical trials have already begun exploring its glucose-sensing lens, which measures glucose through a sensor. This is wirelessly communicated to a patient's smartphone to let the patient know whether or not they need insulin, providing a continual update.
'Our clinical trials will aim to answer how well correlated tear glucose levels are to blood glucose to ensure that measurement is well matched,' says Franck Leveiller, head of R&D in vision care at Alcon. Another smart lens seeks to restore the eye's natural autofocus for patients with cataracts. Both technologies rely on electronic miniaturisation wizardry.
'We have very complementary skillsets and expertise, with Alcon's manufacturing, materials, clinical, regulatory and commercialisation capabilities, and Google's expertise with electronic components, miniaturisation, data analytics and learning machines,' Leveiller explains.
Smartphone monitoring
'The recent Ebola outbreak is a timely reminder of the challenges in containing these sorts of contagious diseases,' says Rachel McKendry, chemist at the London Centre for Nanotechnology and Division of Medicine of University College London in the UK. She is director of a large UK collaboration (i-sense) that is building global early warning systems to identify outbreaks faster than ever before by linking web information sources to mobile phone-connected tests. i-sense is investigating whether self-reported symptoms of infection on social media and increased use of certain terms in search engines will allow for accurate identification of disease hotspots. The £10 million project has its sights on new strains of influenza, antibiotic resistance and HIV.
'The main focus is on building better diagnostic tests to improve access to testing in doctors' surgeries, in remote villages in Africa and even in the home,' McKendry explains. 'We are taking advantage of the ubiquity of mobile phones, and using their power to analyse and transmit data with geo-located information, but the key challenge is the test. Current commercial tests really lack sensitivity, and it is difficult to interpret results.'
New biomarkers, advanced materials and sensor technologies are being sought to improve test sensitivity. Smartphone cameras are used to interpret test results. The work builds on the push to bring diagnostics out of the lab and to patients, empowering them to take responsibility to manage their health. 'Home diabetes monitoring is now standard in many countries and there is a growing trend towards wearable technologies like the Apple Watch, which allows people to measure their own pulse rate,' McKendry says. 'The next big step is to develop a new generation of sensor technologies to accurately diagnose infections and drug resistance, but this is a huge challenge.'

McKendry is working on an HIV test with OJ-Bio, a joint venture between UK-based Orla Protein Technologies, a Newcastle University biotech spinout, and Japan Radio, an electronics colossus. OJ-Bio has a biochip device that tests samples of blood, saliva, or urine within minutes. The first target was flu virus, but the hand-held disease detector is now being adapted for HIV and other protein biomarker targets. OJ-Bio has worked with UCL on aspects of surface chemistry, which is modified with capture agents, generally an antibody.
The biochip is a 2–3mm flat gold surface on a quartz crystal that can be mass manufactured. 'It would be used for one test and then thrown away,' says Dale Athey, chief executive of OJ-Bio. The chip is a surface acoustic wave sensor, a high frequency filter; every mobile phone uses a handful of them and parent company Japan Radio makes 4 million pieces per month. A biochip pilot line is now in place in Japan with a capacity of 50,000 chips per month.
A surface acoustic wave is generated, which ripples across the surface of the biochip like one caused by a pebble dropped into a pond. The wave pattern is changed when a binding event occurs at the surface. The chip detects HIV via the binding of an HIV viral protein, causing a change to the signal. The output is purely electronic, with no sophisticated optics required.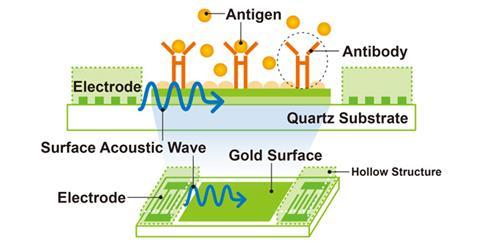 'These are low-cost handheld devices, where you insert a USB-like module containing a tiny sensor chip that is tailored to detect HIV in a finger prick of blood, and the results can be Bluetoothed to your phone,' says McKendry. These tests are designed for use by NHS healthcare workers testing for HIV, but open up possibilities for self-testing at home. This year, new legislation in the UK permits self-testing for HIV. i-sense has also begun a new project in South Africa, to evaluate these technologies in the heart of the HIV pandemic.
'We manufacture everything but the mobile phone, and have iPhone and Android apps that will take the data. The prototype is a small reader that fits in the palm,' Athey explains. 'We are also talking to UCL about potential other infectious disease [such as hepatitis or strep throat infection].' In some cases a yes/no result will suffice, but the capability to get an absolute value for a biomarker means that monitoring an infection in an individual patient may also be feasible. The detection of actual HIV proteins, rather than antibodies, may mean earlier detection of HIV infection too.
Seams of data
OJ-Bio's mixing of English and Japanese, biotech and electronic and SME and tech giant cultures is emblematic of the new frontier between med and tech. It is in commercial partnership with companies in the US, Asia and Europe.
Pharma's business model is still the blockbuster drug – but that's changing
McKendry and others in i-sense are working on improving the models underpinning Google's Flu Trends services, which uses our habit of searching online for information about illness symptoms as an indicator of flu activity. Microsoft is also a major collaborator in i-sense. Computer scientists Ingemar Cox and Bill Lampos at UCL have been involved in the collaborations.
'We are also looking at gastrointestinal diseases and trying to monitor whether there is an infectious disease outbreaks at mass gatherings such as rock concerts,' Cox explains. This all uses Tweets and search engine entries, but requires technical expertise to adjust for ambiguity in some terms and the impact of press coverage on health topics.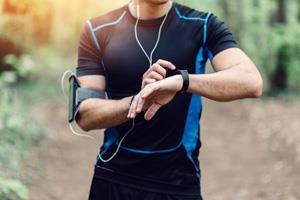 Researchers and pharma companies could mine this sort of information for clues about heart disease and which treatments are effective or not effective. The vast amounts of data collected from patients, along with outcomes, will make it clearer what works. Real time patient data could also induce a tectonic shift in the types of drugs needed – heart data could flag the onset of cardiovascular disease and prompt a greater need for preventive treatments, rather than reactive.
There is also potential in selling data. Earlier this year, genetic-testing start-up 23andMe said it would share DNA data with Pfizer to help design clinical trials and find new drug targets. This would be anonymous, aggregated data.
Athey says that OJ-Bio is talking to pharma companies who are 'interested in the use of mobile technologies to record patient data', but also companies from other market sectors such as fast moving consumer goods companies, telecoms providers and medical device companies. He praises Qualcomm as 'being quite clever' in its approach, noting that they helped create the Wireless Life Science Alliance, now an important club for all sorts of firms, including Eli Lily, Covidien, PepsiCo, Sanofi and Johnson and Johnson.
Despite its potential generating almost a frontier feel, 10% of healthcare leaders – and 19% of those in the US – believe mobile health does not have a promising revenue model, according to a global survey carried out by the Economist Intelligence Unit in June 2014. Athey says more enlightened pharma companies are starting to really engage, but 'their business model is still the blockbuster drug – but that is changing'.
'The big question is how does this business model work? It clearly involves a number of players and no one company can deliver everything,' Athey says. 'It involves healthcare providers, payers, mobile providers, network providers, software companies, electronics companies, biotechs, device manufacturers and also the pharma and diagnostic companies. At the moment, the jury is out on how the money flows in all of that, but it is starting to happen.'
There are those betting it will pay. Novartis and Qualcomm announced last January a joint investment company to support early stage companies with technologies that 'go beyond the pill'. The joint venture will leverage up to $100 million. Qualcomm, in a statement, noted it currently had 18 healthcare start-ups in its global portfolio. Existing healthcare providers need to stay tuned and watch for tech tie-ins, not just to expand, but to hold onto existing revenue streams.
Anthony King is a science writer based in Dublin, Ireland