User review - total organic carbon analyser
This is an advertisement feature paid for by Shimadzu and produced by Chemistry World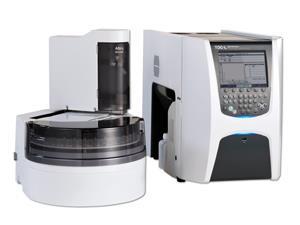 The Shimadzu TOC-L analyser is a flexible instrument suited to water quality control, environmental analysis, pharmaceutical manufacturing and process control. It converts organic compounds into carbon dioxide; a non-dispersing infrared detector can then detect organic carbon down to 4 parts per billion (ppb).
The TOC-L can handle difficult organic structures like macromolecules, as well as low molecular weight compounds. An automatic dilution function and small sample requirement reduces maintenance and extends the lifetime of catalysts and combustion tubes. It can even measure seawater samples routinely with minimal maintenance.
The instrument's measurement range allows it to tackle ultra-pure water and heavily contaminated water too. There are four models: a high-sensitivity model with a detection limit of 4ppb, or a standard model with 40ppb, giving a detection limit of 40 or 400ppb. There is a standalone model with a colour screen and keyboard that can use a PC printer or output data to a USB memory stick, or a conventional model that hooks up to a PC.
An autosampler can be added for continuous measurement, which can take 93 vials of 9ml or 24ml or 68 vials of 40ml, or there is a an optional 8-port sampler that imports samples from any container. There is also an optimal magnetic stirrer for handling samples with particulates. Increasingly popular is an add-on unit for measuring total nitrogen. And there is an optional solid sample combustion unit that can measure organic and inorganic carbon in soil samples.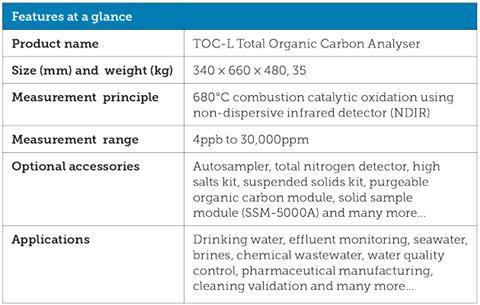 To discuss your requirements with your local Shimadzu expert please call on: + 44 (0) 1908 55 22 09 or e-mail: salesadmin@shimadzu.co.uk
What our customers say
South West Water
Scientific manager Chris Reeves at South West Water relies on the TOC-L to monitor total organic carbon and dissolved organic carbon in groundwater, surface water and drinking water. 'It allows us to analyse up to 80 samples per day, which is a 50% increase in capacity compared to our previous system,' says Reeves. It has also lowered the lab's limits of detection (LOD), which is especially important for clean drinking water. 'Our drinking water LODs have gone from 0.3 to 0.21mg/l, and operationally that is useful for our customers,' Reeves says.
He praises maintenance as being straightforward and easy compared to other systems. 'Our previous TOC was well engineered, but was not well designed for the end user,' Reeves adds. 'Our new TOC-L is simpler, there are fewer steps involved in changing combustion reagents and there seems to be less maintenance involved.' The Shimadzu instrument integrated into the lab's laboratory information management system (LIMS) and extended the lab's working range from 10 to 20mg/l without any loss of sensitivity, which means fewer retests and dilutions.
Shimadzu was a new company for the lab to deal with, so was a bit of an unknown quantity, says Reeves. 'We went with Shimadzu partly based on discussions with contacts in other labs in the water industry. Overall, we've been very impressed. Their sales and services teams have been very helpful.'
South East Water
'We measure total organic carbon in drinking water, raw ground water and surface waters, and we monitor how treatment works are performing in removing pesticides with the Shimadzu TOC-L analyser,' says Josie Willot, chemistry manager in the water quality lab of South East Water. The lab takes samples from various points in the water treatment process.
High throughput was an important factor in South East Water choosing a TOC analyser. 'Having good service from the supplier was high on our list of needs when we looked to buy an instrument. We've owned Shimadzu instruments before and consider them a good supplier with good service contracts and good cover on their instruments. If there's any problem an engineer comes out quickly and troubleshoots it,' says Willot.
The two instruments, in use since 2012, have minimised downtime and proved straightforward to use, she adds. Most modern machines can do dilution automatically, but they can take a lot of setting up, whereas the Shimadzu TOC-L analyser does this automatically, says Willot. 'The instrument sees the sample is above calibration range and sorts it out itself, which is very helpful.'
The instruments also allowed the lab to lower its detection limits. 'On the older instruments, the limit of detection would always be a lot higher than it is now. The lower TOC detection levels means the instrument is more sensitive to change and can pick up on small changes in samples even below 1mg per litre,' says Willot. The Drinking Water Inspectorate in the UK does not have a prescribed value for water, but requires water to be monitored for change, so greater sensitivity matters.