Victims were instantly overwhelmed by gas, which left high concentrations of hydrogen sulfide in air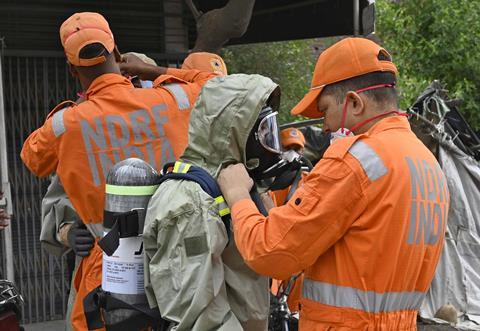 As people were heading towards a milk vendor in Ludhiana, India, early in the morning of 30 April, highly toxic gas suddenly overwhelmed and killed 11 people, including two children, in the street and nearby houses. Four others were injured but have since recovered.
Preliminary investigations indicate that there was a high concentration of hydrogen sulfide in the air which smelled pungent and of rotten eggs. 'There was no respiratory distress and the gas is suspected to contain neurotoxins,' says Swati, a Sub Divisional Magistrate for Ludhiana, who is heading the magisterial inquiry.
The investigators from the National Disaster Response Force, the State Pollution Control Board and the Ludhiana police are investigating the exact cause and source, which remains unknown. The Punjab state police has also formed a five member special investigation team. The police have warned the pollution control officials that if they don't help the police in finding the culprits, they too will be prosecuted.
Whether industrial chemicals were illegally dumped in the sewers is yet to be determined
'We are checking sewage connectivity as well, but the concentration of hydrogen sulfide has to be very high to be able to kill instantly,' says Swati, who uses a singular name. The circumstantial evidence indicates that those exposed to the gas, or mixture of gases, died almost immediately, she adds.
The initial inquiries revealed that the affected houses had no ventilation and the associated sewage lines had dead cockroaches. A cat downstairs died, whereas a dog upstairs remained alright, possibly indicating the gas was denser than air.
The agencies are also examining whether any chemicals were released into the sewage lines. The area has many household industries including dyeing units. 'Whether industrial chemicals were illegally dumped in the sewerage lines in the area by any miscreant is yet to be determined and is being investigated by the police which is also looking at the CCTV records,' says Swati. The investigators are awaiting forensic test results and a final report is anticipated within two weeks, she adds.
The state government announced compensation payments of ₹200,000 (£1940) for those who died and ₹50,000 for the injured. But the independent National Green Tribunal exercised its power to take action independently of the government, and ordered that the families of the dead be paid ₹2 million in total within a month. It also constituted an eight member fact-finding committee to investigate the incident, headed by the chairman of Punjab State Pollution Control Board along with scientific experts. This will report its findings by 30 June and also suggest steps to prevent further incidents.