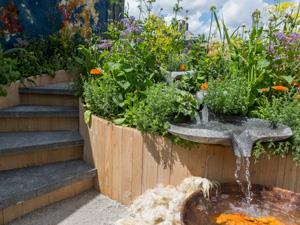 The project – which is being funded by the UK government through Innovate UK – is collaborating with researchers at the Natural History Museum and University of Sheffield to identify the structural features that produce the most striking blue and white hues among different animals and plants.
In synthetic paints, colour comes exclusively from pigments, whereas in nature nanoscopic structural features, such as layers of reflective materials in birds' feathers and beetles' exoskeletons, produce more complex colour effects by interacting with light. The idea is to try and incorporate these effects into new paint formulations.
In a statement, AkzoNobel's Philip Taylor said the garden was a great opportunity to 'showcase the importance of colour'.