Australia's new prime minister plans to abolish the country's carbon tax, but that won't be an easy task
As newly elected Australian Prime Minister Tony Abbott prepares to be sworn into office this week, opponents of his plan to abolish the so-called carbon tax on greenhouse gas emissions are preparing for political battle.
Abbott, who during the election campaign vowed to end the carbon tax, officially known as the Carbon Pricing Mechanism (CPM), has said the issue will be his first priority after taking office.
However, in addition to facing fierce opposition from groups that support carbon pricing as a key method for reducing emissions, Abbott will be hobbled by his failure to win a majority in the Senate. In the 7 September election, his coalition won an overwhelming majority of 91 seats in the 150-seat House of Representatives, but only 33 seats in the 76-seat Senate, whose approval he also needs.
Claire Maries, climate change campaigner for the Australian Conservation Foundation, warns that 'even though the Coalition lists "axing the tax" as their first order of business, it may be harder than thought'.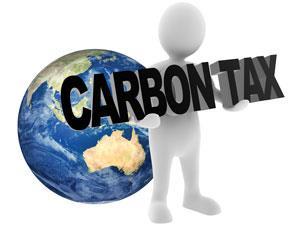 Carbon pricing went into effect in 2012 after being approved by then Prime Minister Julia Gillard and her Labour government. Carbon pricing requires power generation and manufacturing industry installations that need to emit more carbon than their allotted allowance to buy permits, which currently cost A$24 (£14) per tonne of CO2. Commonly called a carbon tax, it triggered sharp increases in household electricity prices and became a key election issue.
Abbot's opponent, Prime Minister Kevin Rudd, sought to minimize political damage by proposing a plan to end the carbon tax in July 2014, a year ahead of schedule. Under his plan, the price for carbon emissions would be replaced a year ahead of schedule with floating prices through an Australian emissions trading system (ETS) linked to the European carbon market. Carbon prices in Australia would fall toward the EU level, now about the equivalent of A$6 per tonne.
Both the fixed carbon price and Australia's future ETS are contained in the same law. So if Abbott succeeds in repealing the law, it would also mean cancellation of the ETS, which is strongly supported by most environmental organisations.
Dermot O'Gorman, CEO of WWF-Australia, says: 'For over a decade, WWF has consistently said that the best way to reduce carbon pollution is through a scheme where polluters pay to pollute, and pollution is capped, like an emissions trading scheme (ETS).'
Abbott has insisted during the election that he is committed to reducing Australia's emissions by 2020 by at least 5% below 2000 levels. His climate policy is mainly based on the 'Direct Action' plan, which has a A$3.2bn budget for payments to industry for to encourage voluntary reduced emissions and for landowners to store carbon in soil. Business groups strongly favour Abbott's approach, while environmental groups are sceptical.
'Tony Abbott and the Coalition's official position accepts the science (of climate change), humans' role in it and the need for strong and effective policies to deal with it,' says Erwin Jackson, deputy CEO of The Climate Institute. 'The Coalition's challenge is that they cannot demonstrate to Australians or to the international community that their policies are effective enough to meet their target commitments.'
If Abbott's government would succeed in repealing carbon pricing, Jackson believes it would have international consequences. 'If Australia cannot demonstrate to the rest of the world that it can reach its own targets,' he says, 'it has a credibility problem which undermines its ability to influence international negotiations.'
Abbott's incoming government also has indicated that it will dissolve Australia's Climate Commission, which was established as an independent source of information on the science and economics of climate change.
'My only comment, as a scientist,' says Will Steffen, an ex-Climate Commissioner and a climate researcher at the Australian National University in Canberra, 'is that the science of climate change does not change when a government changes. The same challenges remain.'