As it integrates Monsanto businesses, Bayer will eliminate around 10% of its global workforce
International chemicals giant Bayer plans to cut 12,000 jobs, including a significant number in Germany, as part of plans to focus on its core life science businesses. The number represents almost a tenth of its 118,000-strong workforce.
While the majority (up to 6000) of the jobs to be axed are in corporate functions, 4100 will be lost in the crop science division as the company focuses on 'successfully integrating the acquired business' of Monsanto, a $63 billion deal finalised in June that made Bayer the world's largest agrochemicals and seed maker. It will cut 900 jobs in pharmaceuticals R&D and around 350 positions at the newly built factor VIII manufacturing facility in Wuppertal, Germany, which will be sold off. A further 1100 will go following a reorganisation of its consumer health division.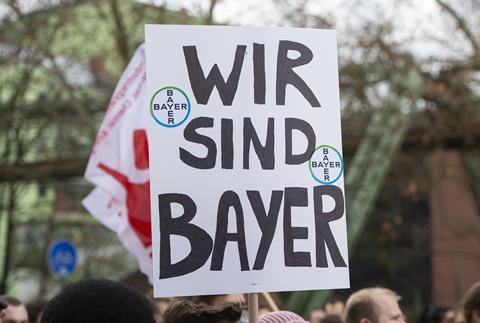 According to German newspaper Deutsche Welle, Bayer had previously made assurances that jobs would not be cut in Germany until 2025. Since the announcement, over 1000 employees have protested at the Wuppertal facility.
'Bayer has seen a deluge of bad headlines over the past couple of years over the Monsanto and the Roundup lawsuits,' says Ana Nicholls, industry briefing analyst for the Economist Intelligence Unit. 'The announcement of mass job losses will add to that, confirming all the fears that surfaced last year. Bayer will try to keep its promise not to cut jobs in Germany until 2025 by slimming the workforce in more acceptable ways, such as offering early retirement. But that will only partly ease the pain – and the promise doesn't apply outside Germany.'
Investor confidence in Bayer has been shaken by its acquisition of Monsanto, which exposes Bayer to thousands of US lawsuits relating to claims that glyphosate herbicide causes cancer. But in a conference call with reporters, Bayer chief executive Werner Baumann stressed that these factors have 'absolutely nothing to do with' the new strategy and related job losses.
'For Baumann, the main priority is to placate shareholders,' Nicholls says. 'Many of them weren't keen on the Monsanto deal even before the lawsuits became such a threat, and events since then have done little to reassure them. They felt that Bayer should be focusing on its pharma and life sciences businesses, rather than moving further into agrochemicals.'
The company is planning to exit its animal health business and shift its focus to the pharma, consumer health and crop science divisions. Its animal health division, valued at around €7 billion (£6 billion), is best known for its flea and tick treatments for cats and dogs. Bayer is also planning to sell off its suncare and footcare product lines under the consumer health division.
It also intends to outsource more pharmaceutical R&D and 'restructure' internal R&D activities. Resources freed up will instead be invested in increased collaboration with external parties.
The one-off costs for these moves will reach around €4.4 billion, the company said, but it hopes to save €2.6 billion a year from 2022.
Editor's note: This story was updated on 6 December to add comments from Ana Nicholls and on 19 December to clarify her affiliation.