Industry news, November 2010
PHARMACEUTICALS
Sanofi gets hostile
Sanofi-Aventis has taken its $69-per-share (?44-per-share) bid to the Genzyme shareholders, signalling its intent to acquire the US biotech with or without the support of its board - which has unanimously rejected the offer and advised shareholders to hold fast.
The Sanofi offer, which values Genzyme at $18.5 billion, was revealed in August, although it had been put to Genzyme a month earlier (see Chemistry World, October 2010, p14). The decision to go public was aimed at building pressure by gaining shareholder support. But the 'opportunistic proposal', was dismissed by Genzyme chief executive Henri Termeer. He said at the time that it undervalued the company by failing to recognise the ongoing manufacturing improvements or the pipeline potential.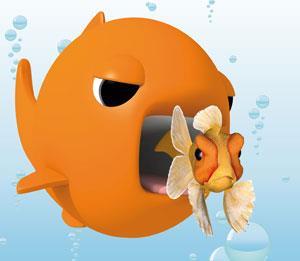 Sanofi says that it met recently with shareholders representing more than 50 per cent of the Genzyme share total, who were 'frustrated with Genzyme's persistent refusal to have meaningful discussions'. Sanofi chief executive Christopher Viehbacher said: 'Sanofi-Aventis is committed to a transaction with Genzyme, and we believe that our offer reflects both Genzyme's upside potential and its current operational challenges'.
In a conference call, Viehbacher said that Sanofi had no non-public information about the ongoing Genzyme manufacturing problems. In June 2009, Genzyme was forced to temporarily halt production at its Alston Landing site in Massachusetts, US, due to a viral infection. In May, the company said shipments were meeting 50 per cent of the demand for Cerezyme (imiglucerase), for the treatment of Gaucher disease, and 30 per cent for Fabrazyme (agalsidase beta), for the treatment of Fabry disease.
Andrew Turley
Botox wins migraine approval
The US Food and Drug Administration (FDA) has approved Botox (onabotulinumtoxin A), marketed by US biotech Allergan, for the treatment of chronic migraine.
The move comes after Allergan agreed to pay $600 million (?380 million) in September to settle claims that it illegally marketed Botox, best known as a cosmetic product for the reduction of wrinkles (see Chemistry World, October 2010, p15). It is likely to aid Botox sales, which flattened out in 2009 at $1.3 billion, the same as in 2008.
Aids drug could treat Herpes
Isentress (raltegravir), the Aids drug marketed by Merck & Co., could be effective in the treatment of herpes, according to new research. The in vivo results show that the drug can interfere with a protein that is essential for viral replication (M Nadal et al, Proc. Natl. Acad. Sci. USA, 2010, 107, 16 078). The European researchers tested efficacy against one type of herpes virus. But they say that the drug could be effective against all types because the protein is universal. Herpes viruses include the pathogens that cause chickenpox and viruses associated with a range of cancers. Sales of Isentress more than doubled last year from $361 million in 2008 to $752 million.
Meridia no more
It might finally be the end of the road for Abbott's troubled obesity drug Meridia (sibutramine). The US pharma major has withdrawn the drug from the US market at the request of the US Food and Drugs Administration (FDA). In January, the European Medicines Agency (EMA) recommended its withdrawal following trial data that suggested increased risk of cardiovascular events. But the FDA was initially more cautious. In September, the advisory committee was evenly split over what action to take.
Growth for world pharma market
The global pharma market will grow 5-7 per cent to $880 billion in 2011, according to a new market report. This would be an improvement on 2010 growth - predicted at just 4-5 per cent. According to the report from market intelligence company IMS Health, the industry will rebound from the global economic downturn, but underlying problems, such as the impact of generic competition, will hamper its recovery.
Much of the market growth will be in the newly wealthy developing countries. For example, IMS says the market in China - already the third largest - will grow 25-27 per cent to over $50 billion. The major limiting factor will be the expiry of key drug patents. In 2011, products with sales of more than $30 billion are expected to face the prospect of generic competition in the major developed markets, according to the report. Reduced government spending on drugs is also likely to have an effect.
Novartis settles marketing row...
Another big pharma company is getting out its cheque book to resolve claims of illegal marketing of its drugs in the US (see Chemistry World, October 2010, p15). This time it is Novartis and the headline figure is $423 million, comprising $185 million to settle the criminal charges and $238 million to settle the civil.
The compound at the centre of the story is epilepsy drug Trileptal (oxcarbazepine), which Novartis allegedly promoted as a treatment for psychiatric conditions and pain - uses for which it did not have approval. In addition, the agreement resolves allegations that the company paid kickbacks to healthcare professionals to encourage them to prescribe Trileptal and five other drugs. Under the terms of the deal, Novartis will plead guilty to one misdemeanour.
...but wins race to market for MS pill
Novartis has won the race to bring to the US market an oral treatment for relapsing multiple sclerosis (MS) - with FDA approval of Gilenya (fingolimod).
In one sense, the pharma giant is runner-up to German company Merck KGaA, which scored approval for its cladribine tablets in Russia and Australia earlier this year. But US approval is likely to be much more lucrative. The company took a blow in September when the EMA advisory committee issued a negative opinion of the benefit compared with the risk. In October, the company resolved to appeal the decision.
The Novartis drug is the first in a new class called sphingosine-1-phosphate receptor (S1PR) modulators that are thought to prevent damage to the central nervous system by slowing the movements of white blood cells in key regions of the body.
Royal appointment for Pfizer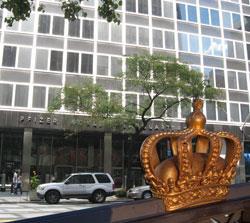 Pfizerhas agreed to buy King Pharmaceuticals for $3.6 billion (?2.3 billion) in cash, equivalent to $14.25 per share. According to the US pharma giant, the deal represents a 40 per cent premium based on the price on 11 October.
'We are highly impressed by King's innovative products and technology in the pain relief disease area, as well as by its success in advancing promising compounds in its pipeline,' said Jeffrey Kindler, Pfizer chief executive. The company says the deal will bring cost savings of at least $200 million by the end of 2013.
King is a traditional pharma company that works with small molecules, which makes this an interesting move for Pfizer. The big pharma players are typically chasing biotechs to refill their pipelines. Why? Because the large molecule drugs developed at biotechs are arguably likely to be less adversely affected by generic competition. King is perhaps best known for buying Alpharma for $1.6 billion in 2008, giving it access to Embeda (morphine-naltrexone), a pain reliever for patients in need of around-the-clock treatment.
J&J makes strong play for Crucell
US healthcare company Johnson & Johnson (J&J) has reached agreement with vaccine company Crucell on its
1.75 billion (?1.5 billion) offer. 'I am looking forward to Crucell becoming a J&J company,' said Ronald Brus, chief executive at Crucell.
J&J already owns 18 per cent of the shares. It is looking to obtain the rest for
24.75 per share, which it says represents a 58 per cent premium based on the price before the two companies said in September that they were in takeover discussions. The management at Crucell says that shareholders should take up J&J on its offer once it is made.
But the move has been criticised by Dutch real estate group Van Herk, which owns a 10 per cent stake and says that the offer is too low. In response, Crucell has arranged an additional general meeting for 10 December so that shareholder concerns can be discussed. J&J says it plans to keep the facilities and staff at Crucell if the deal goes through.
Boehringer drops flibanserin
Boehringer Ingelheim has decided to halt development of flibanserin, a candidate for the treatment of hypoactive sexual desire disorder (HSDD), a controversial medical condition characterised by low sexual desire in women (see Chemistry World, January 2010, p15). In May, things were looking promising: Phase III trial results showed that the drug significantly increased sexual desire. But in June, an advisory committee of the FDA concluded, based on the available data, that the risks associated with the drug outweighed the benefits. The company says it will re-allocate resources to other areas, such as stroke prevention, diabetes and oncology.
$2.2 billion Sanofi-Covance
Sanofi-Aventis and Covance, a US contract research company, have signed a deal that commits the French drug giant to up to $2.2 billion (?1.4 billion) of Covance services over the next 10 years.
During an investor call, Covance chief executive Joe Herring said that this was 'the largest and most comprehensive drug-development alliance in industry history'.
The deal is a huge boost to Covance, which generated sales of $35 million from Sanofi business in 2009.
Covance will become the sole source of laboratory services to Sanofi for the next 10 years. It currently provides less than 50 per cent of this business. Under the deal, Sanofi will be subject to annual service commitments that will increase each year, although the details of these were not disclosed. In addition, Sanofi will sell Covance its sites at Porcheville, France, and Alnwick, UK, for $25 million. Covance has agreed to keep on the 300 staff at these sites for at least five years.
The deal is the second worth over $1 billion struck by Convance with a major pharma company. In 2008, Eli Lilly signed up to a 10-year service contract worth $1.6 billion.
CHEMICAL
BASF to 'carve out' styrenics
Chemical giant BASF is shaping up to release a part of its styrenics business that generates
2.5 billion (?2.2 billion) in sales and employs 1460 staff. Specifically, it has reformed its styrene monomer, polystyrene, acrylonitrile butadiene styrene and styrene-based copolymer parts into a new entity, Styrolution, which it is looking to divest.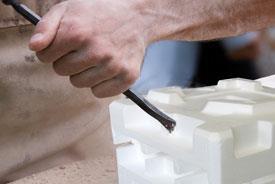 It is a plan that the company announced in 2007. Back then, it said that a 2008 sale was 'highly probable'. But the company failed to divest the unit in 2008, citing 'the underlying macroeconomic conditions and the changes on the capital market'. In 2009, it added styrene copolymers to the divestment plan, cut polysterene production in Europe by 25 per cent and sold its polystyrene business in Brazil and a styrene monomer plant in Korea in 2009. Now, it seems, BASF has returned to the plan. The company is planning to complete the 'carve out' by the end of the year, although the spokesperson declined to comment on who if anyone it was talking to about the divestiture.
Canada busts BPA
Bisphenol A (BPA) is making headlines yet again. This time, Environment Canada, a department of the Canadian government, has decided to add the controversial chemical to schedule 1 of the Canadian Environmental Protection Act of 1999, thereby labelling it a toxic substance and enabling 'the development of regulatory risk management measures'.
The US Food and Drug Administration (FDA) judged BPA safe in 2008. But in January, it shifted it's position slightly, saying that it had 'some concern about the potential effects of BPA on the brain, behaviour and prostate gland in foetuses, infants and young children'. Earlier this month, the European Food Safety Authority said that their rules on BPA did not need changing.
Big retailers 'in breach of Reach'
Large retailers are failing to comply with their obligations under European rules on chemicals by not responding to consumer requests for information, according to a new report.
Under the Registration, Evaluation, Authorisation and Restriction of Chemicals (Reach) regulation, companies must respond to consumers in certain situations. If their products contain substances of very high concern (SVHC), as defined by a list of 38 chemicals, they must respond to requests from consumers within 45 days - with at least the name of the chemical.
The European Environmental Bureau (EEB) - which represents a group of over 140 environmental organisations - submitted 158 requests to 60 retailers across Belgium, Germany, Hungary, Sweden and the Netherlands. It found that 50 per cent of those went unanswered. In addition, less than half of the answers returned were deemed 'satisfactory' by the EEB. The organisation receives 45 per cent of its funding from the European Commission.
Chemical industry report on growth
EU chemical sales for the first six months of the year increased 18 per cent compared with 2009, according to a report from the European Chemical Industry Council (Cefic). In addition, production increased 13 per cent in the period from January to July compared with 2009.
But digging deeper into the report reveals more negative long term trends. In 1999, the EU was the top region for global chemical sales with 32 per cent of global sales. By 2009, that slice of the pie had dropped to just 24 per cent, while China had increased its contribution from 6 per cent to 22 per cent.
Evonik to divest carbon blacks
German chemical company Evonik is looking to divest its carbon blacks business, the second largest in the world, according to the company. Carbon blacks are primarily used to strengthen rubber tyres, although they also go into other products, such as laser printer toners. The business employs 1700 people and makes annual sales of about
1 billion (?887 million). The move is part of a wider plan to focus on speciality chemicals. The company says it wants to concentrate on areas with above-average growth potential in the wake of the economic downturn. Sales fell 18 per cent to
13 billion in 2009. But a
500 million-a-year cost-cutting programme to 'weatherproof' the company meant operating profits fell only 8 per cent to
1.2 billion.
The biggest operator in this field is probably US company Cabot, which achieved 2009 sales of carbon blacks of
$1.3 billion - 59 per cent of its total sales.
Job cuts at Solvay
Having sold its pharma business to Abbott, chemical company Solvay will now cut 800 jobs worldwide. The company says the cuts will free up
65 million annually and improvements to external spending will save a further
55 million.
US pharma major Abbott bought Solvay Pharmaceuticals in September 2009 for $5.2 billion, beating Nycomed in the acquisition race.
LyondellBasell arrives on NYSE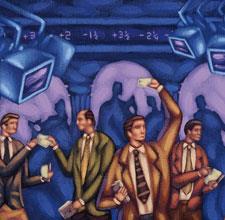 © THINKSTOCK
LyondellBasell shares have started trading on the New York Stock Exchange, a significant milestone in the financial recovery of the company, which emerged from chapter 11 bankruptcy in April. Since then, it has issued 566 million ordinary shares to cover $18 million (?11 million) in debt. Until now, those shares have been trading on the over-the-counter market: they have been bought and sold through direct interactions between in each case just two parties. LyondellBasell entered chapter 11 bankruptcy in February 2009 when falling demand and failure to renegotiate debts forced it to seek protection.
'Today LyondellBasell begins writing yet another chapter in our history - as a New York Stock Exchange listed company,' said chief executive Jim Gallogly. 'The dedication and commitment of our employees worldwide has enabled us to create a new LyondellBasell, one of the world's premier chemical companies.'
Coatings: saviour of the auto sector?
The chemical industry could be 'vital' to the recovery of the automotive industry by reducing its costs and improving its manufacturing efficiency, according to a new report.
Market research company Frost & Sullivan says the automotive coatings market generated sales of $7.6 billion in 2009 and predicts sales to rise to $14.1 billion by 2016. This market could help the automotive manufacturers as it grows by, for example, supplying paints that dry more quickly.
Coatings also provide ways to differentiate products through colour and other variables. Nanotechnology and radiation-cure technology are highlighted, for example, as they offer higher gloss, as well as greater mar- and scratch-resistance. In addition, UV-curable coatings will become more important over the next 10 years as regulations to control volatile organic compounds regulations become more stringent.
ECHA proposes mercury ban
The Europe Chemical Agency (ECHA) has submitted a report to the EC that recommends banning mercury in a variety of measuring devices, including thermometers, barometers and sphygmomanometers, which measure blood pressure.
The proposed ban would affect devices for professional use, whether in industry or elsewhere. Mercury is already banned in those for public use.
Meanwhile, a Norwegian report has proposed restrictions on five phenylmercury substances, which are primarily used as catalysts in the production of polyurethane coatings, adhesives, sealants and elastiomers. According to the report, mercury is released into the environment during the lifecycles of the substances.
The committees established to review these proposals will give their decisions in September 2011. The EC will then decide whether to integrate them with the existing rules set out by Reach. The landmark legislation will pass its first registration deadline on 30 November.
IN BRIEF
Pfizer buys into Biocon business
Pfizer is teaming up with Indian biotech company Biocon on the commercialisation of Biocon's insulin biosimilars, including recombinant human insulin, glargine, aspart and lispro. The pharma giant will pay $200 million (?127 million) up front for exclusive rights to commercialise the products in all regions except Germany, India and Malaysia, in which it will share rights with Biocon.
Another look at Avastin
The ongoing US evaluation of Avastin (bevacizumab) as a breast cancer treatment has been extended by three months. US biotech Genentech, a subsidiary of Swiss pharma major Roche, is now expecting a Food and Drug Administration decision on its blockbuster drug by 17 December.
Drug implant combats addiction
Phase III trial results are in for Probuphine (buprenorphine), the implant developed by Titan Pharmaceuticals for the treatment of addiction to opioids, such as heroin and some prescription medications. Probuphine is fitted under the skin so that buprenorphine is delivered around the clock - with up to six months between renewals. The drug reduced opioid use, as measured using urine tests (W Ling et al, J. Am. Med. Assoc., 2010, 304 , 1576).
Novartis sells Enablex rights
Novartis has signed a deal to sell the US marketing rights to its over-active bladder drug Enablex (darifenacin) to Ireland-based pharma company Warner Chilcott. Under the terms, Warner Chilcott will pay $400 million upfront, and up to $20 million for reaching pre-determined developmental and regulatory milestones. In 2005, Novartis agreed to co-promote and co-develop Enablex with Procter & Gamble Pharmaceuticals (PGP). But in October 2009, Warner Chilcott acquired PGP from the parent Procter & Gamble company.
Arkema builds Chinese latex plant
French chemical company Arkema is planning to build a $30 million (?19 million) plant in China to produce emulsion polymers for coatings and adhesives. Emulsion polymer products are used in: architectural coatings; elastomeric roof and wall coatings; traffic marking paints; sealant and construction products; and pressure-sensitive adhesives. The plant is expected to be up and running by the end of 2012.
BASF works out GM potato error
German chemical giant BASF says that its GM potato contamination was caused at the seed stage by growing batches of the two types too close together (see Chemistry World, October 2010, p16). Meanwhile, the European Coexistence Bureau has published a report on how best to avoid co-mingling of genetically modified (GM), conventional and organic corn seeds.
Solvay invests in Korean VC fund
Solvay is going to invest KRW20 billion (?11 billion) in the Korea Advanced Materials Fund, a venture capital fund focusing on renewable energy, printed electronics, clean technologies and green chemistry. Korea Venture Investment and AJU IB Investment will each add a further KRW10 billion.
Wacker shows interest in China
Chemical company Wacker has opened its new silicone-polymer plant at Zhangjiagang in China. The plant manufactures intermediates and downstream silicone products, including fluids. The company says that the plant will complete its supply chain in China and represents an investment of
30 million (?26 million). In 2009, Wacker made sales of over
730 million in China and Taiwan. Globally, Wacker silicones generated sales of
1.24 billion, 33 per cent of total sales.