Documents suggest that DuPont and 3M had evidence of PFAS toxicity but suppressed the findings
A new analysis of previously undisclosed industry documents by academic researchers in the US appears to confirm that chemical companies have known for more than 60 years about the health hazards posed by exposure to per- and polyfluoroalkyl substances (PFAS) discharged from their facilities, but actively worked to suppress knowledge.
PFAS are a class of widely-used chemicals that persist in the environment and bioaccumulate in humans and animals, showing up in water systems and ecosystems across the globe. They have also been linked to a variety of health problems.
A team led by Nadia Gaber at the University of California, San Francisco (UCSF) has comprehensively reviewed a collection of previously unpublished documents held by DuPont and 3M – the largest manufacturers of PFAS. These documents, dating back to 1961, were discovered during litigation and subsequently donated to UCSF's Chemical Industry Documents Library.
'Internal studies were identified, ranging from 1961 to 1994, showing that DuPont had evidence of PFAS toxicity from internal animal and occupational studies that it did not publish in the scientific literature and failed to report its findings to EPA [US Environmental Protection Agency]' as required under the US Toxic Substances Control Act, the team explained in the paper. 'These documents were all marked as "confidential," and in some cases, industry executives were explicit that they "wanted this memo destroyed".'
In some cases, industry executives were explicit that they "wanted this memo destroyed"
Although PFAS were considered biologically inactive until around 2000, the chemical industry had multiple studies showing adverse health effects at least 21 years before they were reported in public findings, the analysis showed. One of the earliest studies identified was from 1959 – it examined potential respiratory and dermal toxicity from the manufacture of new plastics, including polytetrafluoroethylene, and noted that cases of 'influenza-like attacks' had been reported in the occupational literature and attributed to smoking tobacco contaminated with the compound.
In addition, there was a 1961 report by DuPont's chief technologist that found enlarged livers in rats exposed to C8 (perfluorooctanoic acid, PFOA), which was in the company's non-stick Teflon products before it was replaced with GenX (hexafluoropropylene oxide dimer acid and its ammonium salt). Also, DuPont and 3M apparently learned in 1980 that two of eight pregnant employees who had worked in C8 manufacturing delivered children with birth defects, but the company did not publish the discovery or tell employees about it. Furthermore, the following year an internal memo stated, 'We know of no evidence of birth defects caused by C8 at DuPont.'
'We are the first scientists to analyse these internal industry documents to show how PFAS manufacturers hid the health harms of their products,' Gaber tells Chemistry World. The researchers created a timeline comparing published literature to industry's private research and found that manufacturers knew of or suspected serious hazards at least two decades before the public, she adds.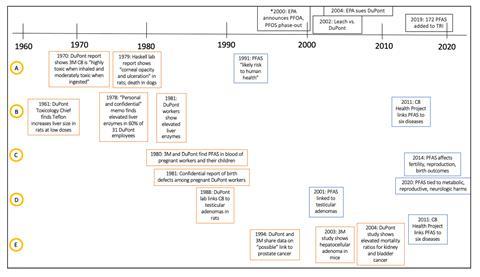 The veil of confidentiality
'The documents indicate that even when the companies suspected their chemicals were harming their own employees, they continued to hide and downplay that information,' Gaber continues. 'To do so, they used many of the strategies of the tobacco and pharmaceutical industries.'
These documents would have greatly benefited public health if they had been made available, according to Scott Belcher from North Carolina State University's Center for Environmental and Health Effects of PFAS in Raleigh, US.
'Sometimes the veil of confidential business information really makes public health assessment difficult,' he tells Chemistry World. 'If there were known toxicities to the scale that this seems to reflect, it could have potentially been a great service to public health if alternatives had been found to these chemicals,' Belcher says. 'We can't make good decisions without the data.'
Historical responsibility
DuPont declined to comment on the UCSF report's claims. However, company spokesperson Daniel Turner says it relates to 'historical' matters. He points out that DuPont spun off its chemicals businesses, including fluoroproducts, in 2015, forming Chemours. The company's 2017 merger with Dow Chemical to form DowDuPont, and subsequent split into separate agrochemical (Corteva), materials (Dow) and speciality products firms, means that the company now known as DuPont de Nemours has never manufactured perfluorooctanoic acid, perfluorooctane sulfonic acid or firefighting foam containing PFAS, he suggests.
'To implicate DuPont de Nemours in these past issues ignores this corporate evolution, and the movement of product lines and personnel that now exist with entirely different companies,' Turner asserts.
When approached for comment, Chemours representatives said that the report is 'not about Chemours' and that the firm 'wouldn't comment on matters pertaining to other companies'.
3M responded only to say that it has already 'addressed many of the mischaracterisations of these documents in previous reporting'.
On 2 June, Chemours, DuPont de Nemours and Corteva jointly agreed in principle to pay almost $1.2 billion to settle PFAS-related claims covering a defined set of US waterways. Chemours will contribute half the amount ($592 million), with DuPont paying a third, and Corteva the rest. Once finally agreed, the deal will be subject to court approval.

Rebecca became the US Correspondent for Chemistry World in September 2014, based out of Washington, DC, after writing for the magazine on a freelance basis since 2007.
View full profile