European Commission authorises cultivation of genetically modified potato Amflora, the first new GM crop approved in 12 years
The European Commission has authorised cultivation of a new GM crop for the first time in 12 years, approving BASF's genetically modified potato Amflora for industrial use. The move has given GM advocates hope that a backlog of applications for other GM crops will also be authorised.
In addition to giving German chemical giant BASF its long-sought approval for Amflora, genetically modified to produce pure amylopectin starch for technical applications in the paper, textile and adhesives industries, the commission on 2 March issued a complementary authorisation covering use of the potato's starch by-products as feed. The commission also announced authorisations for three GM maize products - from Monsanto, Syngenta and Pioneer - to be placed on the market for food and feed uses but not for cultivation.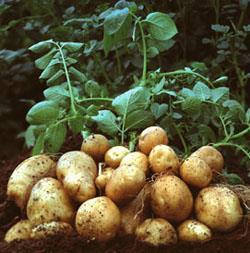 Morten Nielsen, director of green biotechnology at the European Association for Bioindustries (EuropaBio), described the authorisations as the EU's return to 'sound policy' on GM issues, adding that the decisions were made on the basis of stringent regulatory rules and scientific risk assessment.
'I think this is a very positive first step in the right direction,' he says. But noting that an additional 17 GM products for cultivation are still tied up in the 'approval process' along with 44 products for food and feed, import and processing in the EU, he added: 'we still have a way to go.'
Stefan Marcinowski, BASF executive board member, echoes Nielsen's sentiments: 'after waiting for more than 13 years, we are delighted that the European Commission has approved Amflora,' he says. 'We hope that this decision is a milestone for further innovative products that will promote competitive and sustainable agriculture in Europe.'
BASF will begin commercial cultivation of Amflora this year, with crops planned for sites in Germany, the Czech Republic, Sweden and the Netherlands.
While the news was welcomed by the biotechnology sector, GM opponents have been critical of the decision, saying the procedure used to approve Amflora removed the opportunity for public debate.
They contend that Amflora contains a gene resistant to certain antibiotics that could raise bacterial resistance to drugs when released into the environment.
The commission's health and consumer policy commissioner, John Dalli, emphasised that the decisions announced on 2 March were made following years of favourable safety assessments by the European Food Safety Authority. 'It became clear to me that there were no new scientific issues that merited further assessment,' he said. 'All scientific issues, particularly those concerning safety, had been fully addressed. Any delay would have simply been unjustified.'
Alongside the authorisations, the European Commission also announced plans to complete a proposal by the summer on how it will combine a central European authorisation system with freedom for member states to decide whether to cultivate GM crops on their territory.
Ned Stafford