Universities lose another £135 million for 2009/10 academic year, bring the total cuts to £518 million
English academics won't be feeling the festive cheer, after yesterday's announcement that a further ?135 million has been chopped from the country's higher education funding.
In a letter to Hefce (the Higher Education Funding Council for England) - outlining how much cash it would receive for the 2010/11 academic year - Peter Mandelson, the UK secretary of state for business, innovation and skills, announced that funding cuts, compared to 2009/10, have now risen to ?518 million.
This represents a 7 per cent reduction on the 2009/10 budget of ?7.8 billion. And while some of these cuts had already been disclosed, including the ?180 million of 'efficiency savings' announced in the 2009 budget, a further funding drop of ?135 million caught Hefce by surprise. Mandleson said that this extra cut was necessary due to additional pressures, including the higher than expected costs of student support during the economic downturn.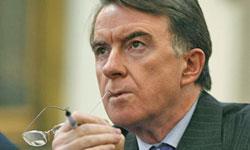 Universities that recruited more students than they were permitted to do in the 2009/10 academic year will be taking an extra financial whack: a penalty of ?3700 per full time undergraduate student recruited above the agreed level. This amount represents the average cost to the government of providing student support for these extra people. Mandleson also said that the recruitment of the extra 10,000 students allowed in 2009/10 was a one off, and would not be repeated in 2010/11.
Responding to the funding cuts announcement, Steve Smith, vice chancellor of the University of Exeter and president of the organisation that represents the country's vice chancellors, Universities UK, warned that, 'the sector will not be able to deliver more with less without compromising our longer term sustainability and international competitiveness.'
'The confirmation that the higher education budget is going to face considerable cuts will put universities in England under severe pressure,' he added.
The general secretary of the University and College Union (that represents UK academics), Sally Hunt, agreed saying 'you cannot make these kinds of cuts and expect no consequences.'
'The Hefce grant letter is a real Christmas kick in the teeth for staff and students and final proof that the government has completely lost its way when it comes to higher education,' she continued.
While Hefce chairman, Tim Melville-Ross, admitted that 'this year's grant announcement is more challenging than in recent years', he did act to reassure the community saying, 'we shall do all we can to ensure that we continue investing wisely in high quality learning and teaching, skills, excellent research, and knowledge transfer activities.'
Additionally, it isn't clear whether these cuts are part of the ?600 million slashed from UK funds for science, research and higher education revealed in Chancellor Alistair Darling's pre-budget report that was released on 9 December. 'We will need to clarify urgently whether these cuts form part of the ?600 million reductions identified in the recent pre-budget report,' said Smith.
In his letter, Mandelson also requested changes to the degree courses available - again with the motivation of saving yet more money. One suggestion is to initiate more programmes, such as foundation and fast-track degrees, that can be completed full time in two years. He also reiterated the previous government message that higher education should adapt to deliver more skilled people in to industries with the potential to drive future growth in our economy.
Nina Notman