Top scientists line up to express disappointment as advisory role is abolished after just three years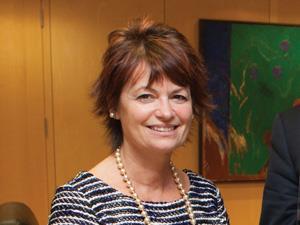 Leading scientists from across Europe have condemned the decision by the new president of the European commission to scrap the post of chief scientific adviser. Molecular biologist Anne Glover has held the post since it was created by Jean-Claude Juncker's predecessor, José Manuel Barroso, in 2011.
Paul Nurse, president of the Royal Society, described axing the post as a 'very backward step'. In a statement he said: 'Scientific advice must be central to EU policymaking, otherwise you run the risk of having important decisions being unduly influenced by those with mixed motives.' The World Health Organization's chief scientist in Europe, Roberto Bertollini, went further. 'Ideology and vested interests continue to dominate the public debate in Europe and elsewhere, irrespective of the attempts to bring knowledge and science based advice into the picture.' Nurse added that the EU needed to show, soon, that it had a 'plausible plan' to ensure scientific evidence was taken seriously.
The European Academies of Science has written to Juncker asking about his plans for the future of scientific advice in formulating EU policy.
But a spokeswoman for Juncker said the president 'was still thinking about how to institutionalise' scientific advice at the commission. She said there were other 'pressing and time-sensitive issues on the agenda', but that Juncker had always stressed he 'believes in the value of independent scientific advice'.
Greenpeace, which was amongst nine non-governmental groups (NGOs) that urged Juncker to abolish Glover's post in July, said the commission now had 'a chance to put science advice on a solid foundation grounded on principles of openness, independence of advice, transparency and clarity of roles'. The NGOs had complained that Glover's advice to the commission's president was not freely available, and that she 'presented one-sided, partial opinions in the debate on the use of genetically modified organisms in agriculture' to the media. Juncker had committed to reviewing EU legislation permitting GMOs.
But leading science bodies believe that Glover had, in the words of the Royal Society of Chemistry's chief executive Robert Parker, 'raised the profile of science in European decision-making and has been a strong advocate for science and innovation as a driver of the European economy'. Parker said it was vital that 'scientific evidence continues to underpin EU policymaking… not just for scientists but for the wider benefit of all EU citizens.'
Glover's three year term would have ended in December and she has declined to comment on the scrapping of the chief scientific adviser role. In her presentation to a gathering of the world's science advisers in New Zealand in August, she said there had been more appetite in Brussels for scientific advice than she had expected but that 'a body like the European commission is not used to the fact that someone doesn't speak the official line: hence the administration felt uncomfortable with my role'. It's clear she wanted to see the post better supported and strengthened. Whether she had an opportunity to make the case remains unclear.